Happythought's Cinco de Mayo worksheets are perfect for teachers, parents and educators looking to introduce the Mexican celebration to their students.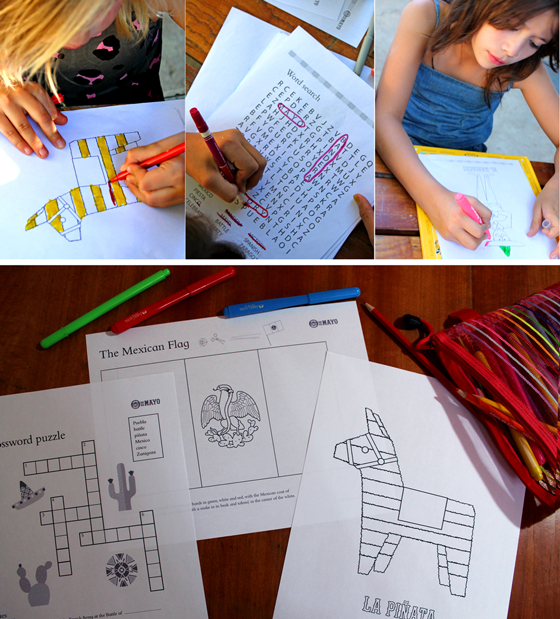 Cinco de Mayo worksheets: Easy classroom and homeschool ideas!
Ten printable PDF worksheets available to download instantly, including fact sheets, Q&A quizzes, games and coloring-in sheets that you can pick and choose from, depending on the ability of your class. The set includes:
Two Introduction pages – 'What is Cinco de Mayo?' and 'How to celebrate Cinco de Mayo?'
Three questions and answers – Map of Mexico, Crossword puzzle, Find the missing words.
Word search – 12 words to find.
Mexican flag – Color-in and make a Mexican flag.
Three color-in worksheets – A mariachi, a luchador and a piñata shaped as a donkey.
Our worksheets contain activities and questions about Cinco de Mayo appropriate for kindergarten, elementary, first grade, 2nd grade, 3rd grade, 4th grade and middle school. All Q&A worksheets include answers. The ten printable PDF sheets are designed for teachers and parents and we have produced them in black and white so that they don't use too much toner when printed or copied.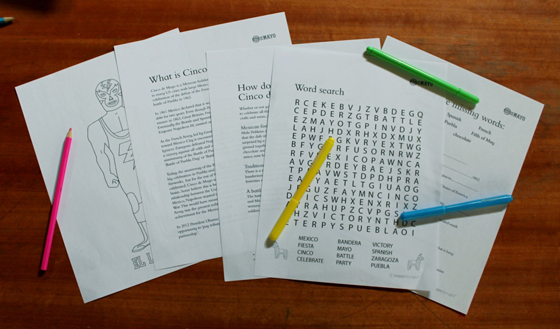 What is Cinco de Mayo?
Cinco de Mayo is a Mexican holiday celebrated in Puebla in Mexico and in many US cities with large Mexican populations. It began as a regional celebration of the defeat of the French Army by Mexican soldiers at the battle of Puebla in 1862.
How do we celebrate Cinco de Mayo?
Whether or not you are of Mexican heritage, Cinco de Mayo is a chance to celebrate all things Mexican! It offers wonderful food, colorful traditions, crafts and music. It's holiday time!
Mexican food & drink
Mole Poblano is traditionally served on Cinco de Mayo and legend has it that the dish originates from Puebla. The story goes that two nuns were surprised by a visitor. Not being cooks they took a mortar and pestle and ground together all the ingredients that they could find – tomatoes, chocolate and chillies and then simmered the mix until it thickened into a sauce, now known as Mole.
Traditional paper crafts
There is a rich Mexican tradition of paper crafting. Pinatas, papel picado banderines (paper cut out garlands) and paper flowers are important in the festivities of Cinco de Mayo.
A battle re-enactment
The battle of Cinco de Mayo has been re-enacted since the 1930s in Puebla and Mexico City. Men dress as Mexican and French soldiers and generals, women dress as soldaderas, who as well as cooking and looking after the soldiers, fight alongside them.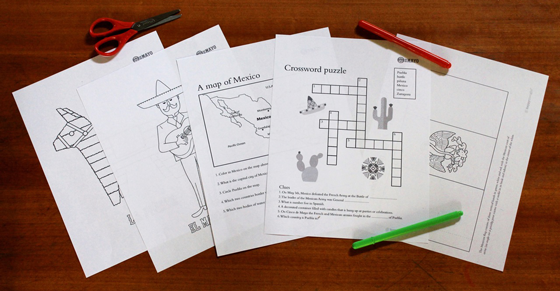 Crossword puzzle
With the help of our word box learn who was the General of the Mexican Army that defeated the French Army at the Battle of Puebla (6 questions containing the answers Puebla, battle, piñata, Mexico, cinco, Zaragoza).
Find the missing words
Answer each of the nine questions by filling in the blanks with the words provided at the top of the page (9 questions).
Map with quiz
A map of Mexico to color in and identify a few key geographical facts about the battle of Puebla and Mexico (3 questions/2 exercises).
Word search
Find the words; MEXICO, FIESTA, CINCO, CELEBRATE, BANDERA, MAYO, BATTLE, VICTORY, SPANISH, ZARAGOZA, PUEBLA and PARTY (12 search words).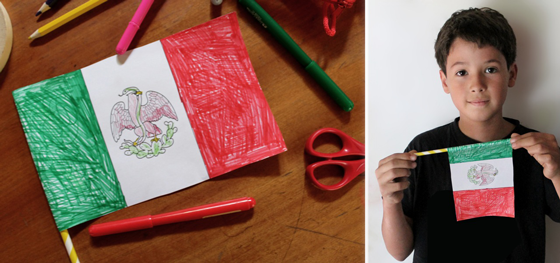 Mexican flag
Make and color in a Mexican flag. The Mexican flag consists of three vertical bands in green, white and red, with the Mexican coat of arms (an eagle on a prickly pear cactus with a snake in its beak and talons) in the center of the white.
Color in worksheets
We have designed 3 sheets for a coloring in activity: a mariachi, a luchador and a Pinata. Download them here – Cinco de Mayo (coloring in sheets).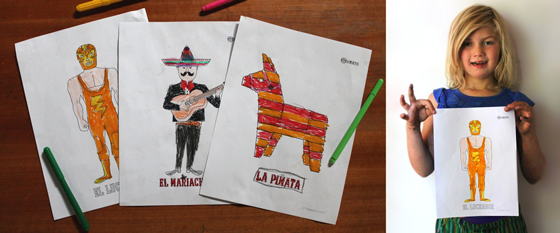 The rest of our worksheets are available to buy as part of our Cinco de Mayo printable party kit . The pack contains over 20 printables and an easy to make pinata craft tutorial and template.
Cinco de Mayo worksheets to buy in Spanish and English!
The printable kit includes – Bottle Ponchos, Cactus ornaments, and Chilli garlands. Invitations & Envelopes, Cupcake Wrappers, Cupcake Toppers and Donkey Ornaments. Lime Garland, Loteria Game, 3D Luchador masks (one to colour in) and Mexican Flags. Mini Somberos, Paper Dolls, and Photo Props. How to make a mini Rainbow Piñata, Pop Corn Boxes, 'Cinco de Mayo' Scroll Signs (perfect for classroom decorations) and Straw Flags plus Food & Drink recipe ideas.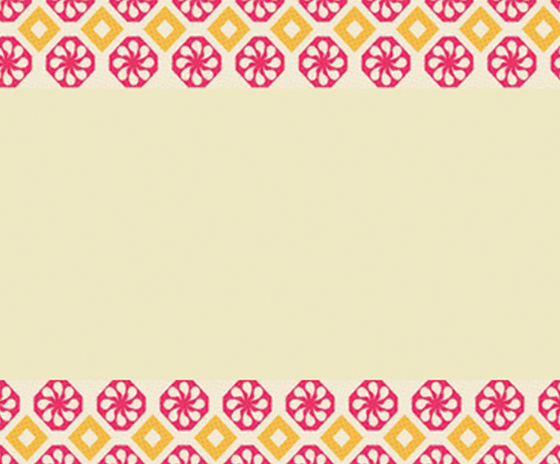 Did you know?
If you liked the lucha libra mask template and want more?
Remember Happythought members get 50% off all of our Cinco de Mayo products.
As well as our colorful printable masks we thought it would be fun to include a blank 3d paper masks template to color in yourself. Read more about our Day of the Dead worksheets here.
See more craft ideas on our blog. We hope you enjoyed our Cinco de Mayo worksheets! If so, please give us a little love; by liking us on facebook, pinning us on pinterest or following us on twitter. Thank you!