Cat animal mask templates to print. Easy and fun to make and perfect for dress-up and animal costume parties, theatre fun, classroom, mask activity ideas and rainy days!
Animal mask templates to print, make and wear:
Look like the cat's whiskers in this gorgeous kitty-cat mask
Printable cat mask template + video tutorial!
Animal mask templates to print and make
This cool cat mask also comes as a color-in version and with fun fact sheets. You can buy the easy to make cat mask templates and worksheets here.
How to make your 3D paper cat mask: Easy no-sew patterns!
Step 1
You will need scissors, a glue stick, masking tape and some ribbon. For a longer lasting mask, print your template on to a slightly heavier stock paper.
Step 2
Carefully cut out the cat mask, whiskers and eye holes.
Step 3
Glue the middle panels together with your glue stick and secure on the back with a little masking tape.
Step 4
Next stick the two side panels together as shown.
Step 5
Now glue the whiskers to the front of the mask.
Step 6
Attach a length of ribbon to either side of your mask. You can glue it in place, then stick with masking tape for a really firm hold.
Step 7
Meow! Your cat mask is ready to wear!
Easy black cat DIY costume!
You can throw together a fab black cat costume in minutes, using these basics from your kid's wardrobe.
Keep it simple with a black tee, leggings, black boots and a black sock for the tail. Bow tie optional!
Pin the tail on with a safety pin. You can stuff it with another sock tif you like. And of course top it off with your black cat mask!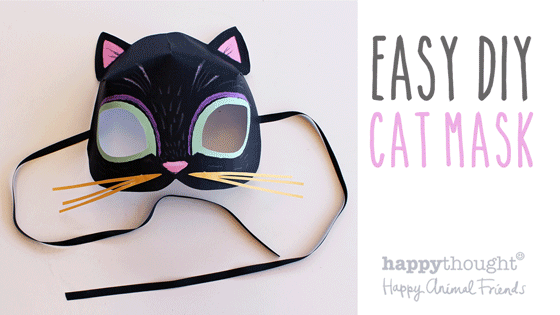 EASY DIY CAT MASK – Easy-make cute paper cat mask, templates and worksheets!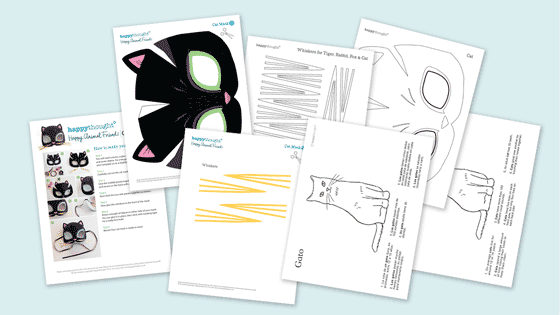 Cat in the hat!
Why not team your black cat with a black mini top hat? Part of the Happythought printable mini top hat set available in our store!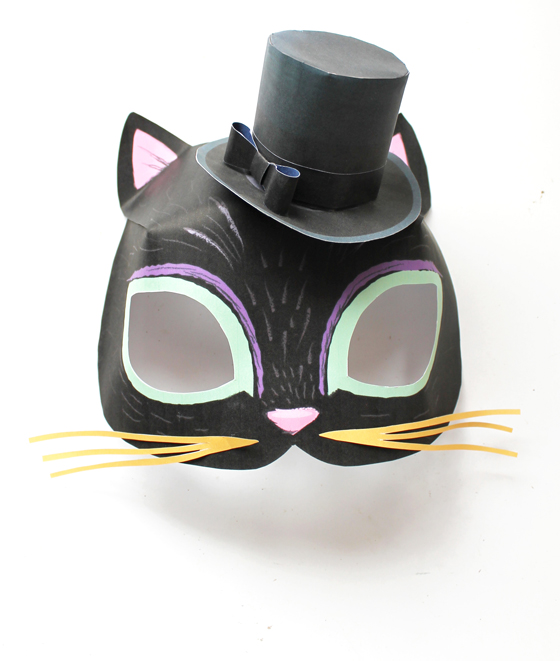 Animal mask templates to print: 10 mask templates to print and play. The pack includes a Bear, Panda, Cat, Dog, Owl, Tiger, Fox, Rabbit, Koala, and deer.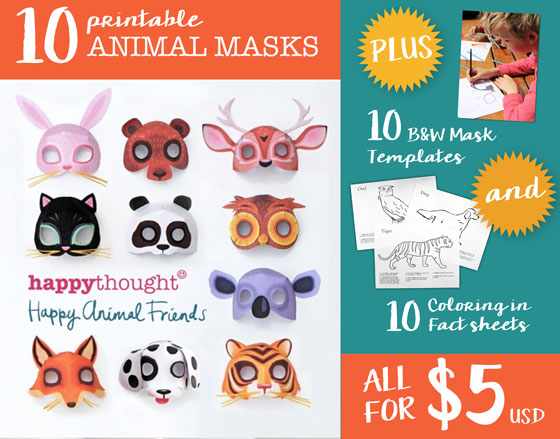 6 cat animal facts
1. On average cats live for around 12 to 15 years.
2. Cats spend a large amount of time licking their coats to keep them clean.
3. Cats have more than 100 different vocal sounds.
4. An adult cat has 30 adult teeth.
5. Cats have five toes on each front paw, but only four toes on each back paw.
6. Cats greet one another by touching their noses together.
If you like these papercraft pdf mask templates, we think you will also like our wild animal mask set. Go wild with our Elephant, Tiger, Giraffe, Snake, Zebra, Leopard, Crocodile, Lion, Hippo and Monkey masks to print out and make.
Cat are also featured in our Calavera or sugar skull mask set and our Halloween mask set featuring 10 scary but cute mask designs. Miaow!
Be sure to check out these cute kitty cat decorations for Christmas
Part of our CraftClub freebies for Happythought's members. See more here!
Another popular mask papercraft pdf templates is our el Dia de los Muertos cat calavera sugar skull mask. Lucha libre masks are also great for putting together a quick homemade costume using Happythought's Lucha Libre mask set.
Check out these other mask templates and ideas
Read about more craft ideas on our blog. We hope you enjoyed this DIY cat mask, color in sheet and 6 cat animal facts. If so, please give us a little love; by liking us on facebook, pinning us on pinterest or following us on twitter. Thank you!