Ten simple animal costume ideas for dressing-up and costume parties!
Download, print and make these cool masks, inspired by Happythought's fun collection of 10 DIY Printable Animal masks.
Watch this short video to see the masks in actions and few more animal costume ideas: 10 Printable Animal mask templates!
Did you enjoy the video?
Look below to see some more ideas on animals to dress up as: Bear, Panda, Cat, Dog, Owl, Tiger. Fox, Rabbit, Koala and Deer.
Dress up as: Bear, Panda, Cat, Dog, Owl, Tiger. Fox, Rabbit, Koala and Deer. See examples below: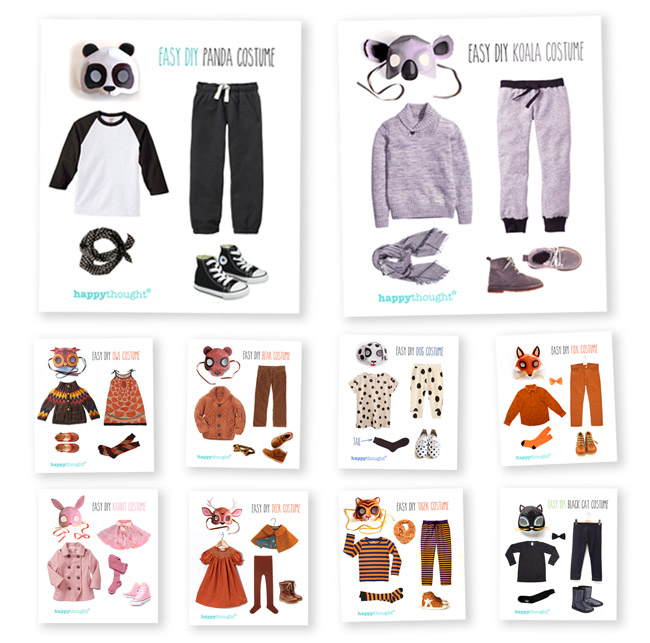 Cat costume – Easy DIY Dress up ideas!
This cat costume is super easy – all you need is some black leggings or jeans, a black long sleeved t-shirt or sweater and some black footwear. For the tail, stuff a black sock with cotton wool and attach to the back of the trousers with a safety pin. Add a little optional elegance to the outfit by adding a jet black bow tie and some glitter! Top it off with our printable cat mask and you're good to go!
Animal costume ideas – homemade fox costume!
What does the fox say? Don't I look dapper?! For this fun fox costume you'll need an orange or light brown shirt, orange trousers or pants, orange or brown shoes. Stuff a sock with cotton wool and pint to the back of the trousers for a tail. Top it off with our foxy mask and a bow tie for a touch of class!
Make a simple dog costume paper mask!
Woof! Inspired by the spots on our dog mask we found some spotty shoes, spotty pants and t-shirt and finished it off with a black sock for the tail. You could also use plain black or white clothes, or mix and match!
Deer costume ideas!
Put together an adorable deer costume with clothes from your child's closet. A brown dress, brown tights, boots and accessories topped off with a deer mask. Deary me – it's so cute!
Bamboo anyone? Printable Panda mask and costume ideas.
A black and white baseball top and black tracksuit bottoms make the perfect panda outfit to compliment this printable panda mask! Add some black all stars and a black and white bandana as an extra to your costume. Simple and effective.
Koala costume mask and ideas!
All you need for this koala costume is a grey jumper or hoodie, grey tracksuit bottoms/pants, grey shoes or sneakers, with an optional grey scarf for the neck and a koala mask to top it off. Koala-tastic!
Easy DIY printable bunny rabbit mask and costume idea!
We went super pink and frilly with this bunny rabbit costume. Pull out a tutu, pink tights and top and some pink sneakers or shoes. Top it off with our printable bunny mask and hop away!
Printable paper tiger animal mask and DIY outfit idea!
Look out anything striped and/or orange from your family's wardrobe to put together this easy tiger costume. To make the tail stuff a sock with cotton wool and bin it to the back of the trousers. Now the tiger mask and you are ready to roar!
Cute owl dress up: Animal costume ideas!
Twit twoo! Look out a brown knit cardigan, autumnal-colored dress, tights and shoes, tie on your owl mask and off you fly!
Homemade DIY bear costume
You can put together an easy-peasy bear costume using Happythought's bear mask and a selection of brown clothes from your child's closet. We picked a nice chunky knit wool cardigan and brown cords. Grrrr!
10 costume ideas that are perfect for a dress up and costumes.These printable crafts and activities are deal for a dress like an animal day at school or how to dress like an animal without a costume just using homemade animal costume ideas.
Our popular wild animal mask set features some of the fiercest jungle and swamp creatures from around the world. Calavera or sugar skull paper mask template pack and these very cool lucha libre mask sets.
These animal costume ideas for outfits have been created for our Happy Animal Friends 3D printable masks. 10 animals to dress up as: Bear, Panda, Cat, Dog, Owl, Tiger. Fox, Rabbit, Koala and Deer, with black and white coloring-in versions too!
More DIY homemade mask ideas for costumes
We hope you enjoyed our 10 animal costume ideas. If so, please give us a little love; by liking us on facebook, pinning us on pinterest or following us on twitter. Thank you!