Need some simple snowflake decoration ideas? Who doesn't love a beautiful snowflake pattern, to get those festive juices flowing. Time to prepare for the Holidays with some fun snowflake pattern ideas from Happythought.
Great for all types of Holiday decorations, simple snowflake decoration ideas can be a very versatile festive table decorations, tree ornaments, cards, present tags and more. snowflake templates or kirigami patterns.
Check out more of Happythought's simple snowflake decoration ideas
Simple DIY snowflake templates
Check out Happythought's template and video tutorial on how to make these beautiful snowflake. Use these easy DIY snowflake templates to fold, cut and make fabulous DIY Christmas decorations.
Burns night snowflake designs
Templates and instructions to craft these snowflake decorations for a wee bit of Scottish party fun, featuring a thistle, a Burns silhouette, a 'wee timorous beastie' and a 'red,red, rose'. These Burns night snowflake templates are part of our popular Burns Night Supper craft activity pack.
Valentine snowflake ideas
Happythought's 12 DIY Valentine snowflake or kirigami templates to make these adorable Valentine hearts and flowers. These simple snowflake decoration ideas can be used to decorate your classroom, as table decorations, window art or too to send a special message of love. The snowflake templates include a black and white, to cut out and color your own way.
Simple Easter snowflake patterns
Easter printable snowflake stencils are ideal for the Easter Holidays. Happythought's DIY Easter snowflake templates includes 12 templates to craft these six-pointed paper snowflakes.
Halloween snowflake decoration ideas
Step-by-step Halloween snowflake patterns are great as simple table decorations, window art or as a homemade Halloween card. Fill an afternoon creating at home with all the family. Decorate your home with these cute and spooky snowflakes.
Festive animal snowflake cutouts
Use the free to members templates to cut, fold and make fabulous DIY Christmas decorations. You can use the festive animal snowflake designs to decorate your tree, as table decorations, window art
Simple DIY snowflake crown templates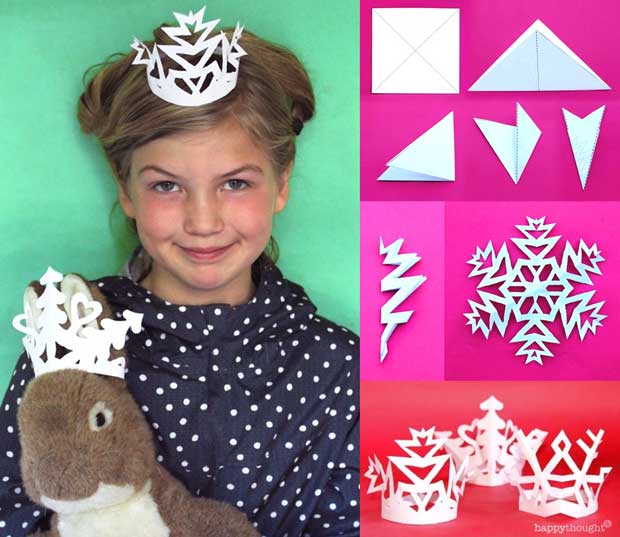 Make three cute and festive paper crowns for a festive dress up idea. These snowflake crown templates are from our popular Holiday craft pack. Have a go!
Cinco de Mayo paper kirigami rings
So satisfying to make! A DIY paper 5 de mayo snowflake craft template inspired by imagery from Cinco de Mayo, a cactus, papel picado, milagro hearts, guitars and sun with star designs.
Versatile and simple snowflake decoration ideas
Stick them to your window just like a frozen snowflake. These snowflake template PDFs are quick and easy to download. In a few minutes you will have some beautiful decorations for your home, workspace or classroom.
For long lasting snowflakes use this clever hack. Dip your snowflakes in melted candle wax. Then you can hang them as decorations. Why not add some glitter to the wax?