Carnival is a festive season occurring before lent, usually around February or March. In this event people wear colorful masks and costumes and participate in a parade, which contains elements of a circus and a street party.
Items prohibited during lent are often consumed in vast amounts and it is usually encouraged to go wild during a carnival, satirising or celebrating things that are seen as unacceptable in everyday society.
The most famous carnival is the one in Rio. With up to 2 million people in its streets per day. The parade contains breath taking floats, revellers and adornments made by various samba schools. A samba school is a collaboration of neighbours who also want participate in the big day.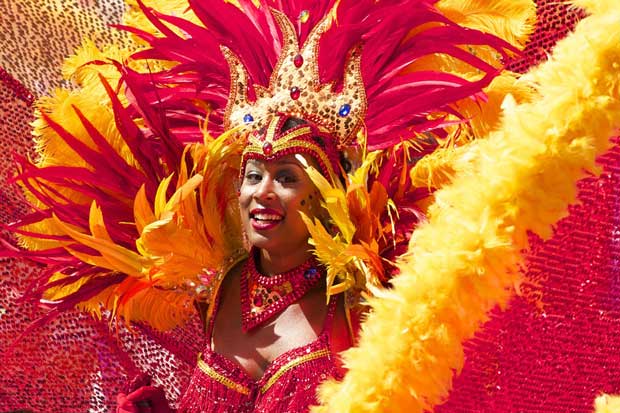 Why is it celebrated?
The motive for celebration varies depending on its location. For example in Rio de Janiero the carnival is celebrated in honour of the gods and the great waters, whereas in other places it is more of a decadent blow-out before Lent.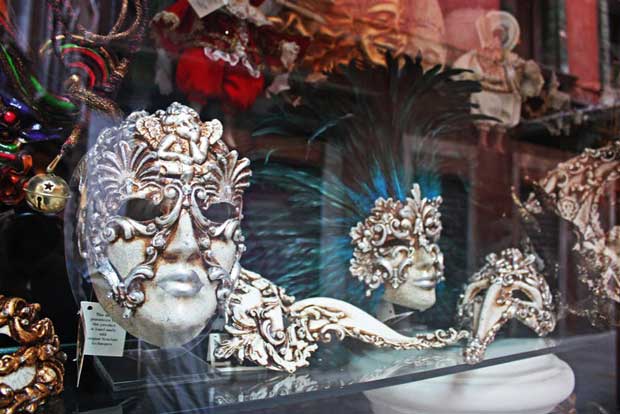 What do people wear?
The Carnival is celebrated with a grand parade of festivity, merry-making and excess. The costumes are designed and made by the samba schools, and are famous for their vast amounts of color, outlandish accessories, wonderfully over the top headpieces and the common use of feathers.
The parade is divided into what is known as wings. Each school's wings represent a specific theme which is reflected in their costumes. The ground wing is reserved to dancers and musicians that surround the float, the float wing is for the performers on the floats themselves. The samba schools take these very seriously, and their costumes often cost as much as 1000 USD to make.
Need an instant, easy solution to make your own carnival outfit?
The most important activity is to have fun, so all you need to do to make a carnival is get together with people you like, put some music on, dress up for your street party and parade around town.
Make a DIY Carnival headdress. Printable DIY 'Trinidad' carnival crown templates by Happythought
You can make your own carnival outfits at home using our DIY Carnival head dress templates.
See more details here – https://happythought.co.uk/product/printable-carnival-headpiece
You are sure to have a great time!
Make a DIY Carnival headdress. Printable DIY 'Rio' carnival crown templates by Happythought
More ideas to explore from our Happythought website:
CARNIVAL CELEBRATIONS AROUND THE WORLD
Rio de Janeiro, Brasil
When: 40 days before Easter, in February or March.
An estimated two million people turn out on Rio's streets every day of the Rio Carnaval to watch performances from around 200 samba schools and 300 neighbourhood street bands.
Mardi Gras, New Orleans
When: The two weeks leading up to Fat Tuesday, the day before Ash Wednesday.
The festivities draw three quarters of a million people to The Big Easy each year.
Santa Cruz de Tenerife Carnaval, Santa Cruz de Tenerife
When: The week before Ash Wednesday.
The eventhas performances from more than a hundred music groups, including murgas, comparsas, rondallas.
Carnevale di Venezia, Venice, Italy
When: The two weeks leading up to Ash Wednesday.
Thousands attend public and private events and parties.
Trinidad & Tobago Carnival
When: Monday and Tuesday before Ash Wednesday.
300,000 people pack into Queens Park and the national stadium.
Quebec Winter Carnival
When: The two weeks leading up to, and a handful of days after, Shrove Tuesday.
World's biggest winter festival, drawing around 500,000 visitors.
Cologne Festival, Germany
When: The week leading up to and including Shrove Tuesday.
Draws over a million visitors to the city every year.
Mazatlan Carnival, Mexico
When: The week leading up to Shrove Tuesday.
Mazatlan has the oldest major modern Carnival tradition in Mexico.
Notting Hill, London
When: Last Sunday and Monday in August.
Around one million people attend the carnival to see 50,000 performers.
To learn more about celebrating, visit these links:
https://hippie-inheels.com/crazy-party-guide-to-rio-carnival/
http://blog.londonpass.com/notting-hill-carnival-guide/
https://theculturetrip.com/north-america/usa/louisiana/articles/top-10-mardi-gras-traditions-you-should-know/