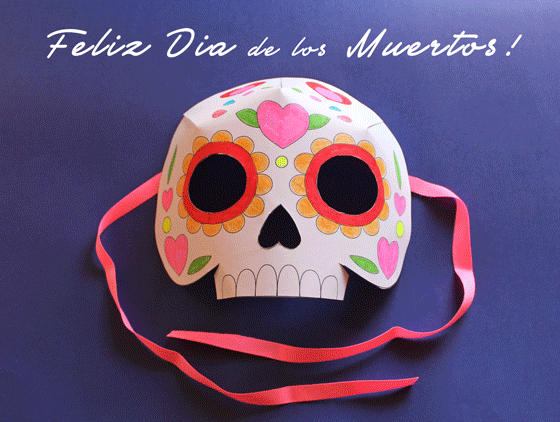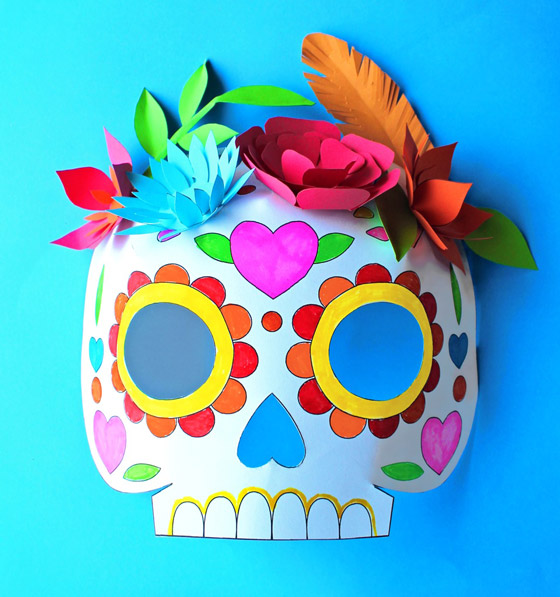 Day of the Dead party ideas and crafts: Color in calavera masks – Print, color in and wear!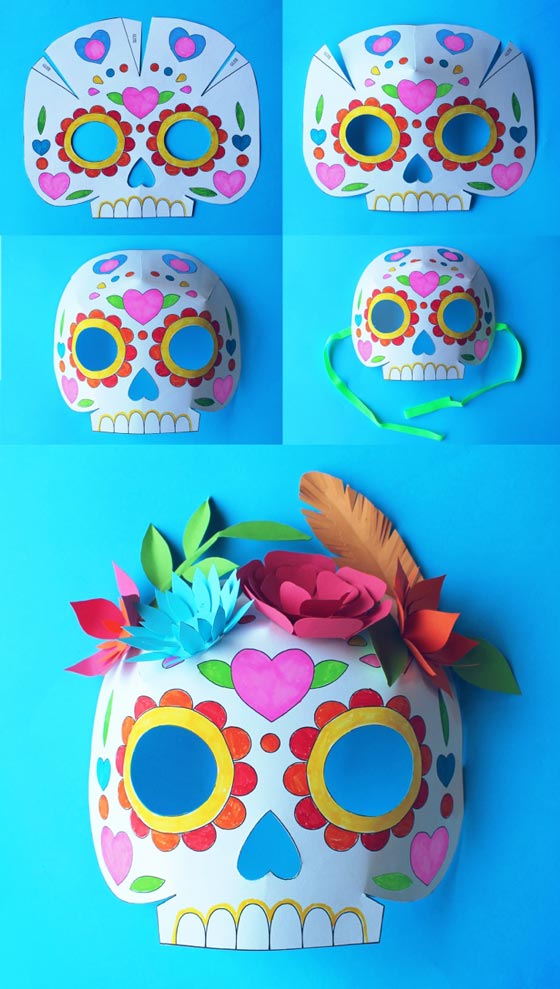 Make a fun and easy 3D paper Sugar Skull or Calavera mask using Happythought's printable calavera mask templates! The color in calavera masks are part of our Day of the Dead craft activity pack, available here.
---
Happythought Top 5 DIY Day of the Dead party ideas
Day of the Dead garland
Paper flower crown
Calavera mask project
Nicho craft activity
Food and drink signs
---
How to make your color in calavera masks:
You will need:
Scissors, a glue stick, masking tape and some ribbon. For a longer lasting mask, print your calavera mask template on to a slightly heavier stock paper.
Step 1
Carefully cut out the mask, nose and eye holes. Color in your mask and decorate it with glitter.
Step 2
Glue the middle panels together with your glue stick and secure on the back with a little masking tape.
Steps 3
Next stick the two side panels together as shown.
Step 4
Now tape a length of ribbon to either side of the back of the mask.
Step 5
For a Catrina style mask, stick on your flowers, feathers and foilage!
---
Paper mask making: Calavera or Careta masks, paper flowers and paper feathers – 7 PDFs


Adding paper flowers and paper leaves to your careta mask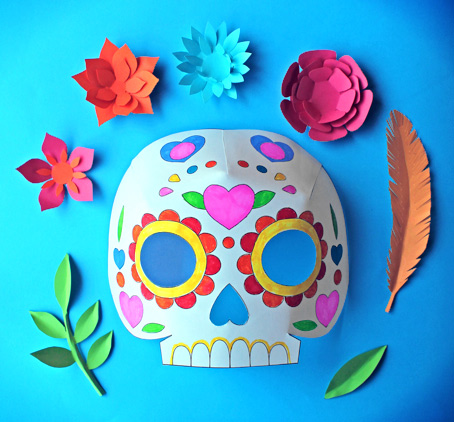 Leaves: Score and fold the center of each leaf and pinch the end to give it shape.
---
Feathers: Score and fold the center of the feather, following the curve. Fringe the edges of the feather with your scissors and ruffle a little to give texture.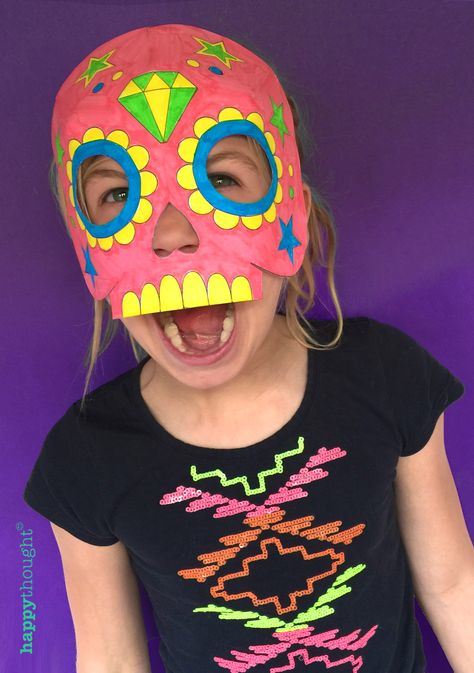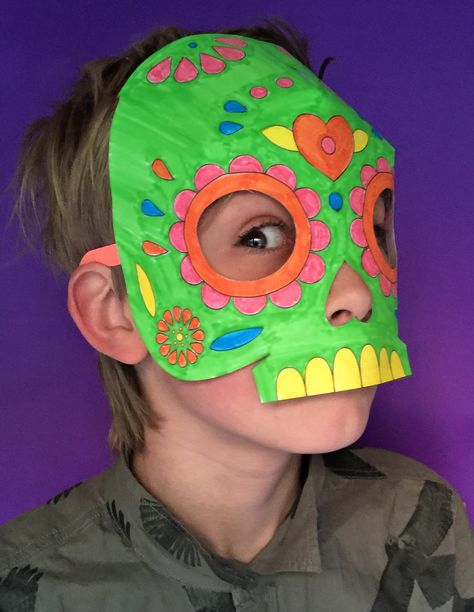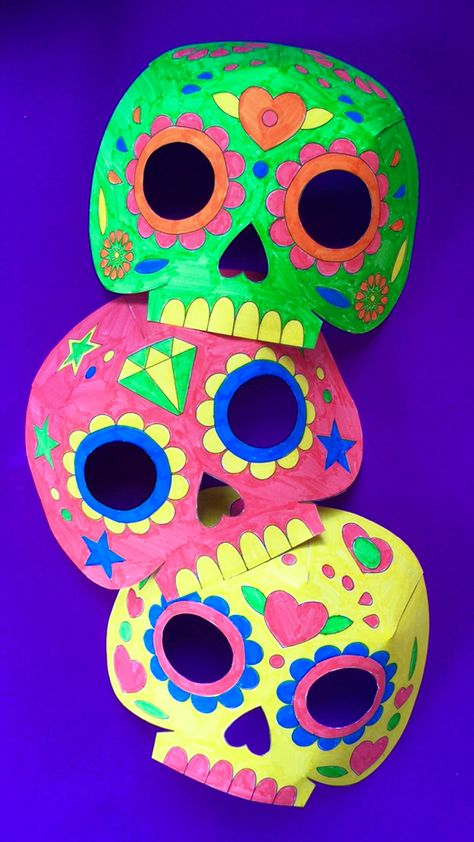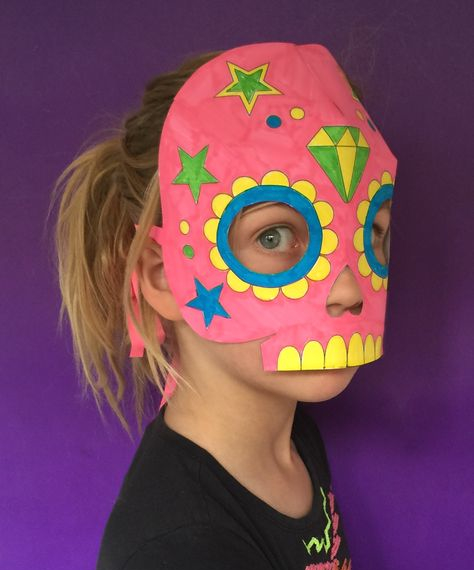 ---
4 activities and 18 PDF Learn about Day of the Dead worksheets – Buy Now!


We hope you enjoyed this post on Happythought's Dia de los Muertos calavera mask templates to color in!
If so, please give us a little love; by liking us on facebook, pinning us on pinterest or following us on twitter. Thank you!