Mexican Otomi inspired animal craft project idea. Easy to make dog, bird and fish templates
Get creative with Happythought's Otomi inspired animal craft templates, inspired by Otomi embroidery motifs. Otomi textiles feature hand-sewn designs that are embroidered onto fabrics in brightly colored geometric or animal and plant designs. Otomi designs symbolize the harmony between humans and the natural world.
In this set you can find a dog, bird and fish template. The PDF craft templates are perfect for coloring in class or as a family cratfy activity, and include easy-to-follow photo instructions, showing how you can decorate your animals with yarn tassels and pompoms.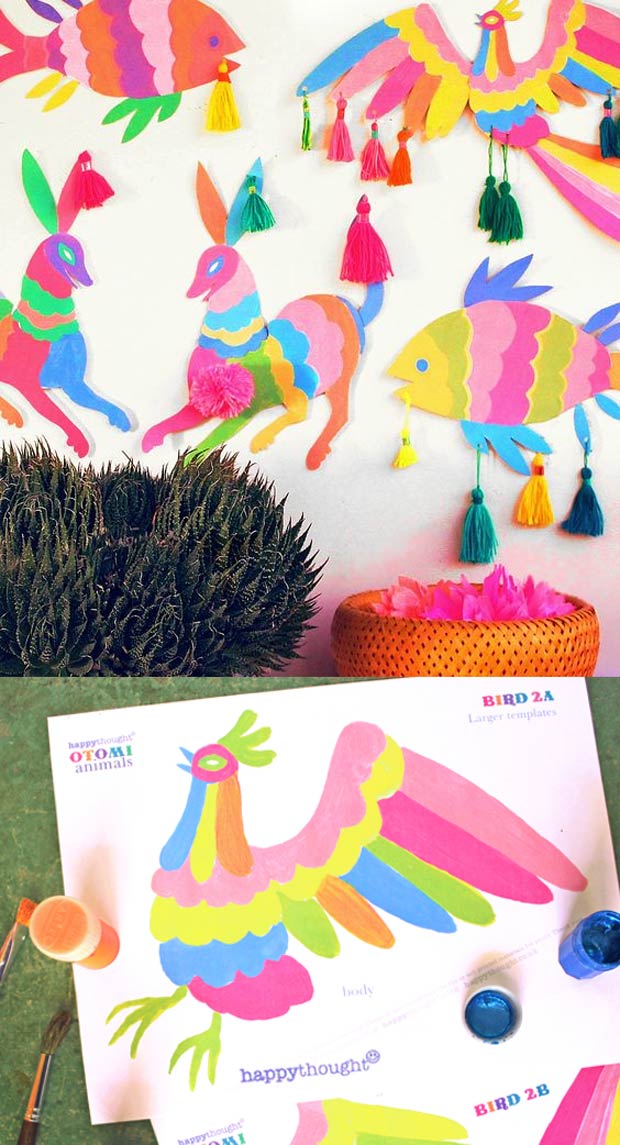 The templates also include a quick tutorial on how to make colorful yarn tassels and pompoms. These templates are part of the Happythought Cinco de Mayo craft activity pack, which includes 8 other Mexican inspired craft projects. Download the easy to make papercraft PDF files for a classroom or after school art project.
How to make an Otomi inspired Animal wall decorations
You will need: Happythought templates, cardboard (an old cereal box or similar), scissors, a glue stick, paints or colored pens/pencils, masking or sticky tape, and a hole puncher (optional).
Step One
Color in your otomi template. Here we chose the bird.
Step Two
Trim loosely around the bird image and glue it to a piece of cardboard, as shown.
Step Three
Now trim neatly around the edges.
Step Four
If you are working with one of the larger images, repeat stages two and three with each piece of the template, then glue them together.
Step Five
Reinforce your otomi bird with extra strips of card taped in place, as shown.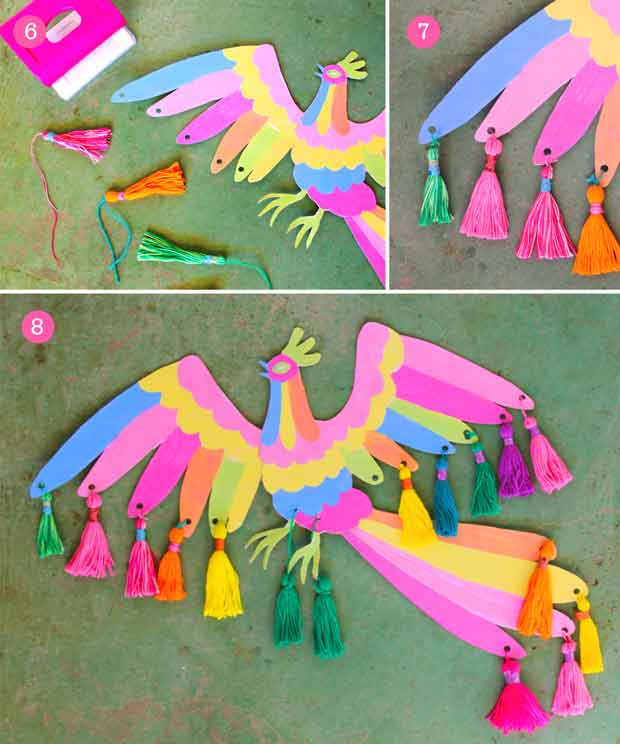 Step Six
Carefully punch or cut holes in the tips of the wings and tail feathers.
Step Seven
Attach your tassels (see tassel tutorial, also part of the Cinco de Mayo craft kit). You can also add some pom-poms!
Step Eight
Your Otomi wall art is ready! Tape a loop of wool on the back of the bird to hang it on the wall.
N.B. You can use these templates however you like! For instance they can also be used in decoupage, or hung from the ceiling as decorations, or as a mobile. Have fun!
How to make a yarn tassel
For this Otomi inspired animal craft project you will need: Scissors, yarn or embroidery thread, a small book or piece of card, colorful tape (optional).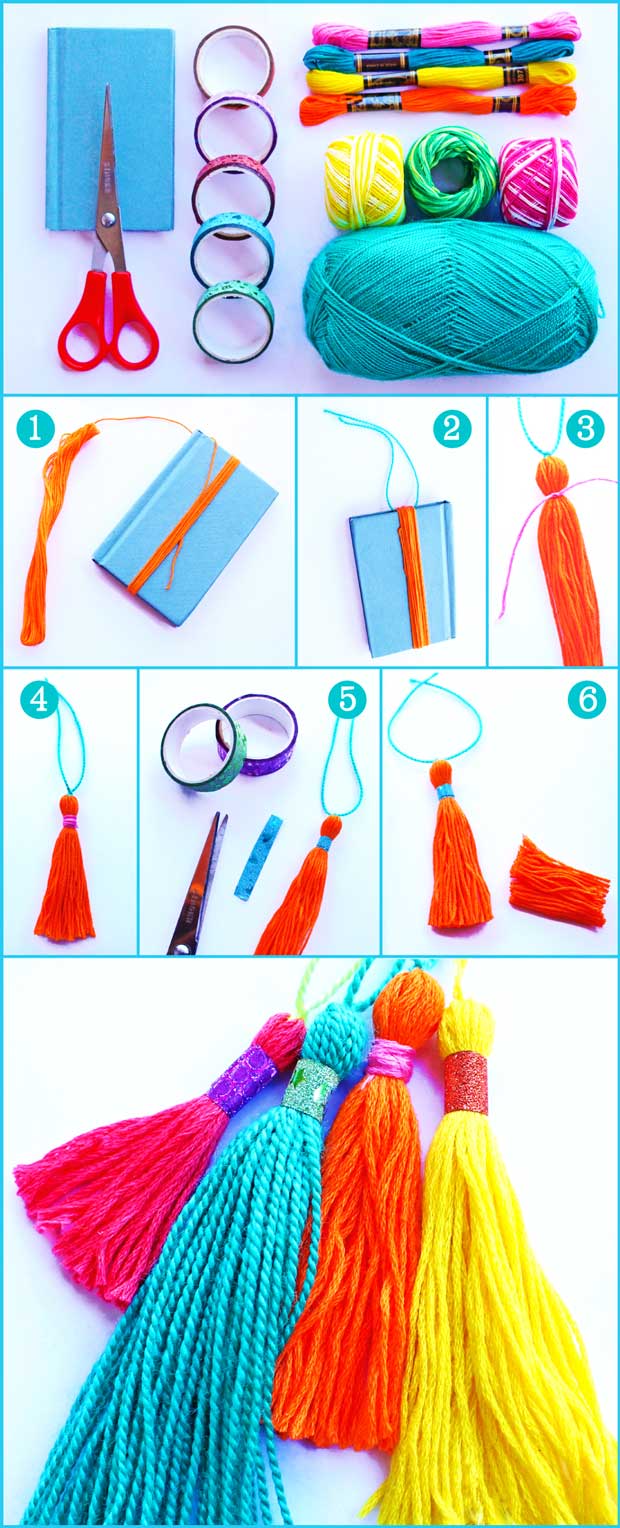 Step One
Wrap yarn around a small book or a piece of stiff cardboard, between 20-40 times, depending on how full you want your tassel to be. The tassel will be slightly shorter than the length of your book or card.
Step Two
Tie a length of thread around the top end of the wrapped yarn, and secure with a double knot. Cut through the bottom end of the wrapped yarn to release it from the book.
Step Three
Cut a length of yarn and tie it around the top as shown, approx. 8mm from the top of your tassel. Secure with a knot.
Step Four
Wrap the length around several times before securing with a double knot and trimming the ends.
Step Five (optional)
For a fun twist, also wrap a strip or two of colored metallic tape or washi tape around the top of the tassel.
Step Six
Lastly, neatly trim your tassel to your preferred length. Hooray, your tassel is ready!
How to make an easy pom-pom
You will need: Scissors and yarn!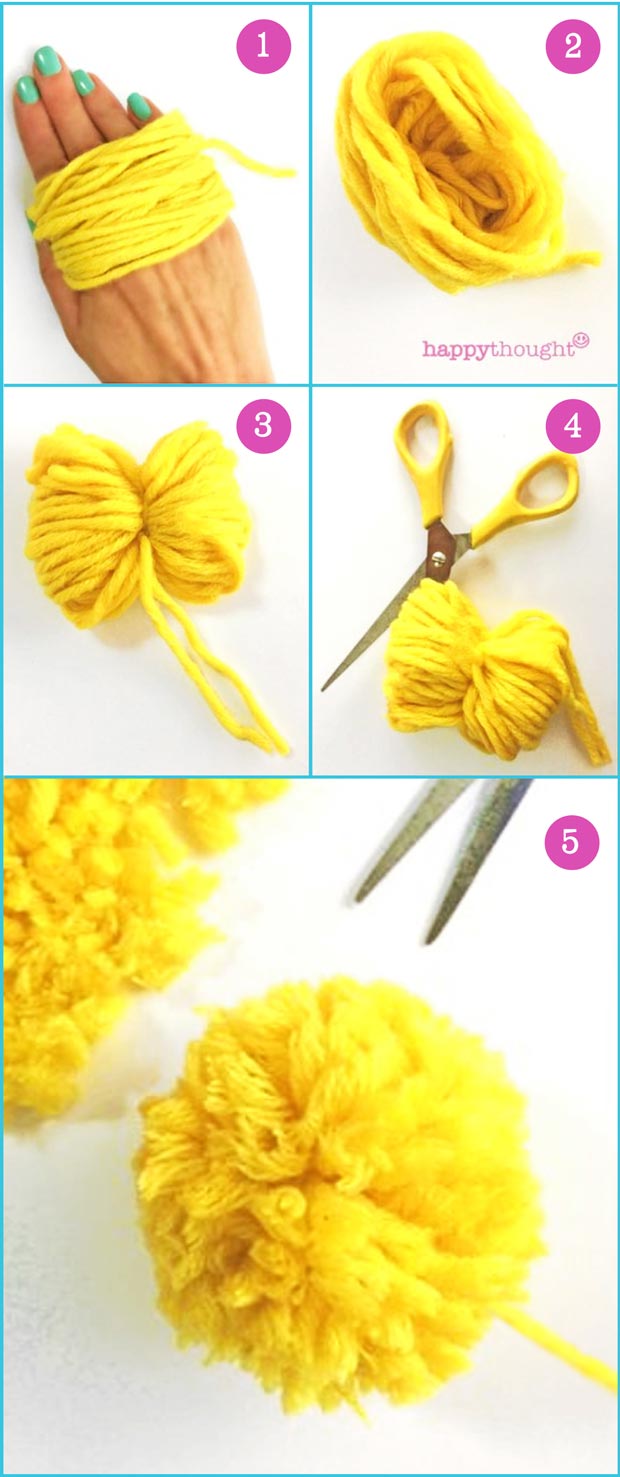 Step One
Wrap the wool around your hands, approximately 60 times.
Step Two
Carefully slide the coil of wool off your hand.
Step Three
Tie a length of yarn around the centre of the coil of wool, securing tightly, with a double knot.
Step Four
Next take your scissors and cut through the two loops of wool on either side, as shown, being careful not to cut through the length tied around the centre.
Step Five
Now to give your pompom a haircut! Carefully trim the edges, until you have an even ball
We also have a how to make a pom pom video and cute pineapple pompom craft tutorial.
Otomi: Have a go yourself, you can download the templates here!
The Otomi animal templates as part of our Cinco de Mayo craft activity pack. This Happythought activity pack features 8 other art projects and crafts. Check out our popular lucha libre masks and this gorgeous paper flower crown for a Cinco de Mayo decorations and costume ideas.
Learn a little more about Otomi art and culture
The Otomi people are from the central Mexican Plateau. The Otomi have developed an international reputation for their textiles, sometimes called Otomi fabrics, or sometimes called tenangos, after the valley where many Otomi people live.
Otomi Textiles
The Otomi textiles feature hand-sewn designs that are embroidered onto fabrics in brightly colored geometric or representative shapes. Images of animals and plants are very common. This style of embroidery results in textiles that are colorful, complex, and lively.
The forms and shapes embroidered into Otomi textiles have ancient roots, dating back even before the rise of the Aztec Empire. According to many stories, these shapes were preserved in prehistoric cave paintings of the Mexican Plateau, giving artists of each generation a template from which to base their designs. Otomi designs symbolize the harmony between humans and the natural world. The symbols connect to ancient Otomi myths, stories and rituals.
There is more information the Otomi people and their crafts here – https://study.com/academy/lesson/otomi-textiles-history.html
Be sure to check out these other fun craft projects, printable templates and art activities for the class and home. Try you hand at making a drinking straw necklace, download worksheets for Cinco de Mayo, craft colourful Mexican paper star ornaments, a nicho for Day of the Dead and head dress or corona templates for carnival!
Este artículo también está en español – https://happythought.co.uk/es/manualidades/proyecto-de-manualidades-animales-de-inspiracion-otomi
We hope you enjoyed our Otomi inspired animal craft project! If so, please give us a little love; by liking us on facebook, pinning us on pinterest or following us on twitter. Thank you!