Description
5 DIY Cinco de Mayo paper ring templates – Easy DIY decorations with instructions and printable patterns!
Craft these Cinco de Mayo kirigami paper rings with 5 printable templates, free to members. Use these easy kirigami paper craft templates to print, fold and cut these fabulous DIY Cinco de Mayo decorations!

Cinco de Mayo paper ring templates
You can use the printable paper rings to decorate your home, classroom, as table decorations, or window art. The craft patterns come in color and black and white, to cut out and color your own way. A fun way to fill an afternoon crafting at home with all the family. So satisfying to make! These easy DIY paper kirigami snowflake craft templates feature cactus, papel picado, milagro hearts, guitars and sun and star designs.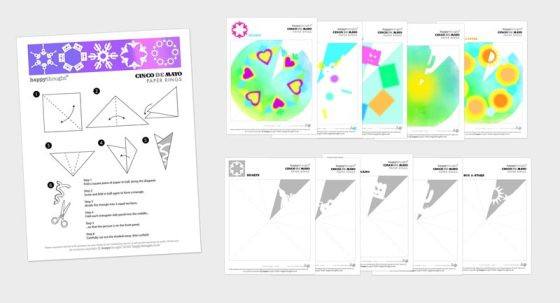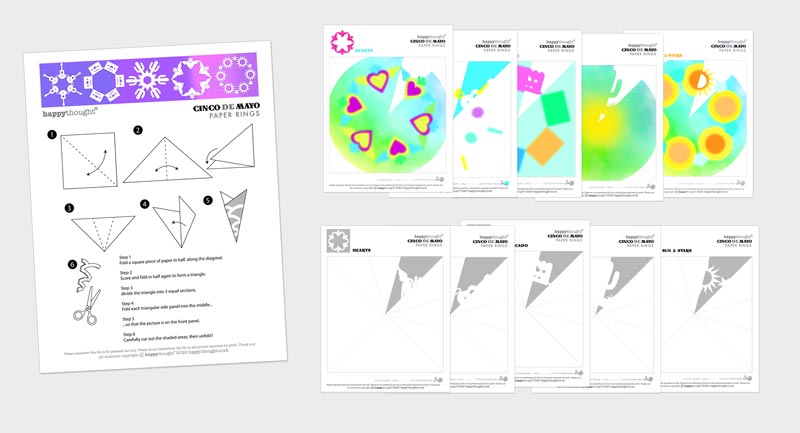 You will need:
• Paper
• Scissors (a good pair of scissors makes all the difference!)
• Happythought Cinco de Mayo paper ring templates (x5)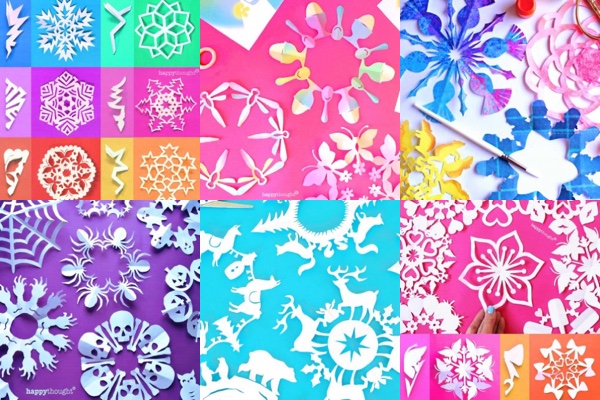 Check out these other Kirigami patterns, including DIY snowflake templates, Halloween, Christmas animals, Easter paper snowflake template, Burns Night and Valentines.
What is Kirigami?
Kirigami is a variation of paper craft that includes cutting of the paper, rather than solely folding the paper as is the case with origami. In Japan, the word "kiru" means to cut, and "gami" means paper. So, kirigami means to cut paper.
We have some other great template ideas for no-sew projects, paper crafting and class art activities. Mexican paper star color in craft, paper skeleton hand dress up idea and our popular DIY paper thistle template.
We hope you enjoyed our free to members easy DIY Cinco de Mayo snowflake templates! If so, please give us a little love; by liking us on facebook, pinning us on pinterest or following us on twitter. Thank you!