Description
Need a few activity and craft ideas for Cinco de Mayo?
Try this printable activity pack with Mexican inspired craft projects!
We've put together this fun printable kids activity pack for the upcoming Cinco de Mayo celebrations. This pack features 10 fun and easy Cinco de Mayo papercraft activities with templates. Paper flower headpiece, papel picado pinwheel, pinatas, Mexican paper star, papel picado decorations, hojalata ornaments, paper ring decorations, otomi animals, 3D paper cactus and talavera tiles.
All the printable crafts come with step-by-step photo tutorials.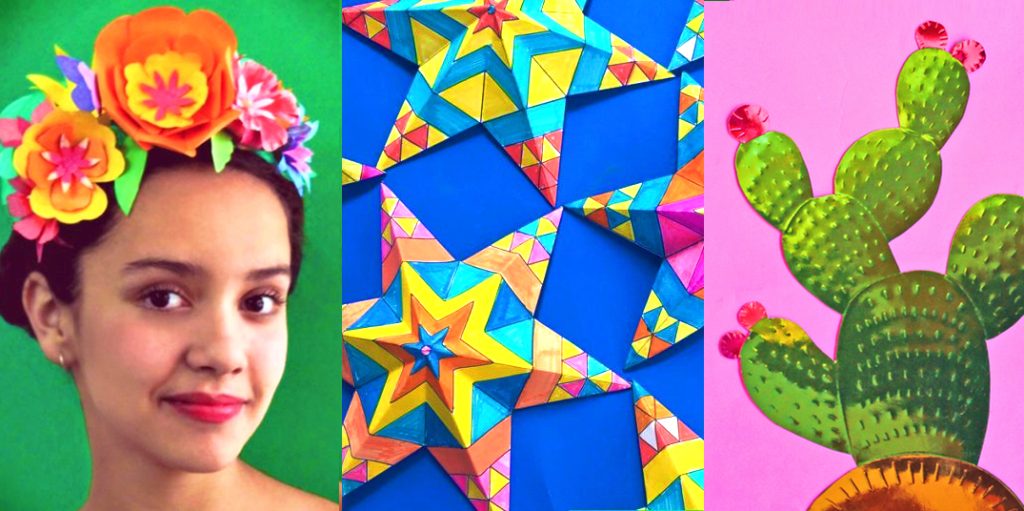 Perfect for some fun printable kids activity, classrooms, home school or family craft days!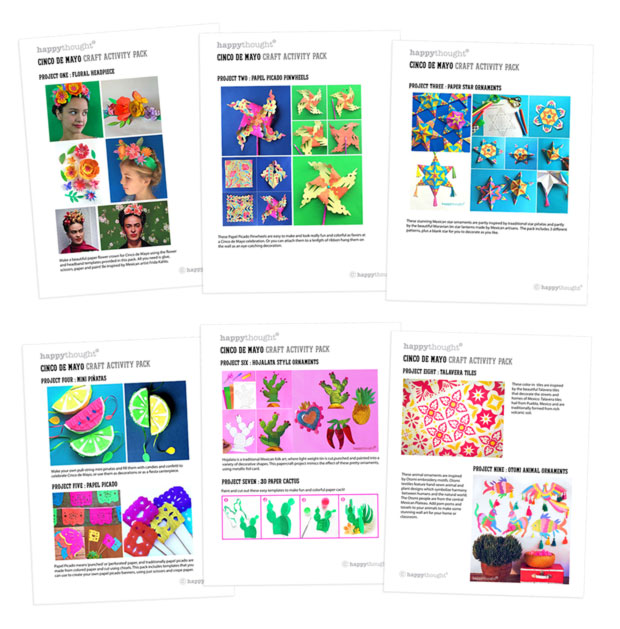 Tips, tutorials and photo examples – Teacher friendly PDF worksheets.
Get the best out of Happythought's Cinco de Mayo craft activities for you and your students!
YOU WILL RECEIVE:
10 Cinco de Mayo printable activities each containing the following black and white PDF templates/patterns:
Paper flower headpiece
Papel picado pinwheel
5 de Mayo Piñatas
Mexican paper stars
Papel picado banner or garland
Hojalata ornaments
3D paper cactus
Talavera tiles
Otomi Animals wall art
Paper kirigami rings
1) Paper flower headpiece for costumes and decorations – clear step-by-step photo instructions – 15 PDFs
Color templates included too…

2) Papel picado pinwheel for props and printable kids activity – step-by-step photo tutorial – 7 PDFs

3) 5 de Mayo Piñatas: Lemon, lime and watermelon draw/pull string pinatas – instructions in black and white – 6 PDFs

4) Mexican paper stars: Color-in printable kids activity – easy to follow photo tutorials – 7 PDFs

Color templates included too…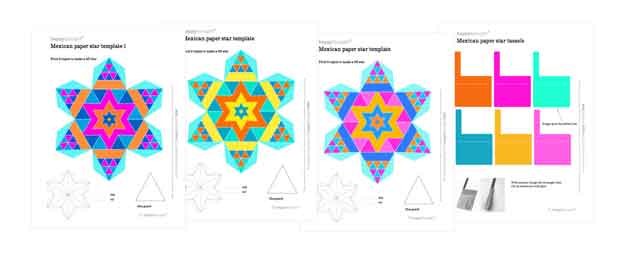 5) Make your own papel picado banner or garland decorations for fiestas (13 patterns) – 9 PDFs

6) Make your own Hojalata ornaments for class and printable kids activity (5 patterns) – 6 PDFs

7) Create your own 3D paper cactus – printable kids activity for class decorations (5 patterns) – 7 PDFs

8) Make your own Talavera tiles – craft project templates and patterns to color (8 patterns) – 5 PDFs

9) Make Otomi Animals wall art – craft project templates and patterns inspired by Mexican Otomi embroidery (6 patterns) – 22 PDFs
10) Paper kirigami rings featuring papel picado, cactus, guitar, milagro heart and sun and stars – 10 PDFs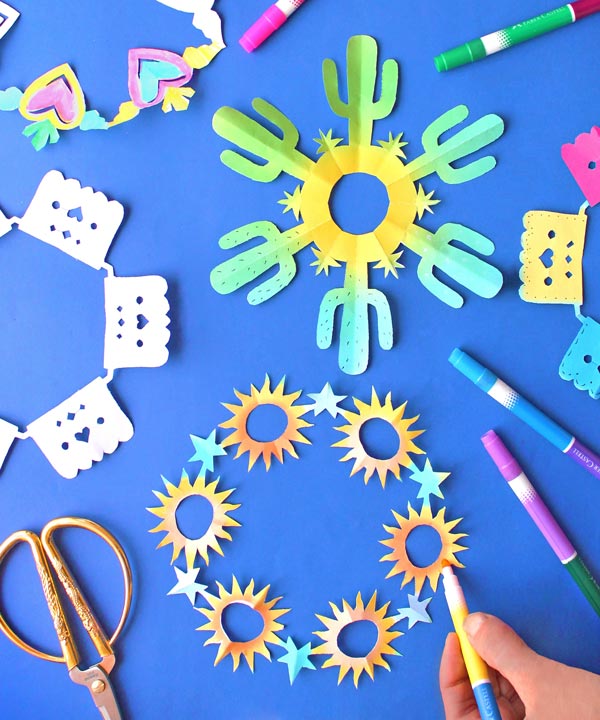 Watch our basic papel picado video tutorial. Then choose from butterfly patterns, mini flags, birds and hearts designs, cute mini garlands, calavera or careta shapes, corazones and 3 papel picado banner templates.
Instruction sheets with step-by-step photos showing how to assemble each craft project are included.
All the files are optimised as a HIGH RESOLUTION PDF (300 dpi) letter format.
Our digital templates are designed to be easy to make. We like it simple too!
Beautifully crafted party items and favors at a fraction of the price!
Check out some of out other popular craft activities. Mexican tin can labels, Cinco de Mayo ideas for the classroom, Day of the Dead activity pack, hacer a lucha libre mascara and 6 summer camp craft activities.
Some tips on printing out your worksheets
We have designed the worksheets in black and white to be economical on toner. After opening up your PDF templates look for a grayscale, fast printing or economy setting. These types of settings not only save on ink but also on printing time.
Printable kids activity. Cinco de Mayo worksheets in Spanish and English, Cinco de Mayo party printables and Cinco de Mayo digital scrapbooking images.

Cinco de Mayo is a festive holiday celebrated in Puebla in Mexico and in many US cities with large Mexican populations. Cinco de Mayo started as a locals celebration of the defeat of the French Army by Mexican soldiers at the battle of Puebla.
Hope you like this printable kids activity craft pack for 5 de Mayo celebrations. Please give us a little love; by liking us on facebook, pinning us on pinterest or following us on twitter. Thank you!