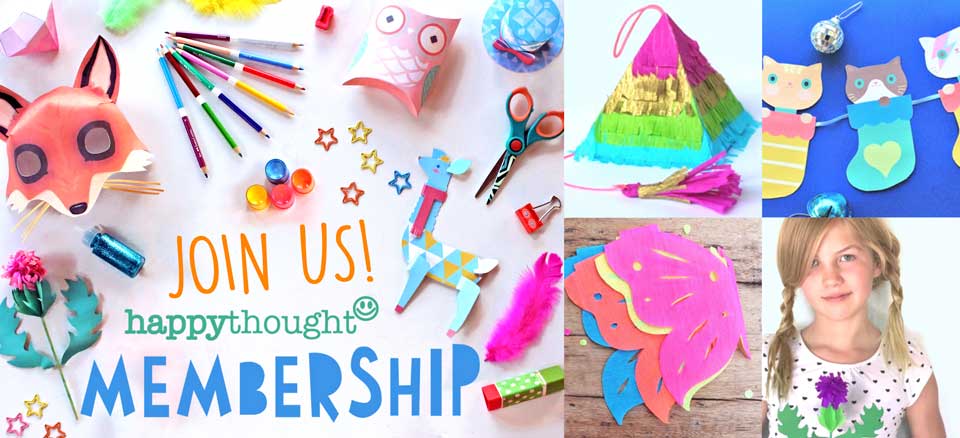 Benefits include:
• Unlimited access – Happythought CraftClub templates
• Happythought Newsletter
• Special Happythought members only discounts
Here at Happythought we have a passion for all things simple and beautiful, specially if paper is involved. We love making up fun craft activities to inspire creativity. Playing and creating in class, home or the workshop, with a healthy attitude is the first starting point to a good crafting flow.
Our template ideas should be the starting point, and springboard to explore you and your child's creative capabilities. Sky's the limit!
Check out more craft ideas to get inspired by, on our craft blog which is also packed full of fun mask ideas, printables, craft activities, worksheets, PDF mask templates, downloads & DIY tutorials!
Printable color in worksheets and activity ideas
There's even a trip to London with famous landmarks, games and puzzles. Try our fabulous London printable color-in worksheets full of fun and interesting fact about old London town, its buildings and its famous characters.
As London is also a key topic in many schools we have made this London printable pack teacher friendly to print. The worksheets and templates are ideal for printable kid's crafts, teacher materials and ideas in class, home school or family activity days!
More printable crafts to buy are shown in our main printable templates page.
Education activities by Happythought: Learning is fun
Do you want to provide interest and variety to your teaching and education activities?
To start off you child's fascination with books and stories, try our story-telling dice game. Living in a Spanish/English speaking home these translations with the craft activity pack, come in handy.
Also it's all there in Spanish and English for the Day of the Dead (Dia de Los Muertos) printable party kits. We have Day of the Dead worksheets to print out, plus lots of DIY craft decoration ideas for Day of the Dead.
Introduction to STEM or STEAM learning activities by Happythought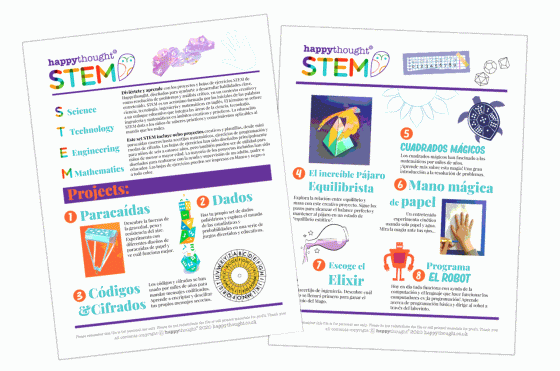 Try our printable STEM worksheets featuring some key areas of Science, Technology, Engineering and Mathematics project worksheets for ages 8 and over. In English and Español!
• 8 Inspiring STEM projects, with worksheets and templates.
• An introduction to STEM, answer and explanation sheets.
Children also love our pre school activity learning worksheets, help develop fine motor and problem solving skills with coloring in, drawing, counting and puzzle activities. Perfect for preschool and kindergarten aged children. Featuring over 30 worksheets.
For more educational STEM activity ideas and for those who celebrate Halloween we haven't left you out: try the Halloween STEM worksheets. All these add colour and brightness to any activity or lesson.
Costume ideas: dress up as Fantastic Mr Fox for parties and fietas
Try it for yourself?
We want you to see how much fun printables can be, so we are sharing this fantastic fox mask absolutely free to Happythought members!
20 paper snowflake patterns – Easy homemade DIY decorations with instructions and templates!
Craft these easy DIY unicorn snowflakes, free to members. Use these easy free templates to fold, cut and make fabulous DIY decorations. You can use the snowflake designs, as table decorations, window art or too ad a special touch somewhere special in your home.
All sorts of snowflake templates and patterns to make
Happythought provides printable PDF templates for fun and educational paper craft projects! Our kits and worksheets are popular with parents and families, teachers, play groups and crafty types!
All of our printables include easy to follow instructions and are designed to be simple and fun to make. All you need is a printer, scissors and a glue stick!
You can download your printables in an instant and create hours of fun!
Activities, ideas, templates, printables, crafts, worksheets, PDF downloads & DIY tutorials!
Easy to download
When you a purchase a happythought template from our store you will receive an instant email with a link to download your PDF template. Now the fun begins! Print, snip and glue your way to fun craft projects such as masks, decorations, party kits and more! Best of all you can print as many as you like, whenever you like!
If you really want to take advantage of all the great resources on Happythought join our CraftClub (be a Happythought member).
Read about more craft ideas on our blog. We hoped you like our round up of all things Happythought? If so give us a little love; by liking us on facebook, pinning us on pinterest or following us on twitter. Thank you!