Some easy and fun ideas for Day of the Dead games
Some fun and entertaining Day of the Dead games are a great way of breaking the ice and having some fun. We've come up with some simple ideas and free template for members to get you started!
Bingo or loteria
Enrol a lively guest as your bingo caller and remember to prepare some counters for the players beforehand – something like coins, chocolate beans or matches will do.

Download your Day of the Dead bingo game templates here!
Put the head back on the skeleton
A Day of the Dead twist on the classic 'pin a tail on the donkey' game! Download and print out your skeleton, stick the body to the wall and place some blue tack or rolled over masking tape to the back of the skull. Guests take turns trying to place the skulls head on the body – blindfolded of course! Be sure to check out these party activity table ideas.
Download your Day of the Dead skeleton templates here!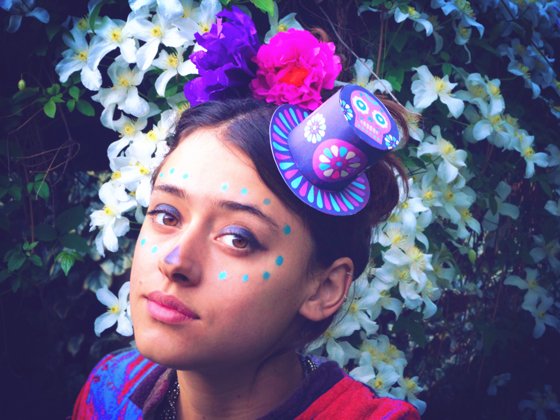 Dressing up for el Dia de los Muertos?
Keep it simple… with a paper flower in your hair, a sombrero or mini top hat, or a 3d Calavera mask from Happythought's printable Day of the Dead party kit.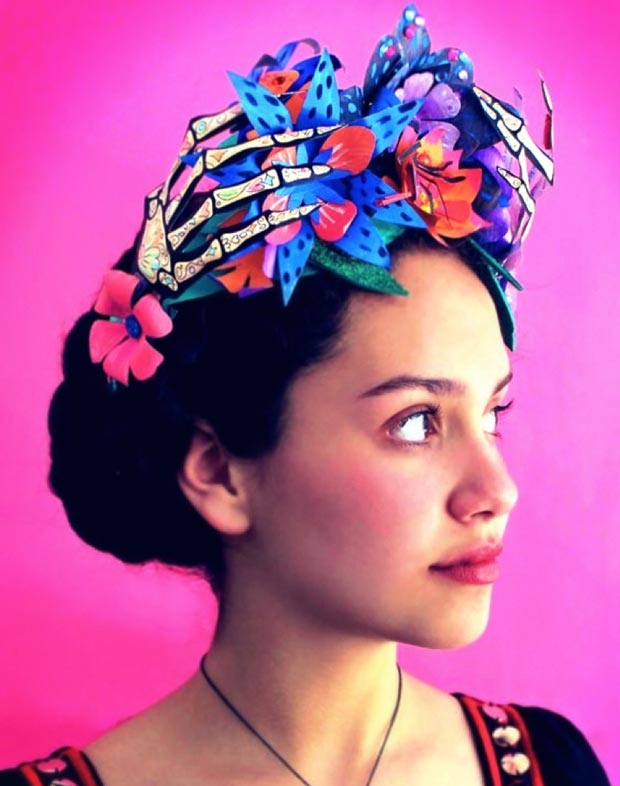 For the more adventurous..
Convert a conventional Halloween skeleton costume with flowers and glitter. Why not group together and form a Day of the Dead mariachi band? You'll need a guitar, a trumpet and of course a singer!
Dance, dance, dance
Musical statues or just a good old dancing competition always bring out the extrovert in your guests and is good fun for all involved. Prizes are an option to motivate your guests!
See our party advice guide and our activity table for extra fiesta ideas. If you need to help your guests decide what to eat and drink at your party, use these food and drink signs to guide the way – https://happythought.co.uk/day-of-the-dead/free-printable-signs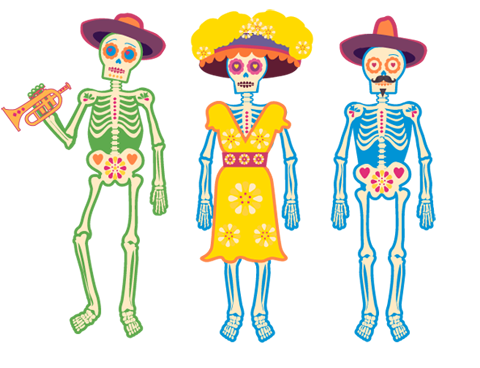 'Day of the dead' South American flavoured musical treats
We've raided the Happythought music collection to bring you some alternative 'Day of the Dead' flavored treats, guaranteed to get the dancing started.
Pedro Navaja – Ruben Blades
Guantanamera – Celia Cruz
Fruta Fresca – Carlos Vives
Pintame – Elvis Crespo
A pedir su mano – Juan Luis Guerra
El matador – Los Fabulosos Cadillacs
Loca – Chico Trujillo
Loquito por ti – Armando Hernandez
llamado de Emergencia – Daddy Yankee
La vida es un carnival – Celia Cruz
Ella me levanto – Daddy Yankee
El costa de la vida – Juan Luis Guerra
Atrevete-te-te – Calle 13
La cumbia el Mole – Lila Downs
lloraras – Oscar d'Leon
Some thoughts about volume:
It is important to maintain the right levels through out the night. Make sure people can talk when they want to and dance when they want to. Be careful not to pump up the music straight away.
Try to have more speakers at comfortable volume rather than one which is horribly distorted, or use a professional sound engineer if hiring a venue.
Buy the bingo game as part of the Day of the Dead Kit!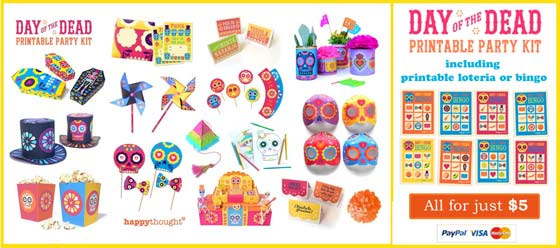 The paper crown templates and tutorial are part of our Day of the Dead craft activity pack. Featuring craft activities and Learn about Day of the Dead teacher friendly worksheets. Also all the tutorials, templates and worksheets come in English and Español versions.
Try out these other Happythought printable games and activities
We hope you enjoyed these ideas on how to have an affordable Day of the Dead recuerdo and celebration!