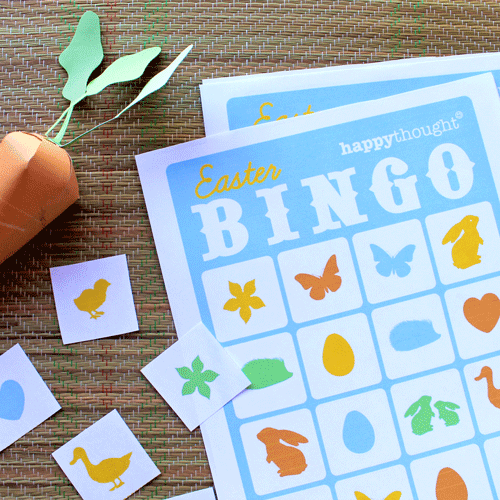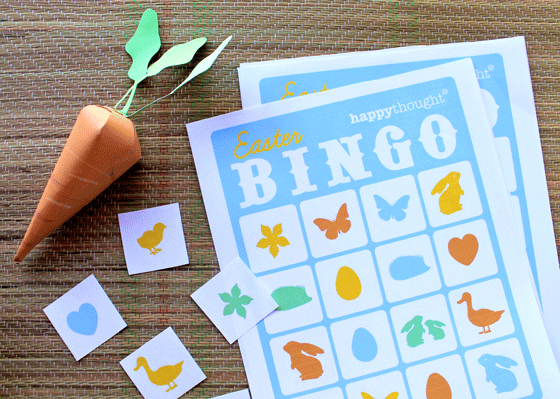 Easter Bingo game: Play ducks, eggs, bunnies, chicks, hearts, hedgehogs and a flower!
Download this printable easter bingo game which includes 10 Bingo cards, 36 caller card templates to print and cut out, along with easy to follow instructions for games and activities this Holiday Easter party. We have put together some of our favourite Easter decorations and party ideas here – https://happythought.co.uk/craft/easter-holiday-ideas

How to put together your printable easter bingo game template:
1. Print out bingo boards and picture cards on to card stock.
2. Cut out the picture caller cards.
3. Find a bag or a hat to put the cards in.
4. Find some counters – coins or popcorn seeds work well!
5. You're ready to play Bingo!

Easy instructions on playing bingo
Each player has an Easter bingo board.
Before you start decide if you are playing for a horizontal row, a vertical row, or for the whole board!
The bingo caller pulls out a card at a time and calls and shows the picture – e.g. "Yellow rabbit"
If a player has the picture on their card they can cover it with a counter.
When a player covers all the pictures on their board they call out "BINGO!"
The first player to do so is the WINNER!

Easter ducks, eggs, bunnies, chicks, hearts, hedgehogs and flowers.
Enrol a lively guest as your bingo caller and remember to prepare some counters for the players beforehand.
Printable easter bingo game: Download includes 10 Bingo cards, 2 pages of caller cards and easy to follow instructions.

Check out Happythought;s 15 Easter Bunny printables!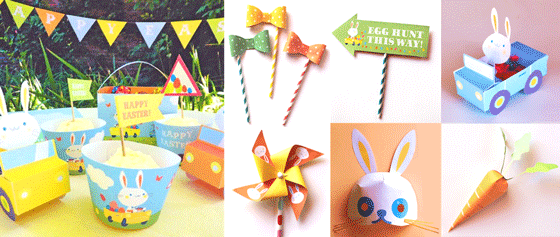 If you like games and activities check out our Day of the Dead easy homemade activities and games ideas post here. We hope you enjoy downloading and playing Easter bingo. If so, please give us a little love; by liking us on facebook, pinning us on pinterest, google or following us on twitter. Thank you!