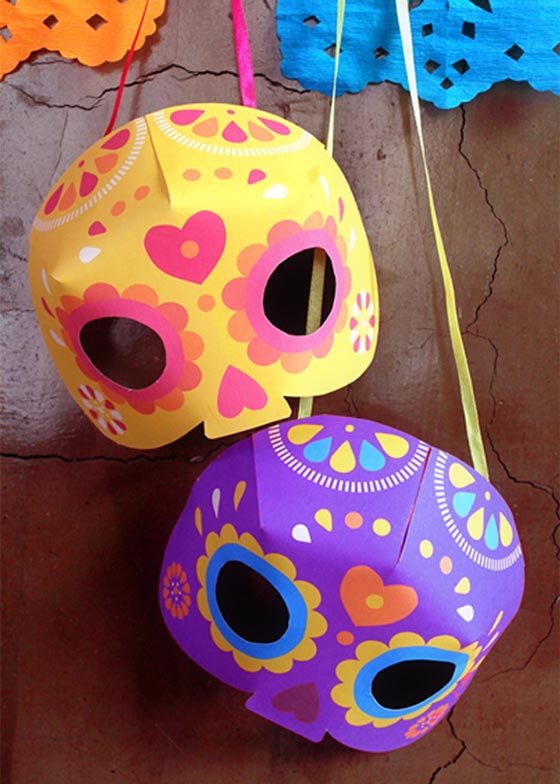 Dia de los Muertos mask craft – November 1st and 2nd
This year we wanted to add a new addition to our Day of the Dead party kit so we decided to put together some 3D calavera or careta masks, which can be used as a costume or as part of your decorations. In Mexico, Calavera means skull, also a slang term for daredevil, and calaveritas de azucar are decorative candied sugar skulls made for the DÌa de los Muertos.
Like our Lucha Libre masks, these careta masks are really easy to make, so we're going to make up a whole batch this year and give them out to all our guests.
The Day of the Dead is a celebration of those who have passed. It's not a sad or morbid gathering – more a festive, family-centred celebration of friends and relatives no longer with us.
---
Step by step photo tutorial & free Day of the Dead Calavera mask templates to download
Wear a sugar skull mask or calavera for any Day of the Dead fiesta or Halloween street party. With six different designs to choose from, you and your friends will look the part.
These calavera or careta masks are part of our Day of the Dead Printable kit which you can find here – happythought.co.uk/product/dia-de-los-muertos-printables
HOW TO MAKE A CALAVERA MASK FOR DAY OF THE DEAD (PHOTO TUTORIAL)
1. Print out the template. You will also need scissors, a glue stick, masking tape and some string or ribbon
2. Cut out your template. If you like you can add some glitter and sparkles to your mask.
3. Stick the two side panels with masking tape on the back of the mask as shown.
4. Glue the middle panels together with a glue stick. Secure on the back with masking tape.
5. Attach a length of string or ribbon on either side of your mask, or a stick to use as a photo prop.
6. Hooray! Your mask is ready.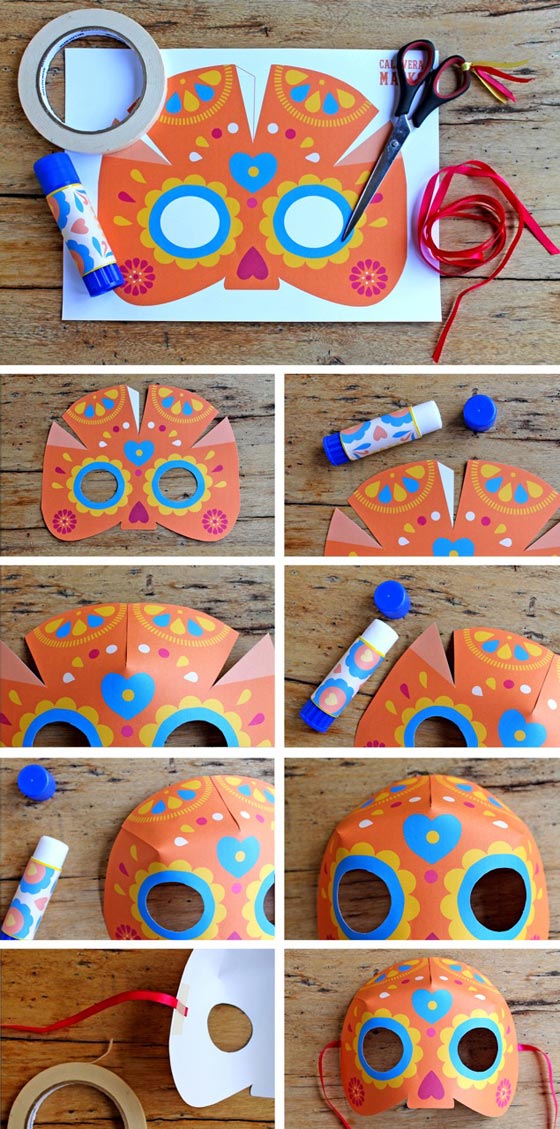 As well as six colorful printable careta masks we've included a mask to color in. Coloring and decorating your own masks makes a great party activity. For more coloring in fanatics see and wrestling maniacs we have Happythought's 12 Lucha Libre masks to colour in!

This also can be great as a class room art workshop or for a learning introduction to Dia de los Muertos or as a teaching Spanish aid.
See our Day of the Dead Glossary here.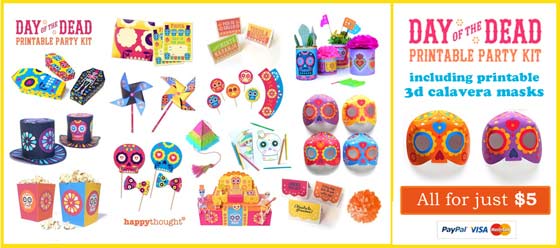 Create free Calavera/Careta masks. Download 6 different calavera printable patterns. Plus 1 to color in.
Join Happythought mailing list to receive your Calavera mask templates. It's easy!
Just fill in your details below
Click the Submit button
We will instantly email you back your templates!
We won't share your details with anyone and you can unsubscribe from the Happythought mailing list at any time.
Please read our
Privacy Policy
---
We hope you enjoyed our calavera sugar skull masks!
You might like these fun lucha libre masks too?
If so, please give us a little love; by liking us on facebook, pinning us on pinterest or following us on twitter. Thank you!