Printables, craft activities, mask templates, decorations, games and photo props!
If you're throwing a family party, here are some quick and easy ideas to keep young guests entertained. Take a moment to set up an activity table for the children that are coming to the party (it's sure to attract some crafty adults too).
The basics for our Day of the Dead Activity Table:
• A tub or two of colouring pens and pencils
• Some colouring in sheets or design your own.
• Glitter glue stickers, sequins, or even beads and threads are also a good option.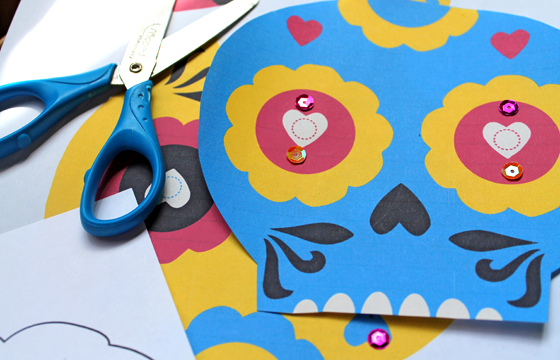 This is something you can offer to children as soon as they arrive to make a shy child feel more relaxed and keep a lively child entertained (well at least for a 10-15 minutes…).
Why not also print out our mask and bow-tie template (see our Day of the Dead printable party kit) so that your guests can make their own masks?
Along side the templates, lay out a pot of kebab sticks, some sticky tape and a few pairs of child friendly scissors. This will provide a great activity to put both children and adults at ease. It also saves you the work of making the masks in advance. If your guests are crafty types you could do the same with our coffin boxes and sitting skeletons, templates also from Happythought's Day of the Dead printable party kit.
A few ideas for entertaining the kids at a party
Balloon Fun
Balloons are always a hit with small children. If you know someone with a talent for ballooning, swords or balloon bones are fairly easy to make and always popular. If you're thinking of doing this yourself it's better to make up a batch the night before the party to avoid stress! You will need a packet of long balloons and a pump,as blowing them up with your own puff requires lungs of steel!
Another idea is to draw skulls on round balloons (either before or after blowing them up) and encourage the kids to do the same. This is best done with indelible markers so you might need some adult supervision!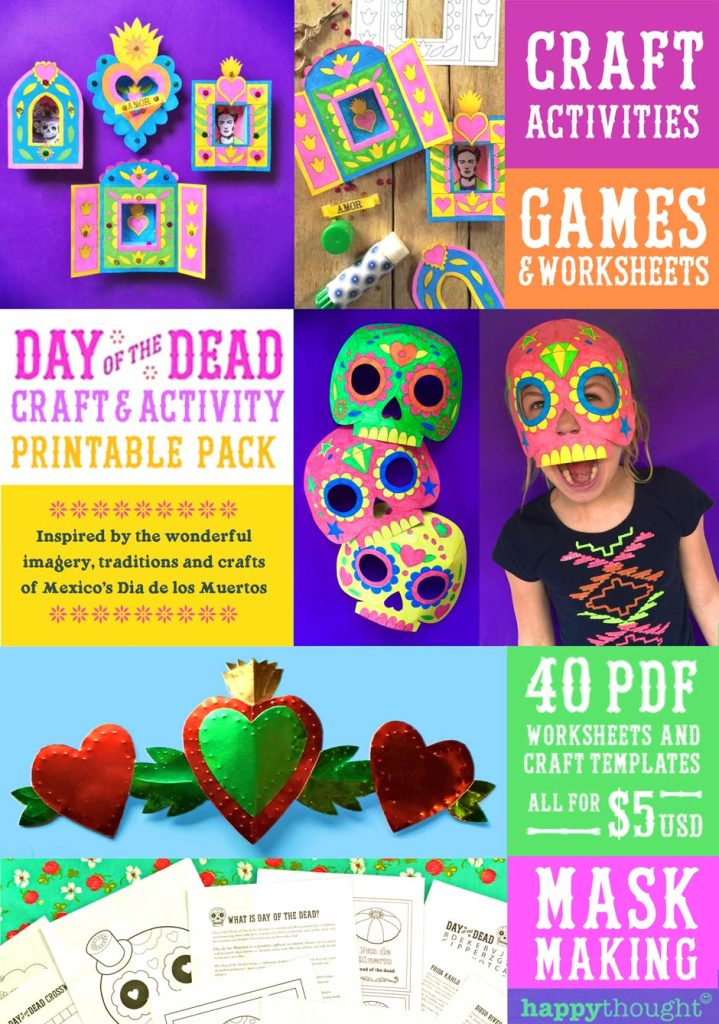 Face painting
Allocate a young adult to be in charge of painting faces or applying temporary tattoos. Check out our simple tutorial on Day of the Dead skull face painting for inspiration.
Photo props
Print out the mask and bow ties in our Day of the Dead printable party kit and snap away.
Favor boxes
Use our coffin box template fill them up with sweeties, small toys or dried fruit.
El Dia de los Muertos printable party kit contains:
Party Invites and envelopes
Coffin Favor Boxes
Paper Ofrenda and Skeletons
Cupcake Toppers
Cupcake Wrappers
Day of the dead bow ties
Skull Garland
Day of the Dead Pin Wheels
Food and Drink signs
Mini popcorn boxes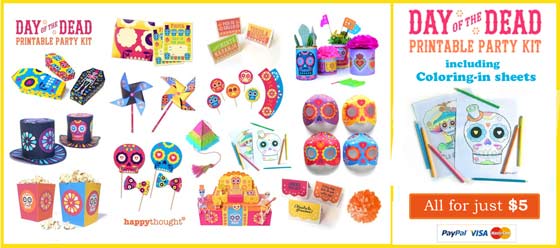 More DIY kids activity table ideas to explore
Download Day of the Dead colouring in sheets here
We also have our free to Happythought members, the popular printable Mexican food signs to download.
We also have a few bits of party advice, simple kid and adult friendly games, some Day of the Dead games and calavera coloring in pages to make your activity the best. If you fancy making your own decorations, try our simple video tutorial on how to make papel picado decorations at home.
Read about more craft ideas on our blog. We hope you enjoyed some of our Day of the Dead activity table ideas. If so, please give us a little love; by liking us on facebook, pinning us on pinterest or following us on twitter. Thank you!