Description
Animal masks: Dog, Cat, Bear, Owl, Fox, Tiger, Deer, Rabbit, Koala and Panda.
Try our adorable 10 printable animal masks. Quick and easy to download, then assemble.
All the masks come with simple to follow instructions. They are of the highest quality design, with each mask available as a black and white color in version and a color in worksheet containing 5 facts about each animal.
---
Happy Animal Friends! – Watch the masks in action in our short video below!
Then find your inner beast…Ggghhraaaa!!!
One of Happythought's most popular craft projects, our animal mask set is full of printable 3D masks that are ideal for: Costume, dress up, classroom, homeschool, decorations, party ideas and activities.

Watch the youtube video at the bottom of this page to see the masks in action!
10 printable animal masks: Homemade party and dress up costume masks!
YOU WILL RECEIVE:
PDF HIGH RESOLUTION (300 dpi) file contains the following templates/patterns:
1) Dog mask template and instructions
2) Cat mask template and instructions
3) Bear mask template and instructions
4) Owl mask template and instructions
5) Fox mask template and instructions
6) Tiger mask template and instructions
7) Deer mask template and instructions
8) Rabbit mask template and instructions
9) Koala mask template and instructions
10) Panda mask template and instructions
11) Bonus Rudolph the Reindeer mask template
All the above include an instruction sheet with step by step photos & illustrations on how to assemble each mask. Our digital templates are designed to be easy to make. We like it simple too!
Plus Animal color in and Animal facts worksheets:
12) 10 printable black and white mask templates to color in of each animal.

13) 10 Animal color in and facts worksheets in English of each animal.
14) 10 Animal color in and facts worksheets in Spanish of each animal.

Beautifully crafted party items, favors and classroom worksheets at a fraction of the price!
Click here or the image below to add 10 printable animal masks + worksheets to your cart!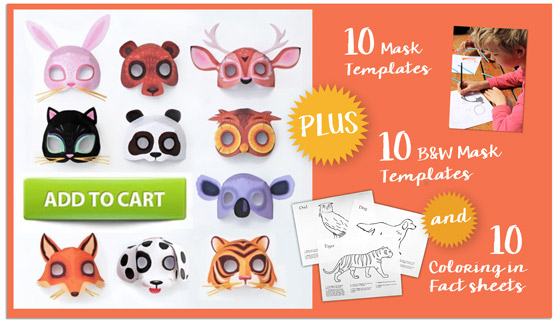 See more animal dress up ideas, masks and photos on these printable animal masks here: tiger, deer, panda, dog, cat, bear, owl, fox, koala and rabbit.
---
Halloween black cat costume idea, using the printable cat mask template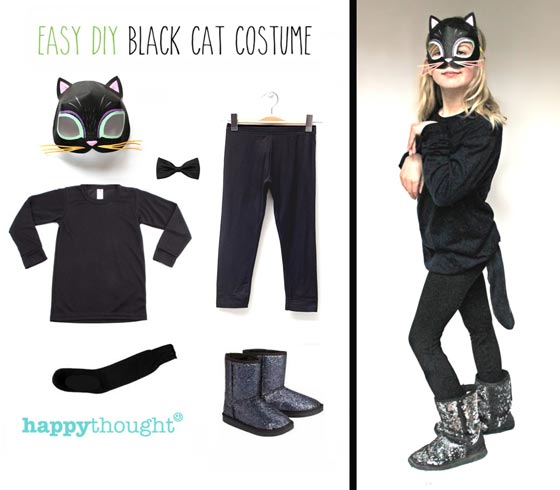 Rudolph the Reindeer mask template
We have also included a festive Rudolph the Reindeer mask template. Perfect for a Christmas party, as decorations, or as an alternative to Christmas hats at the dinner table!
---
Check out these great Happythought printables – Easy to put together mask packs. The wild animal mask set, super hero mask set, calavera skull mask set, 12 lucha libre mask pack and the Halloween mask set.
Try these popular masks to make as well: Vampire mask, Cyborg and 4 alebrije masks.
---
All mask sets are 50% OFF for Happythought members!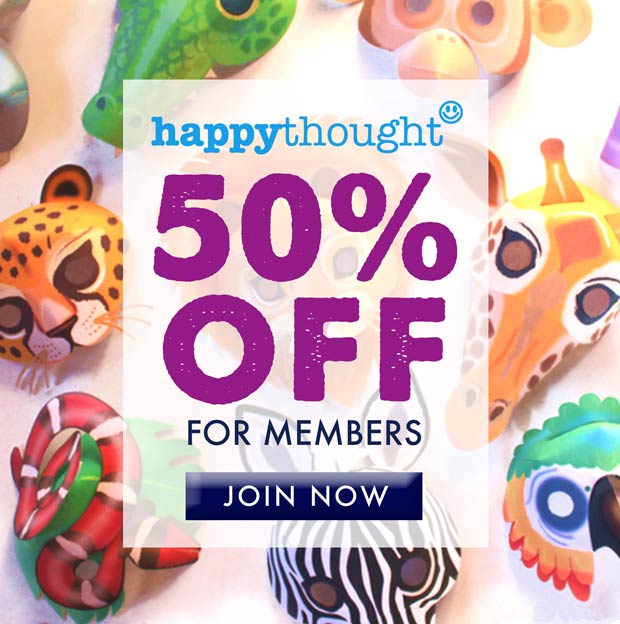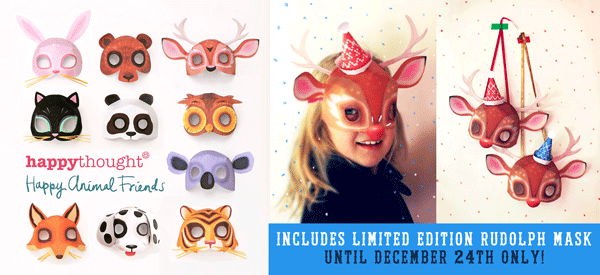 We hope you enjoyed this cool printable Animal Mask Set!
If so, please give us a little love; by liking us on facebook, pinning us on pinterest or following us on twitter. Thank you!