Easy throw together owl costume with no-sew owl template and instructions!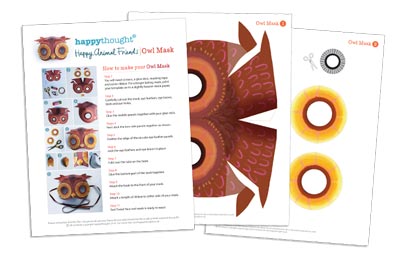 Be an owl in 5 minutes – Try our easy DIY owl mask template + simple step-by-step tutorial!
Want more animal mask ideas, printables, worksheet facts and ideas?
You can buy our complete Happythought Printable Animal Masks set here! Includes B&W masks to color in, plus animal activity fact sheets. The animal mask set features10 animals to dress up as: Bear, Panda, Cat, Dog, Owl, Tiger. Fox, Rabbit, Koala, and a Deer.
Watch step-by-step DIY owl mask video on making your own owl mask. Owl mask templates to download and print at home. Perfect for party outfits + costumes.
6 facts about owls
1. Owls can turn their heads as much as 270 degrees.
3. Owls are solitary creatures. They do not live in groups.
5. Owls have an excellent sense of hearing.
2. Owls are carnivores.
They eat birds, small mammals, fish, insects and rodents.
4. Owls can be split in two large groups: true owls and barn owls.
6. There are around 200 different species of owls.
---
Be sure to try our fox mask or our cyborg mask – Have a go yourself and see how easy and fun our Happythought masks are to make.. We are sure you will be pleased with results.
---
All mask sets are 50% OFF to Happythought members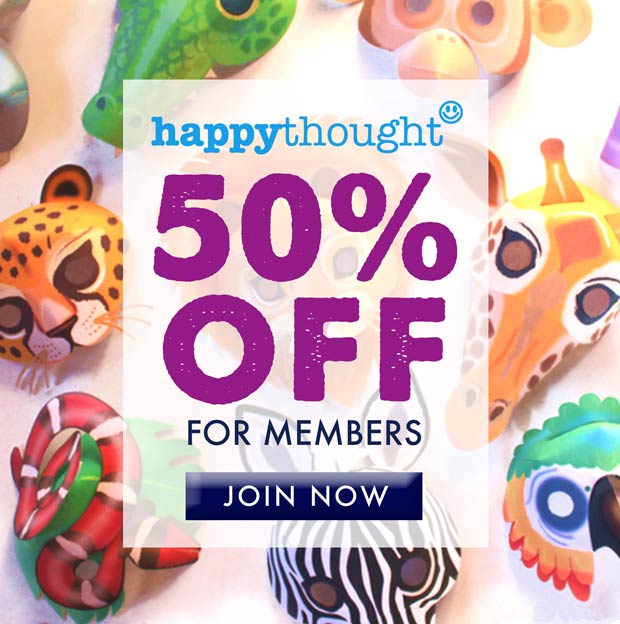 We hope you enjoy our Happy Animal owl mask activities and pages! If so, please give us a little love; by liking us on facebook, pinning us on pinterest or following us on twitter. Thank you!