Activities, ideas, templates, printables, crafts, papercraft pdf worksheets & DIY tutorials!
Happythought free to members papercraft pdf craft ideas, worksheets, video tutorials, summer camp activities and printouts to make. All our papercraft pdf downloads come with simple templates to put together and easy to follow instructions.
Alebrije animal mask craft activity, tutorial and easy to make templates
This set of printable alebrije masks were created after being inspired by the Mexican folk art carvings of vibrant Alebrije sculptures. Depicting animals, people, objects, and imaginary creatures painted with intense colors and intricate patterns.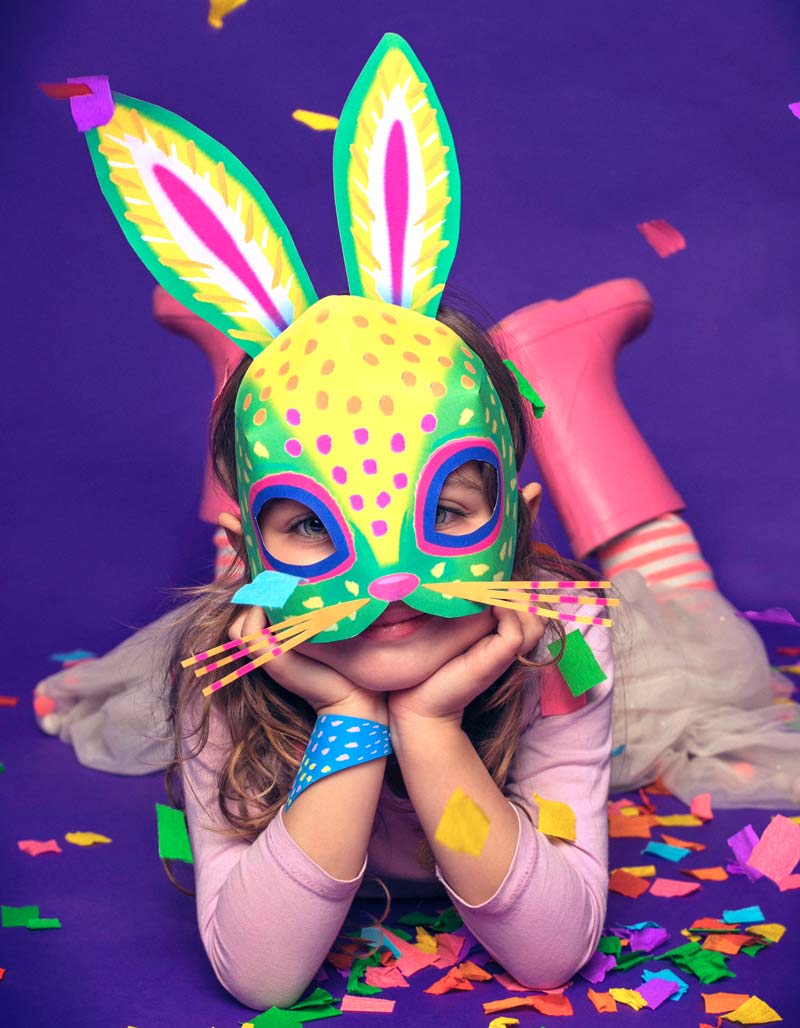 Mix and match masks from the set to create your own mythical forest beast!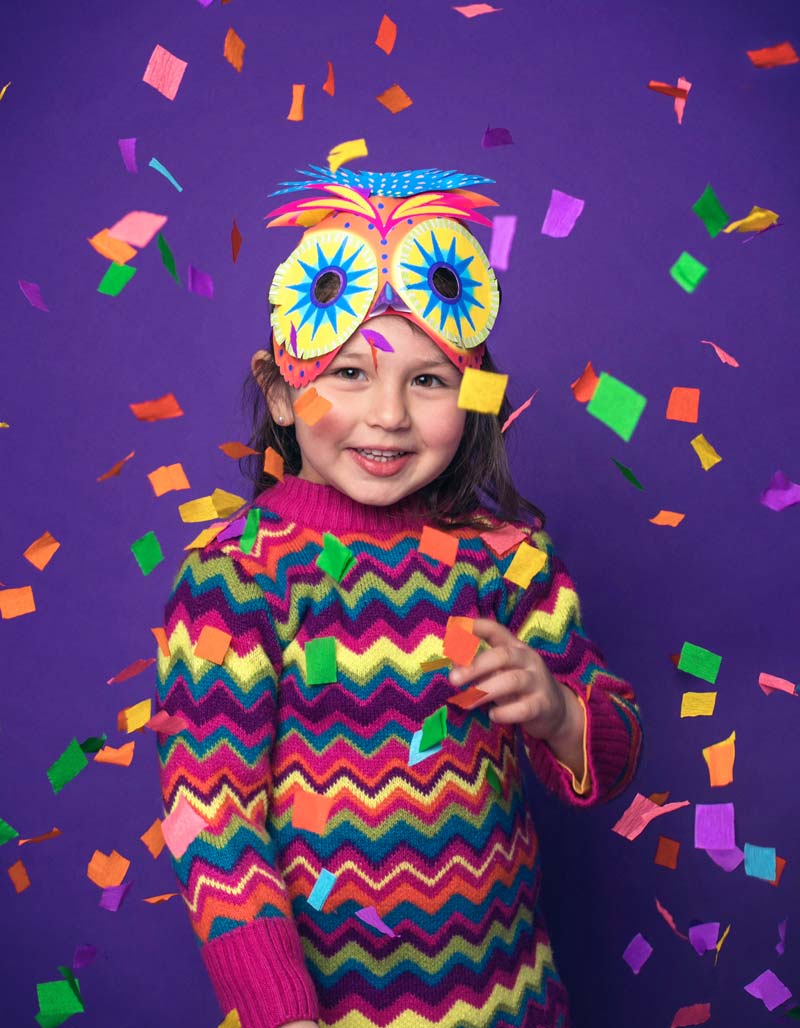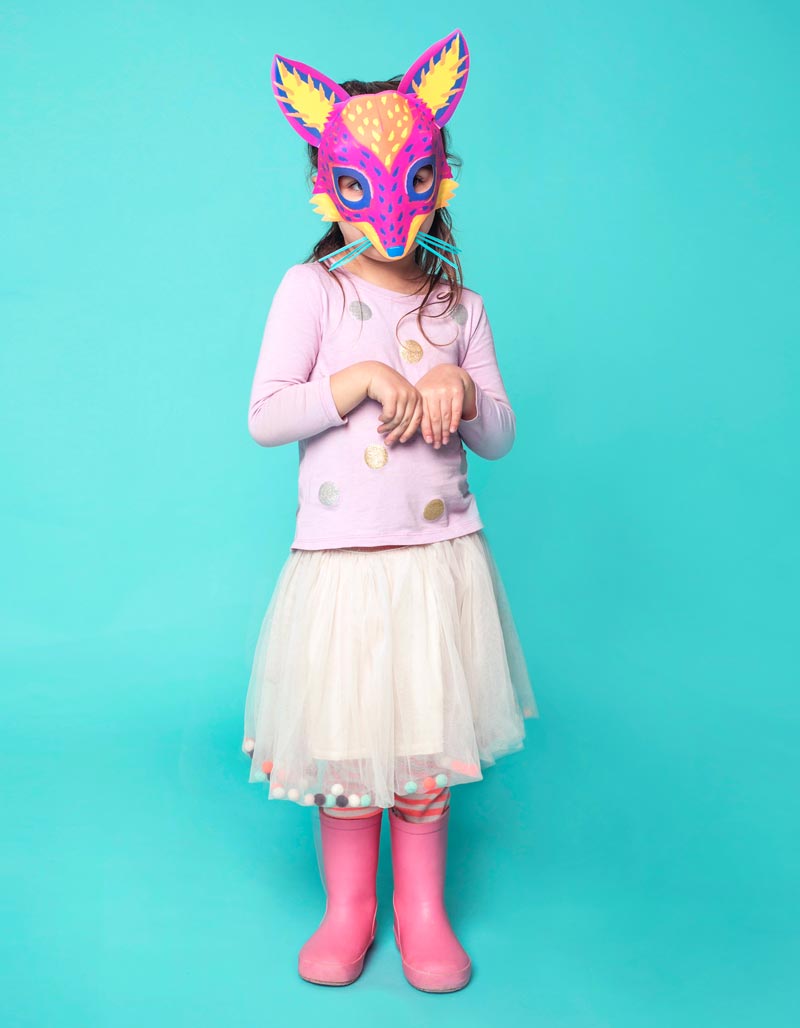 The first Alebrijes originated with the artist Pedro Linares.
In 1936, when he was 30 years old, Linares fell ill with a high fever, which caused him to hallucinate. He had a high fever with vibrant hallucinations and dreamt of walking in a forest with brightly colored creatures, consisting of wings, horns, tails, fierce teeth and bulging eyes. At the end of his dream, Linares heard voices repeating the nonsense word "alebrije."
Happythought top 5 papercraft pdf mask templates
• Lucha libre 3d mask template set – 12 mask designs to choose from, with cuffs and belts to match.
• 3d paper fox mask template free to members – printable. Includes a color in version and a fox fact sheet.
• Wild animal 10 printable wild animal masks template pdf set – 10 wild animals with color your own versions included.
• Calavera 3d mask template pdf set – 9 stunning sugar skull masks to set any Day of the Dead party alight!
• Alebrije papercraft mask pdf free to members – set of four beasts from the forrest. An owl, a jaguar, a rabbit and a fox.
Cinco de mayo worksheets pdf – papercraft pdf printables for class
Happythought's Cinco de mayo worksheets for middle school are ideal learning tools in class.
They are designed to be teacher friendly and come in Spanish and English versions. Crosswords, a map of Mexico and word search games to highlight certain aspects of Cinco de Mayo traditions.
Papercraft pdf flower crown ideas for a 5 de Mayo celebration outfit
Easy to follow tutorial and beautifully design paper crown templates to download instantly.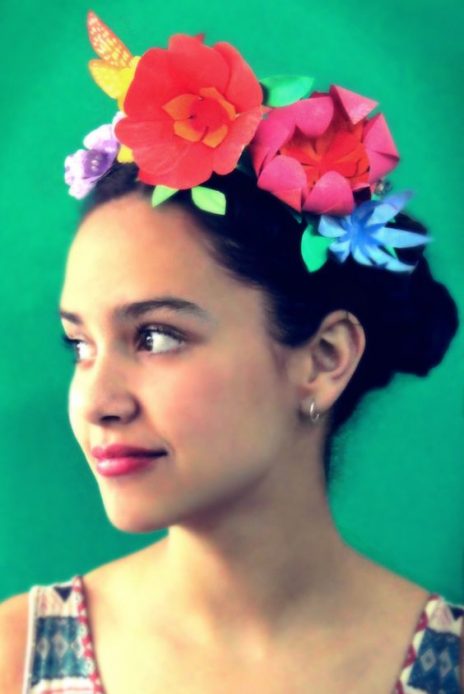 Mexican paper star ornaments instructions and templates
These are one of our most popular Mexican papercraft pdf templates. The bright and colourful paper stars are inspired by Mexican star pinatas and the beautiful Moravian tin star lanterns.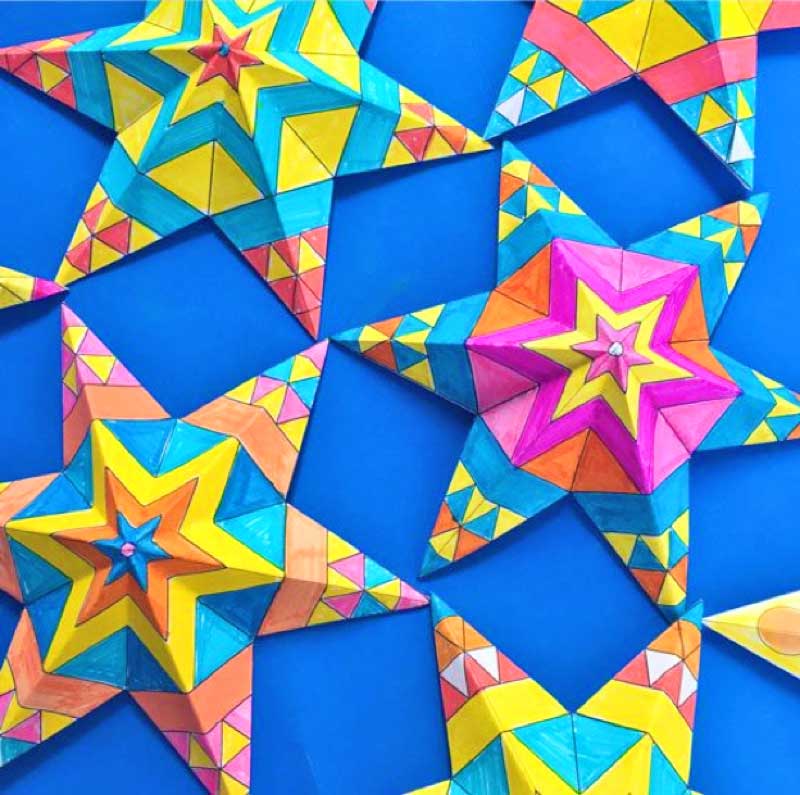 With a couple of designs to play with and colour in versions, there is plenty of paper star craft time to be had.
How to make papel picado: Butterfly, calavera, mini flag papel picado diy templates and tutorials
We have a variety of papel picado templates that are easy and fun to put together.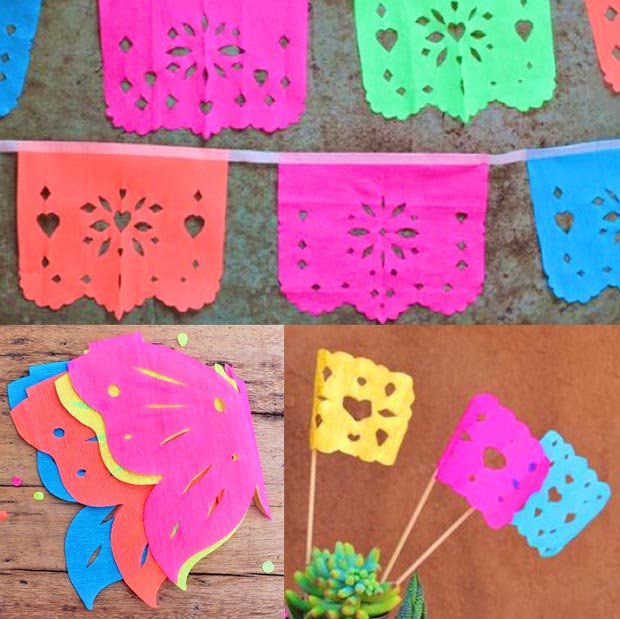 They all come with beautiful templates and a video tutorial to guide you along the way.
Como hacer papel picado or how to make papel picado videos are easy to follow and understand. These include stylish garlands including a butterfy papel picado templates pdf, calavera papel picado DIY tutorial, quick mini flag papel picado templates and our popular diy papel picado garlands.
These templates are part of our 20 Day of the Dead classroom pdf craft activity worksheets.
Try these easy and simple non alcoholic mexican drinks: recipes and photos
Non alcoholic drinks are easy and fun to put together. Mexican lemonade and orange granita are firm favourites.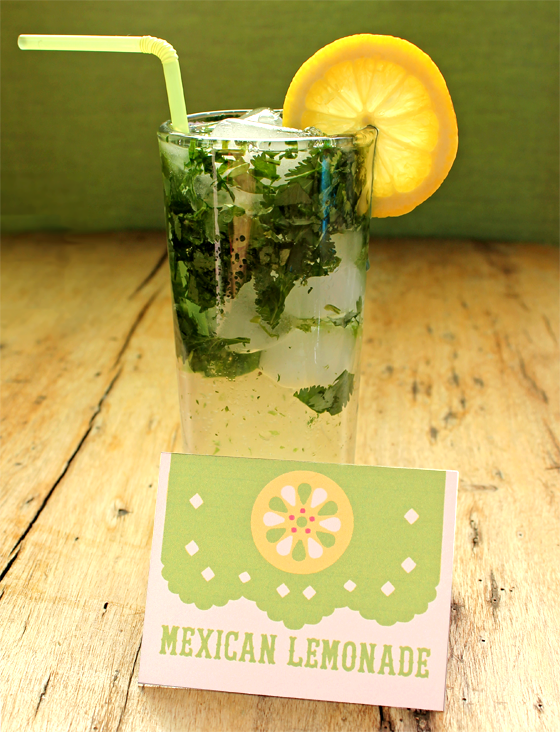 These Mexican non alcoholic party drinks are ideal for dedicated drivers and tee totalers or just to keep your eye on the ball.
You can also download our papercraft pdf printable mexican drink and food signs for your next event or fiesta.
Keep away the evil spirits with our ojo de dios craft
Ojo de dios are quite easy to make. This post on how to make ojo de dios tutorial shows a simple and quick way to create an Ojo de Dios.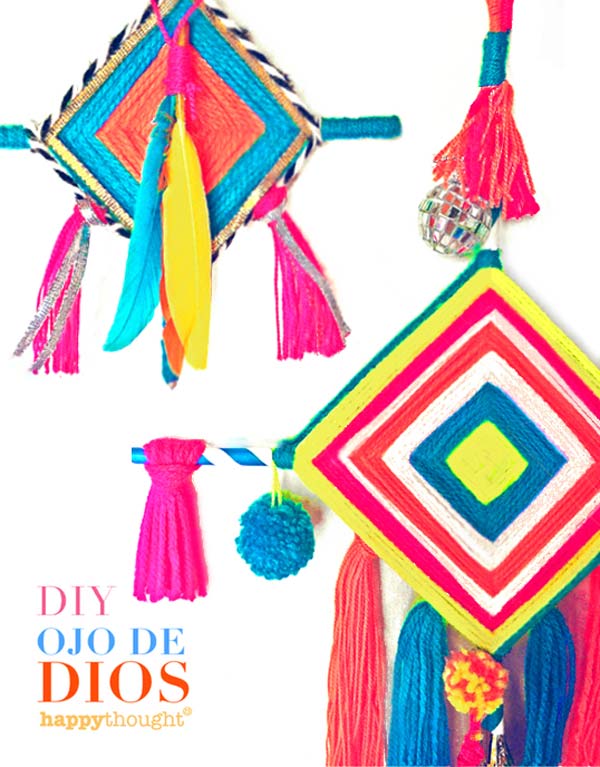 The ojos de dios craft starts with 2 sticks and some yarn of different color. You can pick bright like we did or other colors to suit your mood.
Papercraft pdf fox mask template and costume idea for an outfit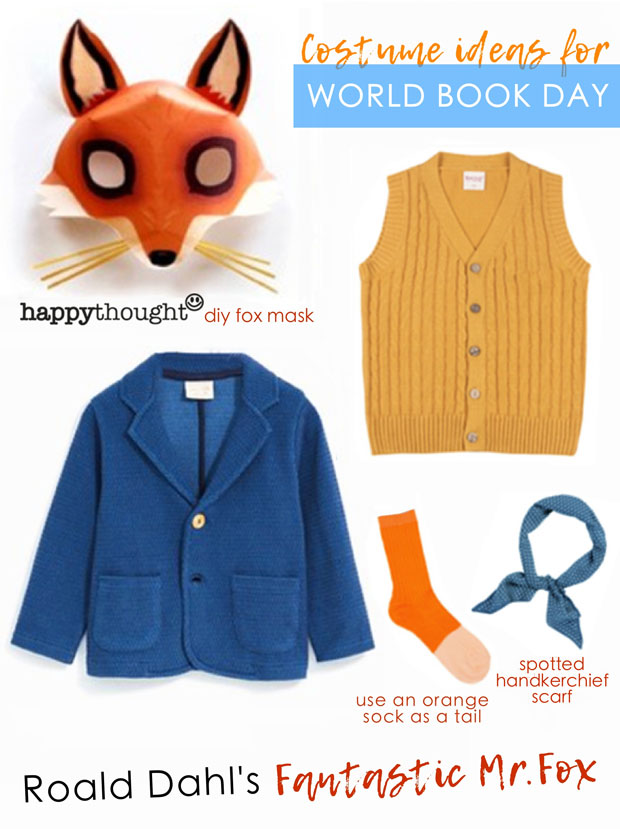 Easy mask and costume idea for world book day. Be a fox in no time. Be sure to check out all the animal mask video tutorials here on youtube.
El Dia de los Muertos Day of the Dead games
Party games are great for getting a fiesta going and having some fun. We've put together some Day of the Dead games and free to members printables to get you started!
Play bingo or loteria, plus put the head back on the skeleton.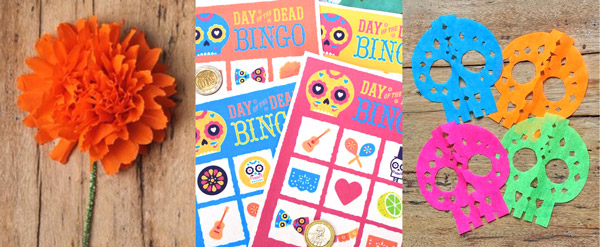 We have lots of free to members papercraft templates pdf files. They can all be found in our CraftClub which has over 30 printable crafts, worksheets and templates to download instantly.
Once you join you will have 24 hrs access to the files. Just log in the Happythought site to select and download your favourites.
What is carnival and where to celebrate?
We had great fun putting together this set of printable headpieces for a festive carnival party look. There are four designs to create for your party costume or outfit.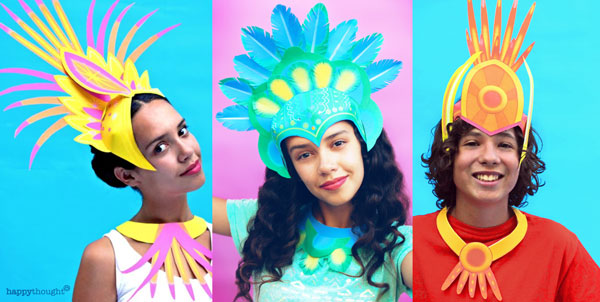 10 animal costume papercraft mask ideas to print, make and wear!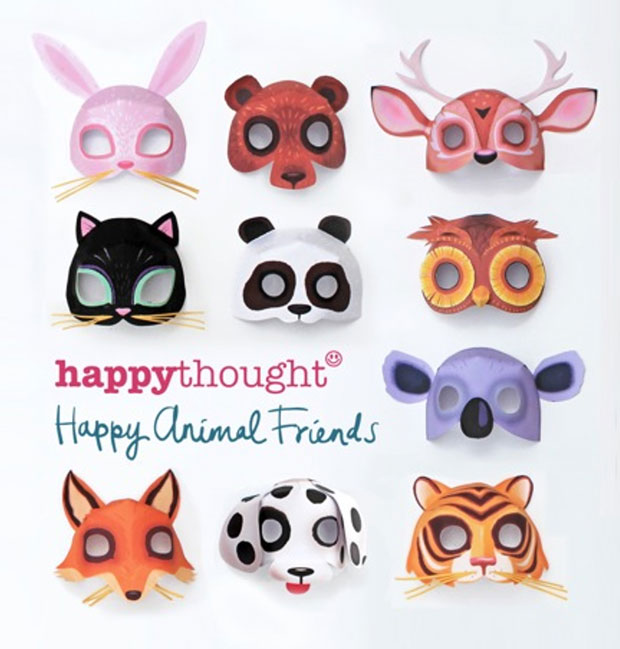 How to dress like an animal without a costume – Papercraft pdf dog mask
This is easier to do than it sounds!
At home in your wardrobe there are plenty of ideas and inspiration to be found. With little effort you can put together a convincing costume for any party or fiesta.
We matched a simple white t-shirt combined with our papercraft animals pdf mask which can be downloaded at home instantly.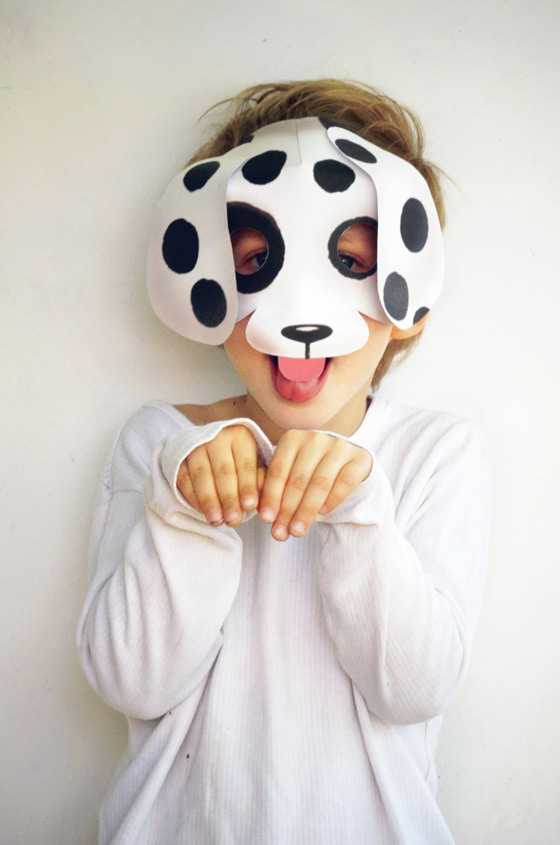 This cool DIY dog mask template is part of our popular animal mask set. The papercraft pdf templates are also available as a color in version to create your own dog mask. Easy instructions included and 9 other animals to choose from.
What you waiting for? Go on have a go!