Deer costume idea and mask template: No-sew deer mask pattern to print and make at home
Perfect for party celebrations, costume, craft templates, cutouts, dress up, fiesta, paper craft tutorial, paper mask making and printable paper craft mask templates.
Watch the youtube video tutorial on assembling your deer mask template
Watch step-by-step DIY deer mask video on making your own deer mask. Mask templates to download and print at home. Perfect for party outfits + costumes.
Try our adorable 10 printable animal masks. Quick and easy to download, then assemble. We aim to make our animal activity worksheets, easy to use and fun to make.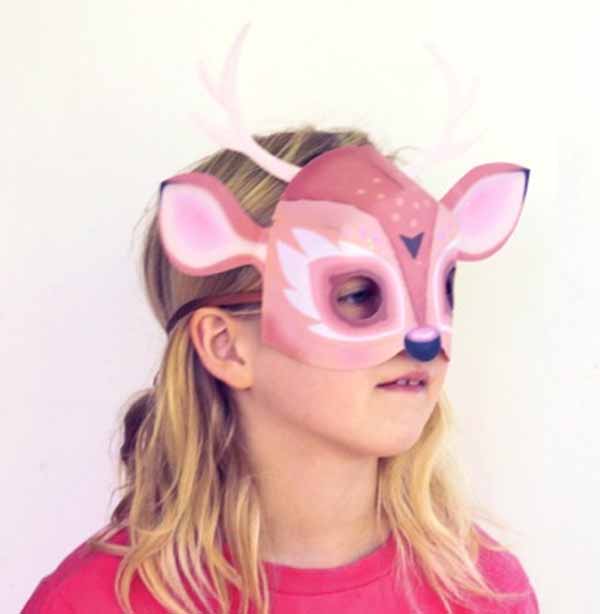 All the masks come with simple to follow instructions. They are of the highest quality design, with each mask available as a black and white color in version and a color in worksheet containing 6 facts about each animal.
DIY printable deer mask templates + easy costume idea!
6 quick facts about deer
1. Deer can live about 10 years in the wild.
2. Deer are mainly herbivorous.
3. Deer are part of the
4. Deer live in their established territories for life — it is said that they prefer to starve rather than to leave their territory.
5. Male deer grow new antlers each year family that include part of the Cervidae reindeer, elk and other species.
6. A group of deer is known as a 'herd'.
Check out these other animal mask ideas
Want more animal mask ideas, printables, worksheet facts and ideas?
Purchase in one click all the Happythought Printable Animal Masks set here! Includes B&W mask template sheets to color in, plus animal activity fact worksheets. This animal mask set features10 animal masks and 10 animal dress up ideas: Bear, Panda, Cat, Dog, Owl, Tiger. Fox, Rabbit, Koala, and a Deer.
Also easy to download and make, try our cool anti-gravity Birthday cake idea, fox mask or cyborg mask templates. These two Happythought masks are to part of our popular Halloween and Animal mask packs.. We are sure you will be pleased with results sfter you have a go yourself.
We hope you enjoy our Happy Animal deer mask activities and pages! If so, please give us a little love; by liking us on facebook, pinning us on pinterest or following us on twitter. Thank you!