Description
Wild animal masks: Lion, Hippopotamus, Elephant, Snake, Giraffe, Parrot, Monkey, Leopard, Crocodile and Zebra.
Try our 10 printable wild animal masks. Easy and fun to assemble, these beautiful masks all come with simple to follow instructions.
This set of printable 3D paper masks are ideal for: costumes, dress up, rainy days, safari games, classroom, educational worksheets, home school, school plays, craft decorations, creative play dates, party ideas and World Book Day activities and easy costume ideas.
The beauty is that once you have purchased the printable templates you can make as many masks as you like and use them over and over!
10 printable wild animal masks: Homemade party and dress up costume masks!

YOU WILL RECEIVE:
PDF HIGH RESOLUTION (300 dpi) file contains the following templates/patterns:
1) Zebra mask template and instructions
2) Lion mask template and instructions
3) Elephant mask template and instructions
4) Hippo template and instructions
5) Snake mask template and instructions
6) Crocodile mask template and instructions
7) Monkey mask template and instructions
8) Giraffe mask template and instructions
9) Leopard mask template and instructions
10) Parrot mask template and instructions
11) Color-in mask templates to create your own designs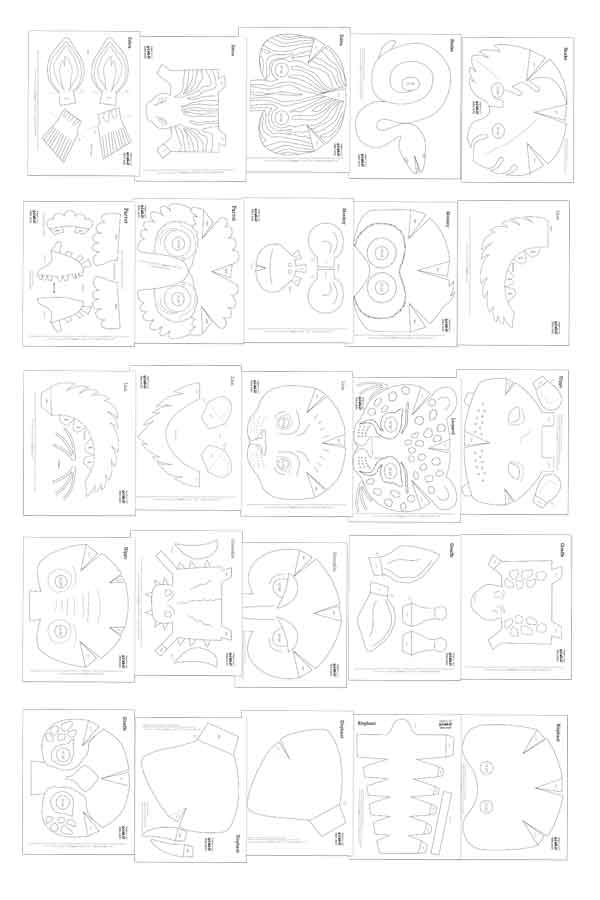 The above mask templates also include an instruction sheet with step-by-step photo instructions showing on how to assemble each animal mask. Our digital templates are designed to be easy to make. We like things simple too.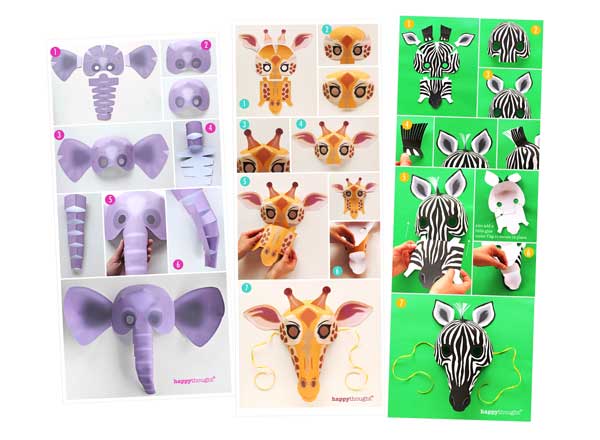 Includes full instructions of each mask to get you costume ready for the party or fiesta!!!
Shop at Happythought – a new way to craft. Beautifully crafted party items, favors and classroom worksheets at a fraction of the price. Download the templates and they are yours forever. Fun to make, year after year!
See more animal dress up ideas, masks and photos on these 10 printable animal masks here: tiger, deer, panda, dog, cat, bear, owl, fox, koala and rabbit.
We hope you enjoyed this printable wild animal mask set. If so, please give us a little love; by liking us on facebook, pinning us on pinterest or following us on twitter. Thank you!