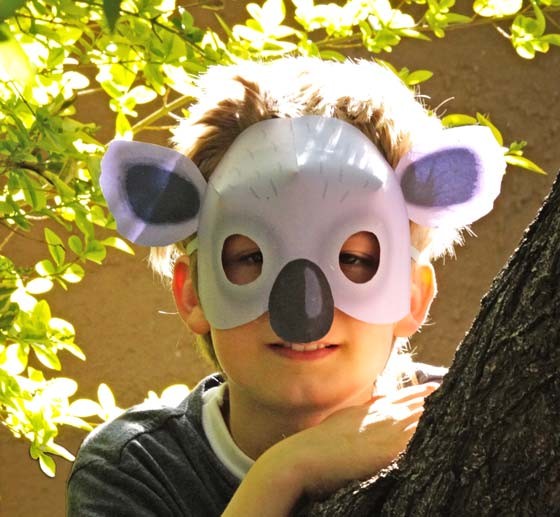 Easy to put together DIY koala mask and costume: Eucalyptus not included!
This paper koala mask and our DIY koala costume ideas are perfect for dress-up and costume parties, theatre fun, classroom activities and rainy days!
The masks are so easy to make – just download and print your template, then follow our easy step-by-step tutorial below. We've also put together an easy koala costume idea using clothes you might already have at home.
Watch this quick video tutorial on how to make your own paper koala mask
This koala mask is part of Happythought's 10 printable Happy Animal mask set, available to buy in our online shop.
All the animal masks come with a color-in mask version and and an animal color-in fact sheet. Featured animals include a bear, bunny, cat, dog, fox, owl, panda, deer and tiger masks to print out and make.
How to make your 3D koala mask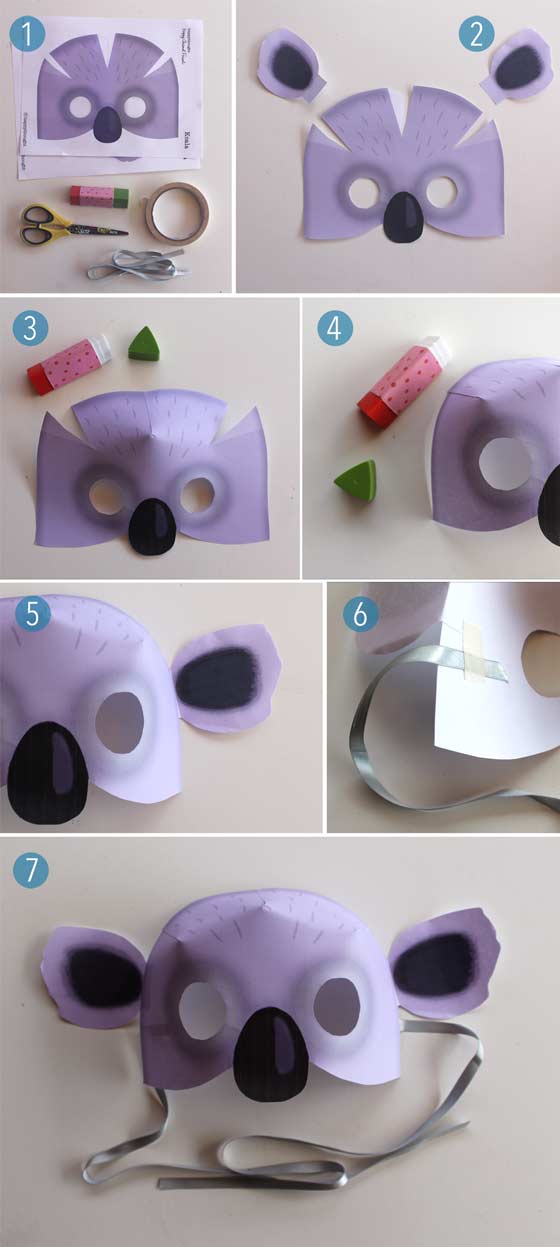 Step 1
You will need scissors, a glue stick, masking tape and some ribbon. For a longer lasting mask, print your template on to a slightly heavier stock paper.
Step 2
Carefully cut out the koala mask, ears and eye holes.
Step 3
Glue the middle panels together with your glue stick and secure on the back with a little masking tape.
Step 4
Next stick the two side panels together as shown.
Step 5
Now glue the ears onto the side of the mask as shown.
Step 6
Attach a length of ribbon to either side of your mask. You can glue it in place, then stick with masking tape for a really firm hold.
Step 7
Great! Your koala mask is ready to wear!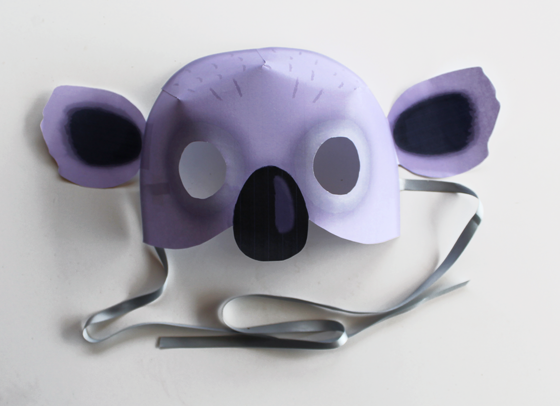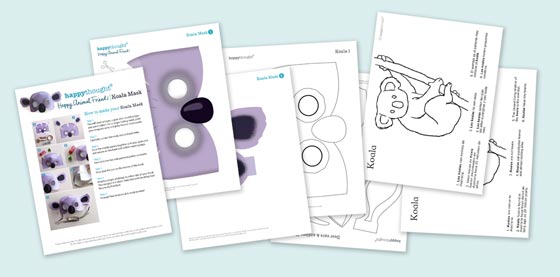 Put together an outfit for dress up or a school book project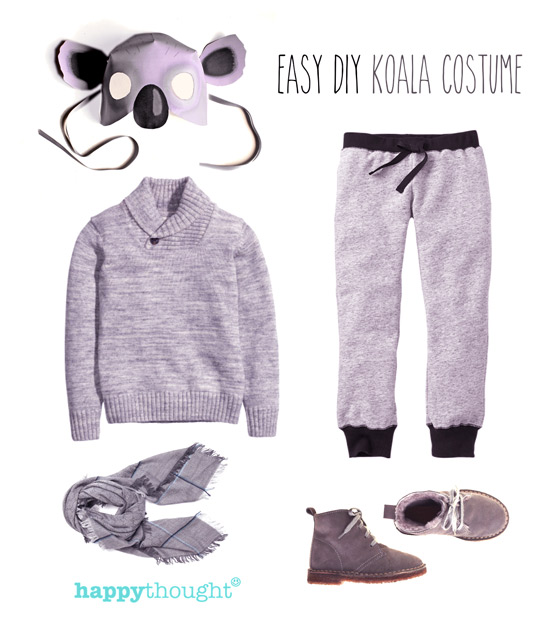 You can throw together a cool koala costume in minutes, using these basics from your kid's wardrobe.
Australia's native koala: fun mask templates to print and make!
Koala facts:
1. Koalas are native to Australia.
2. Koala fossils found in Australia have been dated as long ago as 20 million years.
3. Koalas are not bears.
4. Koalas eat eucalyptus leaves and almost nothing else.
5. The closest living relative of the koala is the wombat.
6. Koalas have tiny brains.
Animal printable mask templates: 10 mask templates to print and play! Visit our store below to get yours!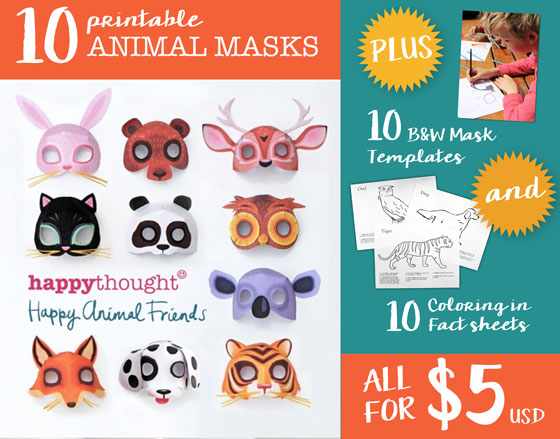 If you like making your own paper masks then check out Happythought's printable wild animal mask set. The wild animal set features Lion, Hippo, Elephant, Snake, Giraffe, Tiger, Monkey, Leopard, Crocodile and Zebra masks to print out and make.
Other popular animal mask ideas
We hope you enjoyed this DIY koala mask, color in sheet and 6 koala animal facts. If so, please give us a little love; by liking us on facebook, pinning us on pinterest or following us on twitter. Thank you!