Description
Printable DIY carnival crowns: four bright and bold eye catching designs, perfect for celebrating El Día de los Muertos.
Simple to make, all four DIY printable carnival crown templates come with easy to follow photo instructions to help you assemble your Day of the Dead costume.
This project is suitable as a classroom craft or family project but a little adult supervision required, as little ones will need a bit of help putting these together. Also adding sequins, gems and other items to the Day of the Dead crowns is a great way to make each outfit more unique. Mix and match the printable templates to make your own headdress designs. Have fun!
4 Printable carnival crown templates for Day of the Dead
YOUR PURCHASE OF 9 HIGH RESOLUTION (300 dpi) PDF FILES features the following Happythought templates/patterns:
1) Loteria Day of the Dead headdress templates
2) Sol y Luna carnival headdress templates
3) Chimalli crown Day of the Dead headpiece templates
4) Mariposas y Calaveras Day of the Dead corona templates

5) Loteria headdress color in templates
6) Sol y Luna headdress color in templates
7) Chimalli crown headdress color in templates
8) Mariposas and calaveras paper crown color in templates

9) Loteria headdress step-by-step instructions
10) Sol y Luna headdress step-by-step instructions
11) Chimalli crown headdress step-by-step instructions
12) Mariposas and calaveras paper crown step-by-step instructions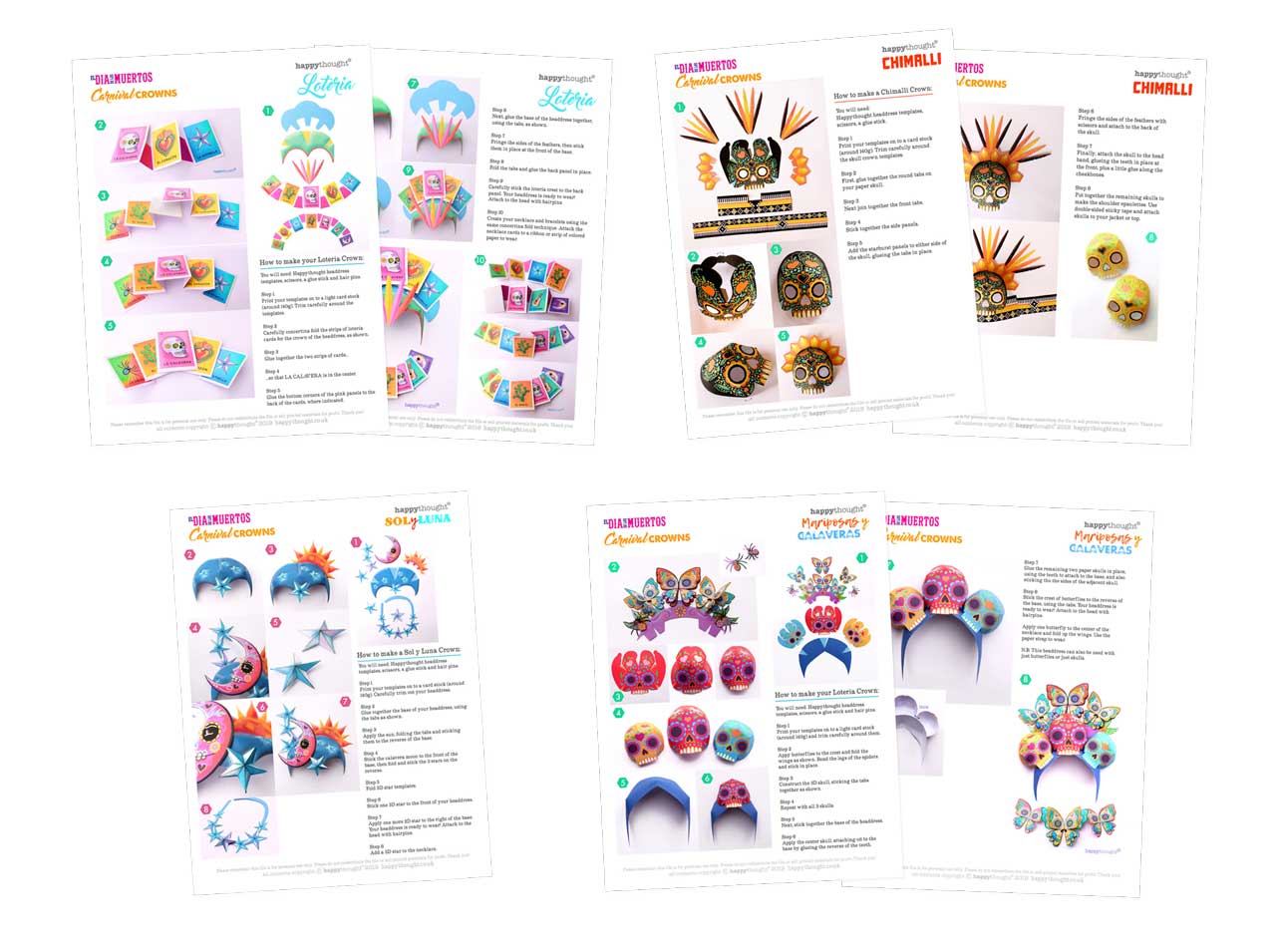 Lotería Day of the Dead Festival headpiece
Sol y Luna printable carnival crown templates
Channel the moon, stars and sun with this magical Day of the Dead DIY printable paper headpiece. Make the matching DIY necklace and bracelets too!
Chimalli Day of the Dead paper crown headpiece
This paper crown wraps around the head and is easy and fun to wear. The template features matching calavera skull epaulettes. Chimalli is the name of the traditional Aztec sword. The Aztecs had a month-long celebration in which the ancestors were honored and offerings left to them. This festival paid homage to the lord and lady of the underworld, Mictlantecuhtli and his wife Mictlancíhuatl.
Mariposas y Calaveras Day of the Dead carnival corona
This stunning paper crown features butterflies and sugar skulls. The template also features a DIY butterfly necklace and bracelets.

The set is also available our Happythought ESTY shop.
Printable Mexican loteria game – Boards and cards for Mexican loteria
Animals mask set – 10 animal masks to print
Halloween mask set – 10 printable Halloween masks
Lucha libre mask set – Lucha libre mask tutorial
If you like these 4 Day of the Dead crown and headpiece ideas, why not check out this set of printable carnival headdresses? Also check out these cool crafts, printables and activites. 3d color in calavera mask, cat calavera mask template, Day of the Dead craft activity pack, 4 alebrije masks, a paper flower crown tutorial and our popular El Dia de los Muertos party printables.
We hope you enjoyed our printable carnival crown templates! If so, please give us a little love; by liking us on facebook, pinning us on pinterest or following us on twitter. Thank you!