These balloon and paper Calavera skulls are fun and easy to make. They will look great on a Day of the Dead shrine or as decorations for your festivities.
Dia de los Muertos balloon calavera skulls, ideal for activities and craft ideas!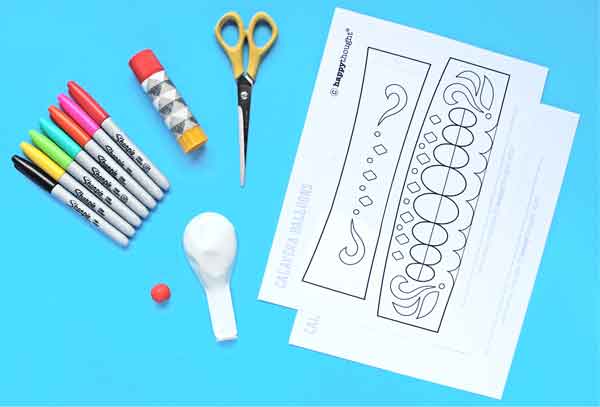 You will need:
Balloons in various colors, Scissors, a glue stick, Sharpie markers in bright colors, a ball of plasticine or a pebble. Happythought templates printed on to light card stock.
How to make your own balloon calavera skulls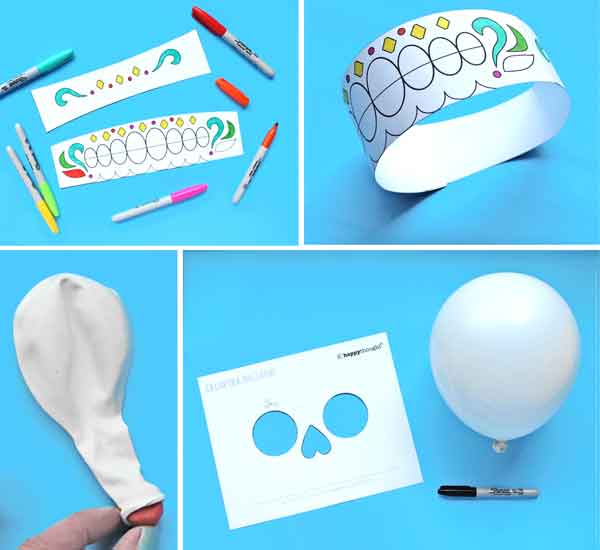 Step One
Cut out the skull base templates and color them in.
Step Two
Glue the two sections of the base together, as indicated.
Step Three
Insert a small ball of plasticine into the balloon. This is to weigh it down when it sits in the base.
Step Four
Inflate the balloon with approx. 4 puffs and tie with a knot.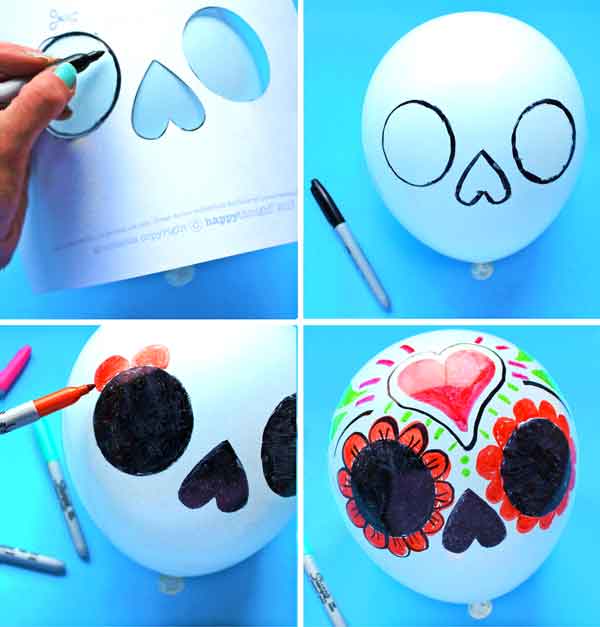 Step Five
Cut out the eye and nose stencil and using a black sharpie, trace the shapes onto the balloon, approx. 6cm from the knot.
Step Six
Color in the eyes and nose and start adding colorful details to your calavera, such as flowers and hearts.
Step Seven
You can outline your shapes with a black sharpie.
Step Eight
Lastly, carefully place the balloon on the paper base. Your skull is ready! Make as many calaveras as you like and use them to decorate a shrine or party table.
You can also use this project to make a papier mache skull.
Day of the Dead balloon sugar skull and paper template is part of our Day of the Dead craft activity pack
This balloon sugar skull craft is part of our Day of the Dead craft activity pack. Featuring 7 craft activities and a Learn about Day of the Dead teacher friendly worksheets. All of the DIY tutorials, patterns, cutouts, printables and worksheets come in English and Español versions.
El Dia de los Muertos craft activity pack, full of classroom and home decorations ideas for a Day of the Dead celebration. Make this very stylish paper flower crown or corona for a fiesta or date. Check out more Nicho activities, Mexican paper stars and Calavera masks.
Day of the Dead El Dia de los Muertos craft printable templates and worksheets pdfs
You can find more affordable printable PDF craft worksheets in our shop.
We hope you enjoyed our balloon calavera skulls activity. We also have some great craft kids ideas on our pinterest board. Join Happythought membership to get loads of great free craft template projects, discounts and our newsletter.