Paper flowers template, feathers and leaves: Beautiful decorations for celebrations and fiestas!
Make your own decorations with this paper flower template with leaves and feathers.
To create your decorative paper flowers you will just need scissors and a glue stick. For longer lasting, sturdier flowers and feathers print on to a heavier stock paper. For a colorful bouquet you can print onto colored card stock or color the templates in before cutting them out.
How to make your paper flowers: Step-by-step photo guide
Step 1
Carefully cut out the flower templates and sort them into groups of similar shaped petals. Ideally you will use three templates for each flower.
Step 2
Gently fold the petals towards the center of the flower. You can experiment with the direction of the fold to achieve different effects. You can also mix the petals of different shaped flowers.
Steps 3
Stick the second flower template in the center of the first.
Step 4
Stick the final template in the center of the flower. Make your own beautiful pink paper flowers!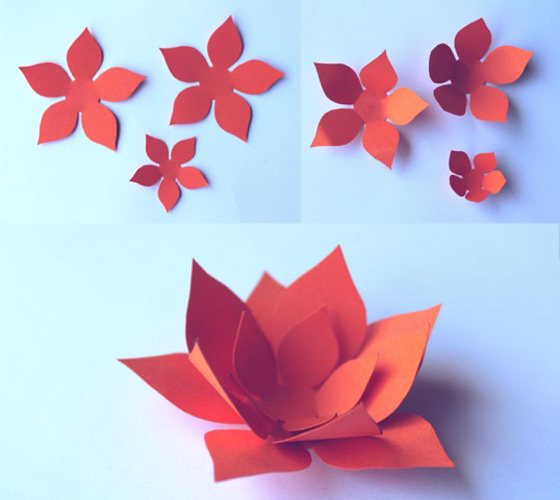 Make your own paper leaves
Score and fold the center of each leaf and pinch the end to give it shape.
How to make paper feathers
Score and fold the center of the feather, following the curve. Fringe the edges of the feather with your scissors and ruffle a little to give texture.
The paper flower, feather and leaf templates are part of a calavera craft mask activity.

Some tips on printing out your worksheets
We have designed the worksheets in black and white to be economical on toner. After opening up your PDF templates look for a grayscale, fast printing or economy setting. These types of settings not only save on ink but also on printing time.
Have a look at these paper craft PDF ideas:
Paper skeleton hand pattern, fox mask template and a beautiful paper flower crown. Mother's day craft, cute Halloween paper craft ornaments and how to make a paper craft 3D cyborg mask. All craft include clear and simple instructions to follow.
We hope you enjoyed this post of a paper flower template, leaf and feather and tutorial. If so, please give us a little love; by liking us on facebook, pinning us on pinterest or following us on twitter. Thank you!