Description
How to paint a Calavera T-shirt for Day of the Dead
Follow our step-by-step tutorial and create your own Day of the Dead T-shirt in no time! Paint a Calavera T-shirt to finish off your outfit for El Dia de los Muertos.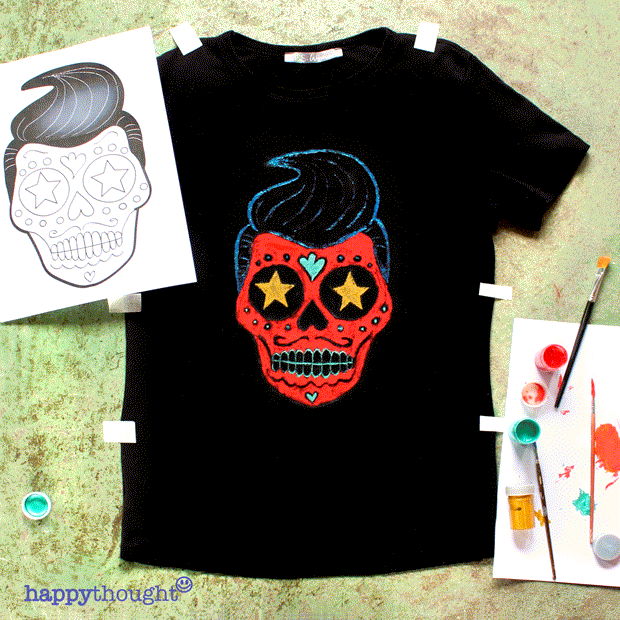 Step-by-step photo instructions show how to paint a Calavera onto a T-shirt. The download includes template and tutorial for a Day of the Dead costume or outfit.
You will need:
A plain black t-shirt, acrylic paints and brushes, chalk, a biro pen and masking tape. Use this guide as inspiration – there are no rules – you might wish to color your t-shirt another way. Have fun!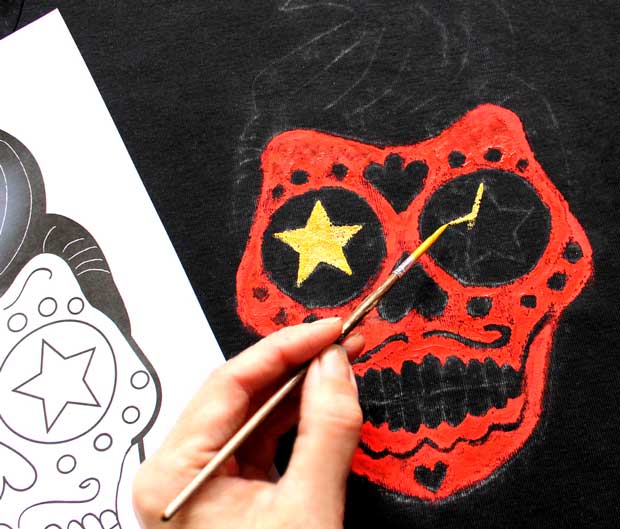 YOU WILL RECEIVE:
PDF HIGH RESOLUTION (300 dpi) file contains the following templates/patterns:
1. Calavera T-shirt template
2. Calavera T-shirt instructions
Click here to download your calavera T-shirt template and tutorial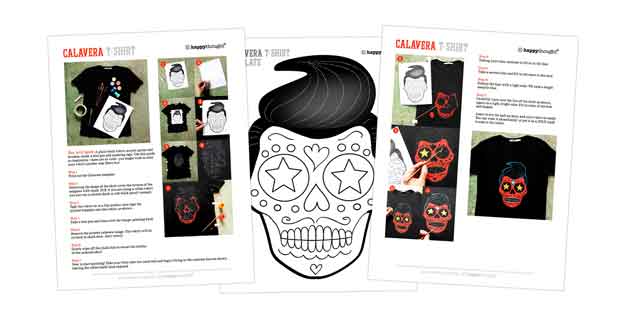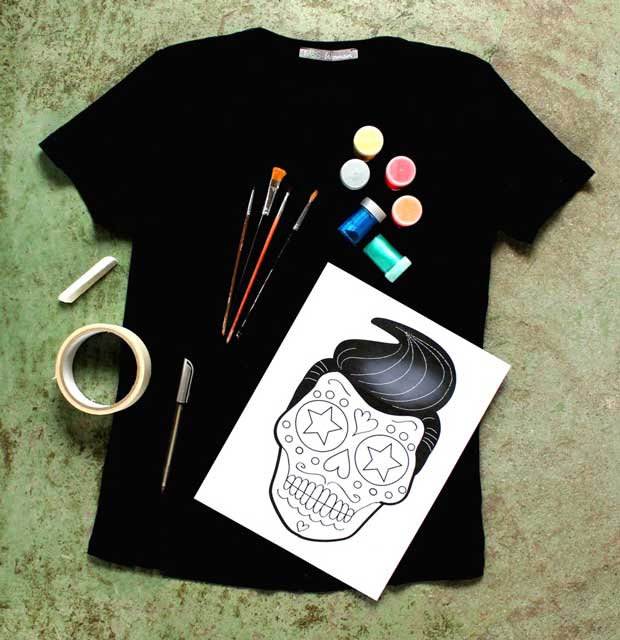 Members! To receive your free DIY T-shirt craft template just click here to add the templates to your cart. It's easy!
Do you like our Rock n Roll style Calavera skull? It is also one of the sugar skull masks featured in a set of 9 printable calavera mask templates. The printable mask patterns also come with black and white color-in versions so you can make your own mask design. Read more here…
---
A few tips on downloading your template:
1. The files come in the first order confirmation email. Here is an example –  https://happythought.co.uk/checkout/attachment/how-to-order-printable-templates

2. After you click on the links, the files will open in your web browser. There you can chose to print directly or download the PDF files to your desktop or mobile device.
---
Please read our Privacy Policy
---
Didn't get the email? Did you enter the correct email address? Did you check your junk mail?
---
We hope you enjoy our calavera craft template and tutorial for a quick costume idea. If so, please give us a little love; by liking us on facebook, pinning us on pinterest or following us on twitter. Thank you!
SaveSave