Description
Move and shake to the rattle of these DIY Day of the Dead Maracas: Sugar skull and a Cactus fruit!
Looking for a Day of the Dead game or musical craft activity? Why not make your own DIY maracas? All you need to make these fun Day of the Dead Maracas are the Happythought printable templates, scissors, a glue stick and some lentils or rice!
Perfect stay at home activity. So much fun for kids! Coloring in templates included too.

These brand new templates are free to download to Happythought Members, a part of the Happythought CraftClub. Check out this pom pom craft tutorial , cute unicorn mask and alebrije mask templates to download for members only.
How to make Calavera and Milagro heart Maracas
You will need: Happythought maraca templates, scissors, a glue stick, a bowl of rice.
Our Day of the Dead maracas are easy and fun to put together. For the rattle sounds we put rice in our maracas. Beans, seeds and other grains work well too.
The templates also include color-in versions so you can paint or decorate them as you like.
The best high quality 300 dpi PDF craft and worksheet templates you can find. Designed to be teacher and printer friendly. our templates and worksheets also contain simple and easy to follow instructions.
More decorations for your Calavera and Milagro heart maracas
Why not add some glitter? You can also use these templates as a base for longer lasting papier mache maracas.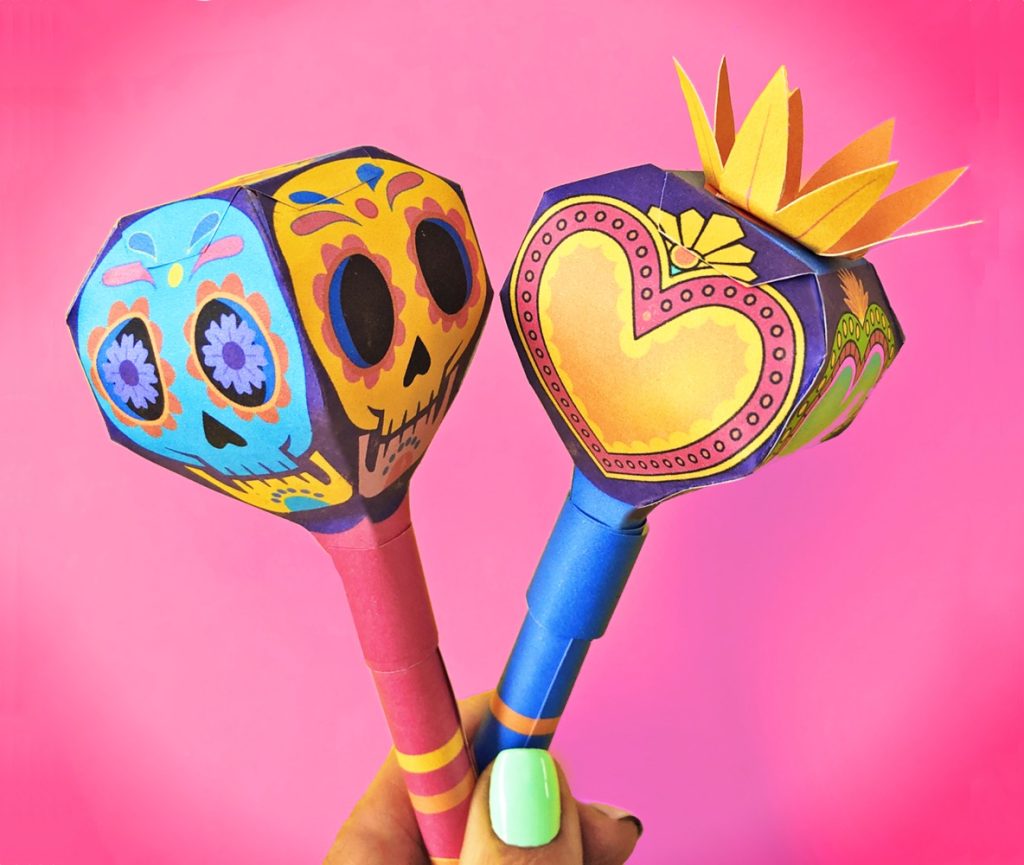 What is a maraca?
They are played as a pair and used traditionally in Latin and Carribean music. Maracas are usually made of leather, wood, or plastic and basically is a musical percussion instrument or rattle.
Ideal for a music class, arts and crafts projects, family craft time or homeschool.
We love, love, love crafts and printables here at Happythought. Why not try some of these popular crafts and teaching resources, paper star ornaments, an easy tiger mask template or a nicho activity , Day of the Dead games? Have fun!
We hope you enjoy our Calavera and Milagro heart templates and instructions. Be sure to join the Happythought CraftClub here to get creating today! If so, please give us a little love; by liking us on facebook, pinning us on pinterest or following us on twitter. Thank you!SaveSave