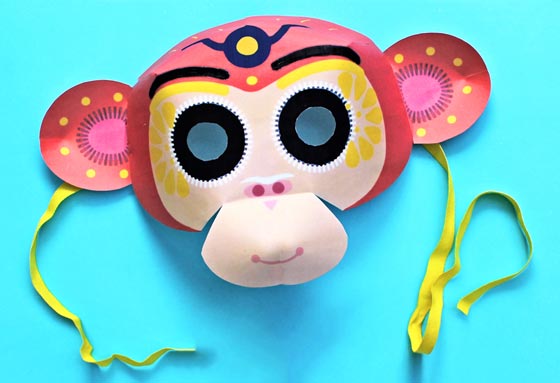 Make a Chinese New Year monkey mask. The Chinese New Year, also known as the Spring Festival, is marked by the lunisolar Chinese calendar, so the dates change from year to year. This year Chinese New Year falls on the 8th of February and 2016 is the year of the monkey!
Celebrate 2016, Year of the Monkey with a mask making activity: download a printable Chinese New Year monkey mask!

The monkey is the 9th animal in 12 Chinese zodiac signs, all characterised by animals. People born in the Year of the Monkey are characterised as quick-witted, curious, innovative and mischievous. The last Year of the Monkey was in 2004 and the next will be in 2028.
As you know we love all types of animal masks at Happythought. We were excited at the idea of making a monkey mask to celebrate the Year of the Monkey. The instant mask download also includes a black and white version to color-in. We hope you like it. Happy New Year to all you monkeys!
How to make your printable Chinese New Year monkey mask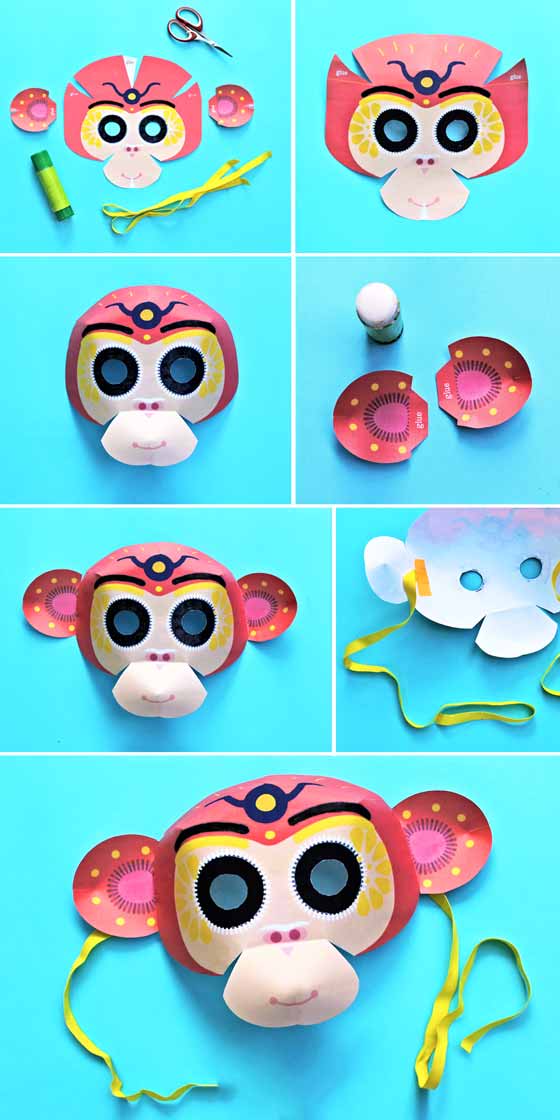 Step 1
You will need scissors, a glue stick, masking tape and some ribbon. For a longer lasting mask, print your template on to a slightly heavier stock paper. Carefully cut out the mask, ears and eye holes.
Step 2
Glue the middle panels together with your glue stick.
Step 3
Next stick the two side panels. Bend the nose out as shown and glue the small tab at the bottom.
Step 4
Glue the small tabs on the ears and attach them to the reverse of the mask with glue.
Step 5
Attach a length of ribbon to either side of your mask. You can glue it in place, then stick with masking tape for a really firm hold.
Step 6
Hooray! Your Monkey mask is ready! Happy Chinese new Year!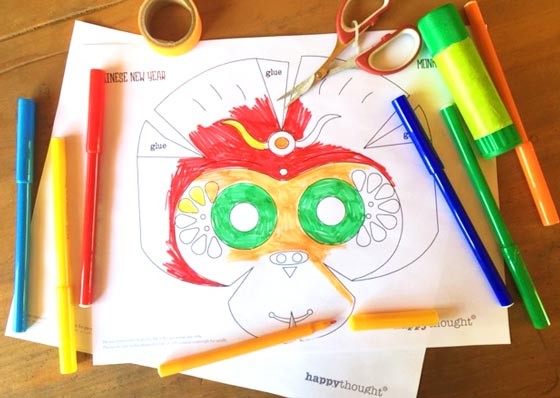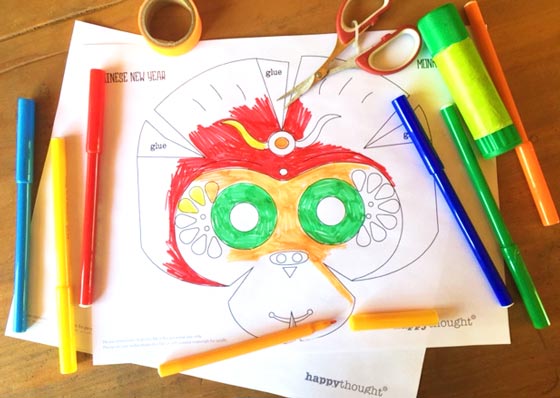 We also got round to creating a Chinese New year dog mask to celebrate and a year of the rat mask template. As you can see we love mask here at Happythought and we have lots of sets of masks and individual masks available free to Happythought members through our exclusive CraftClub. Check out this koala mask template from our popular Happy animal mask set. Roarrr, our wild animal mask pack featuring some of our wildest animal mask designs, such as a zebra, lion and giraffe.
Lucky signs for Year of the Monkey
Lucky numbers: 1, 7 and 8
Lucky days: The 14th and 28th of any Chinese lunar calendar month
Lucky Colors: White, gold, blue
Flowers: Chrysanthemum
Directions: North
Months: The Chinese lunar months 8 and 12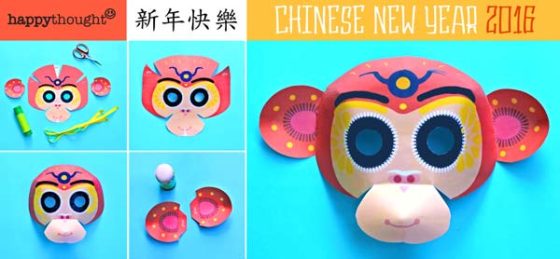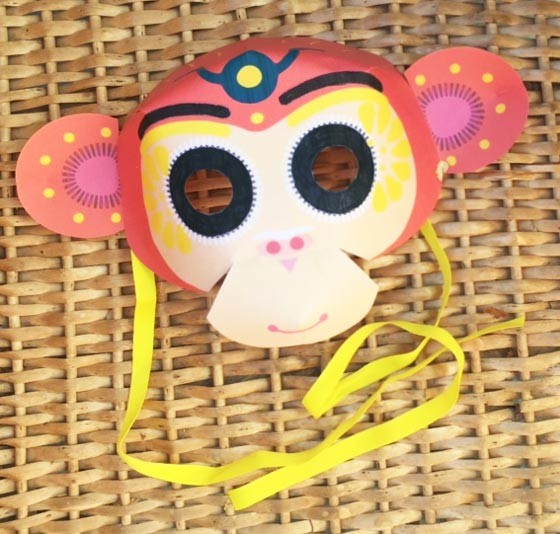 The 12 animal signs in Chinese astrology each have unique characteristics:

Rat: Intelligent, adaptable, quick-witted, charming, artistic, sociable.
Ox: Loyal, reliable, thorough, strong, reasonable, steady, determined.
Tiger: Enthusiastic, courageous, ambitious, leadership, confidence, charismatic.
Rabbit: Trustworthy, empathic, modest, diplomatic, sincere, sociable, caretakers.
Dragon: Lucky, flexible, eccentric, imaginative, artistic, spiritual, charismatic.
Snake: Philosophical, organized, intelligent, intuitive, elegant, attentive, decisive.
Horse: Adaptable, loyal, courageous, ambitious, intelligent, adventurous, strong.
Sheep: Tasteful, crafty, warm, elegant, charming, intuitive, sensitive, calm.
Monkey: Quick-witted, charming, lucky, adaptable, bright, versatile, lively, smart.
Rooster: Honest, energetic, intelligent, flamboyant, flexible, diverse, confident.
Dog: Loyal, sociable, courageous, diligent, steady, lively, adaptable, smart.
Pig: Honorable, philanthropic, determined, optimistic, sincere, sociable.
新年好 – New Year goodness
We hope you enjoyed this printable Chinese New Year monkey mask template! If so, please give us a little love; by liking us on facebook, pinning us on pinterest or following us on twitter. Thank you!