Description
Get ready for a bounty hunt, boarding a rivals vessel or simple some simple backyard treasure hunting.
Be a pirate today with Happythought's Pirate dress up activity pack. Ideal for you and your shipmates.

Crammed full of pirate masks, pirate bandanas, pirate headscarfs, pirate beards, pirate moustaches, pirate flags, pirate chest, pirate skull mask, pirate Monkey mask, and a classic Sea Monster mask. We have include a Mermaid or Merman crown to add a bit of sparkle to this rowdy rabble.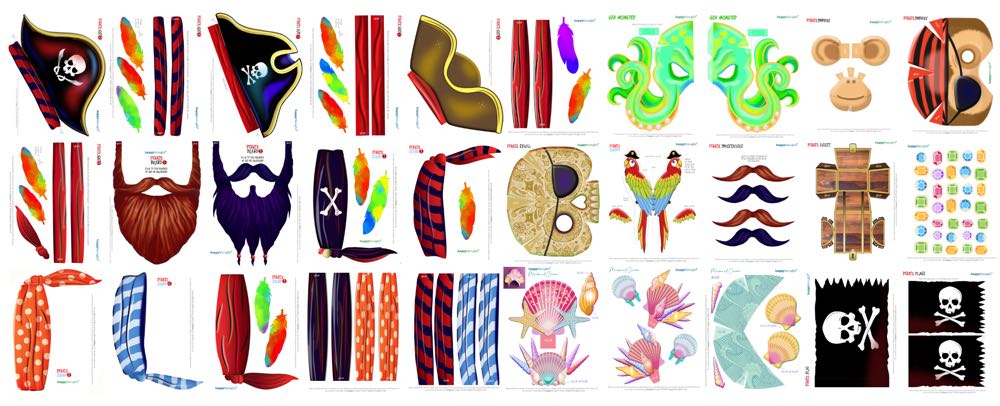 Perfect for the the pirate loving craft fan in your life
YOU WILL RECEIVE:
PDF HIGH RESOLUTION (300 dpi) file contains the following templates/patterns:
• x3 Pirate hat templates
• Pirate bandana templates
• Pirate headscarf templates
• Pirate beard templates
• Pirate moustache templates
• Pirate Sea Monster template
• Pirate Monkey mask template
• Mermaid/Merman crown template
• Pirate flag templates
• Pirate Chest and Gems template
• Shoulder Parrot template
A whole array of booty to get you dressed up and ready to start your voyage.
These printable Pirate dress up activity pack is ideal for:
Exploring and creating different masks
Improves your child's finger skills
Suitable for children and adults
Incredibly fun and rewarding to make
Quality family/friends time activities