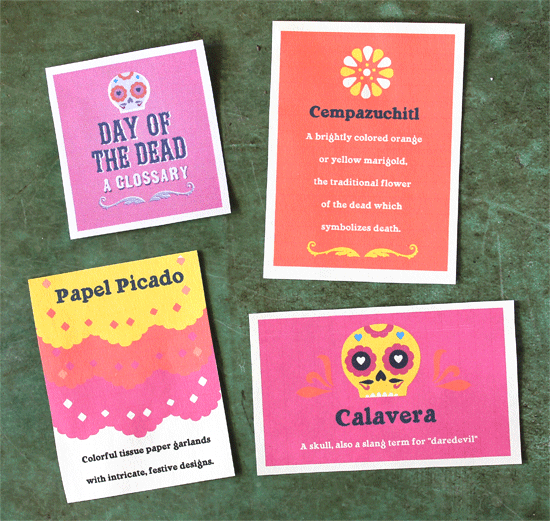 A short Day of the Dead glossary
Download this free printable glossary for guests at a party or for students in the classroom to introduce a few key phrases about Mexican el Dia de los Muertos or Day of the Dead.
Dia de los Muertos terms and traditions used on and around the famous and colourful Mexican festival.
Alabanza – a hymn of praise
Alfenique – a special confection used to fashion skulls, fruits and other figures
Calacas – The Grim Reaper – a whimsical skeleton figure that represents death.
Calavera – a skull, also a slang term for "daredevil"
Calaveras – Songs, poems or satirical obituaries about the dead or Day of the Dead.
Calaveritas de azucar – decorative candied sugar skulls made for the DÌa de los Muertos
Careta – mask worn by dancers to scare the dead away at the end of the celebrations
Catrina – A female skeleton, created by Jose Guadalupe Posada's icon of death. Catrina is a satire of a 19th century grande dame.
Cempazuchitl – A brightly colored orange or yellow marigold, the traditional flower of the dead which symbolizes death.
Copalli – a resin used to make scented incense.
DÌa Todos los Santos – All Saints' Day
Ofrenda – "The offering", a table or altar decorated to hold the offerings of food and drink for the weary spirit guests. See Happythought paper craft ofrenda!
Pan de los muertos – bread of the dead
Papel picado – colourful tissue or crepe paper garlands with intricate, festive designs. Video tutorial + photo tutorial.
What is a Calavera, oferenda, catrina? Dia de los Muertos terms + traditions!
Download Happythought's FREE concise Day of the Dead glossary using the form here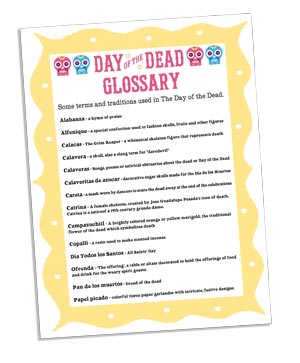 We also have a few bits of party advice, el dia de los muertos activity worksheets, some Day of the Dead games and calavera coloring in pages to make your activity the best!
Try our very popular Free to Happythought members printable Mexican food signs to download from here: https://happythought.co.uk/day-of-the-dead/mexican-food-signs
Check out these other related crafts,printables and templates
Read about more craft ideas on our blog. We hope you enjoyed our Day of the Dead glossary printable! If so, please give us a little love; by liking us on facebook, pinning us on pinterest or following us on twitter. Thank you!