DIY papel picado templates – Banners, butterfly + flags!
As you have probably noticed we love diy papel picado templates and their decorative designs at Happythought. See how easy making your own decorations for a Mexican themed fiesta, Cinco de Mayo or el Dia de los Muesrtos. Try out a these papel picado templates!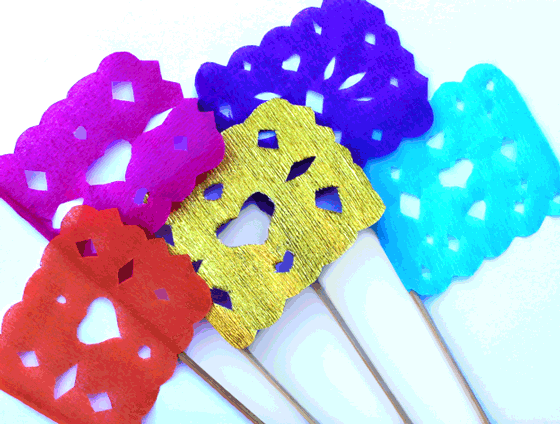 Adorable papel picado flags using our easy free to members template designs. You can use them in table decorations, flower arrangements or as fiesta favors.
Download templates to make DIY papel picado templates
We made ours using 3 papel picado templates and crepe paper in lovely, vibrant colors. It is much easier to use than tissue paper. It also means that your papel picado last longer so you can use them again and again!
These butterflies flutter beautifully in the wind. They look great at a fiesta, wedding or as a decoration in your home!
Easy assemble DIY papel picado templates
Papel picado means 'punched' or 'perforated' paper, and traditionally papel picado are made from colored tissue paper and cut using chisels.
Papel picado garlands are traditionally used to decorate the streets during the Dia de los Muertos (Day of the Dead) festival in Mexico. You can also use the papel picado decorations at any celebration or party event.
Make this Frida Kahlo inspired flower and skeleton hand crown for Dia de los Muertos.
Day of the Dead paper flower crown, ideal for costume and dress up! Includes Day of the Dead worksheets, paper flowers tutorial, Day of the Dead cat mask video, el Dia de los Muertos decoration ideas and our popular calavera papel picado tutorial and template.
If you want to know more about Cinco de Mayo check out these articles featured on our website – Paper flowers for Cinco de Mayo and our popular make a Lucha Libre mask. For more ideas and templates click here.
Make your fiesta the best!
Did you know?
Joining Happythought membership will get you 50% off all these Day of the Dead products including the papel picado templates featured above.
Happythought CraftClub
Exclusively for Happythought members is packed with over 30 free Happythought CraftClub templates, craft activities and classroom worksheets.
Joining Happythought membership will also get you access to the ever growing CraftClub library.
We have lots of other Mexican craft ideas and printables in our blog and shop . Color in calavera mask templates, Mexican paper star ornaments and printable 5 de Mayo worksheets.
We hope you enjoyed our 3 papel picado template ideas! If so, please give us a little love; by liking us on facebook, pinning us on pinterest or following us on twitter. Thank you!