Description
Lucha Libre masks and matching Luchador cuffs, with an easy-to-follow video tutorial and coloring-in options too!
Easy to assemble printable Lucha Libre masks, come with matching cuffs and simple to follow photo instructions.
Presenting the Lucha Libre All-Stars: El Campeón, Rey Sol, Corazón Valiente, El Héroe, La Estrella. Sombra, Diamante, Tormenta, Cometa Verde, El Tigre, Fuego Rojo y Pirata Rosa.
12 printable Lucha Libre masks with matching wrestling cuffs
YOUR PURCHASE INCLUDES 5 HIGH RESOLUTION (300 dpi) PDF FILES containing the following Happythought templates/patterns:
1) 12 Lucha Libre colorful mask templates to print and make.
2) 12 Lucha Libre colorful wrestling cuffs to print and make.
3) 12 Lucha Libre B&W mask templates to color in your own way.
4)12 Lucha Libre B&W wrestling cuffs to color in your own way.
5) Photo step-by-step tutorial showing you how to make your Lucha Libre masks and cuffs.
12 fantastic printable Lucha Libre masks for your little (or large!) Luchador! These mask designs are inspired by Mexican Lucha Libre wrestlers, or luchadores, and their colorful masks and personas. Be a star and dress up like your favourite Lucia the Luchadora.
12 printable mask templates
12 printable cuff templates
12 printable coloring in black and white mask templates for each luchador
12 printable black and white lucha libre luchador cuff templates to color in
These masks are ideal for: Costume parties, dressing up, class room activities, homeschool, decorations, Mexican festivals, party ideas and activities.
Lucha Libre masks and Luchador cuffs – endless coloring-in options!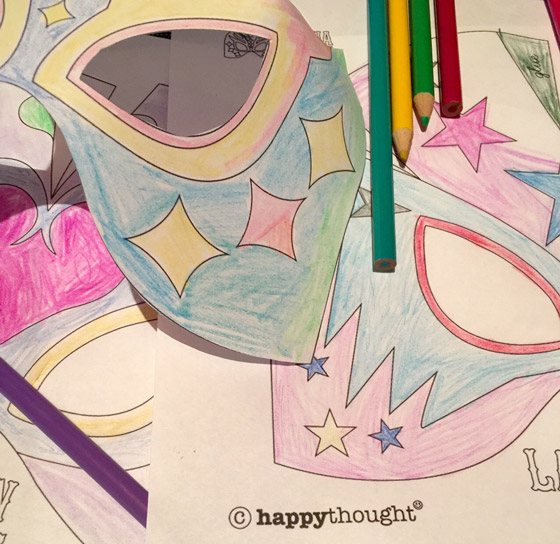 Happythought is full of beautifully crafted party items, favors and classroom worksheets at a fraction of the price. More masks by Happythought: Chinese New Year Dog or Monkey masks, wild animal masks and some cool alebrije mask template PDFs. Also if you like lucha libre mask templates be sure to check out Happythought's Happy Animals mask printable here.
We hope you enjoyed this printable Happythought mask pack! If so, please give us a little love; by liking us on facebook, pinning us on pinterest or following us on twitter. Thank you!