How to make a beautiful papel picado butterfly garlands: Video tutorial and template!
As you might have noticed, we love Day of the Dead designs and imagery. These are specially cute butterfly papel picado designed by Happythought.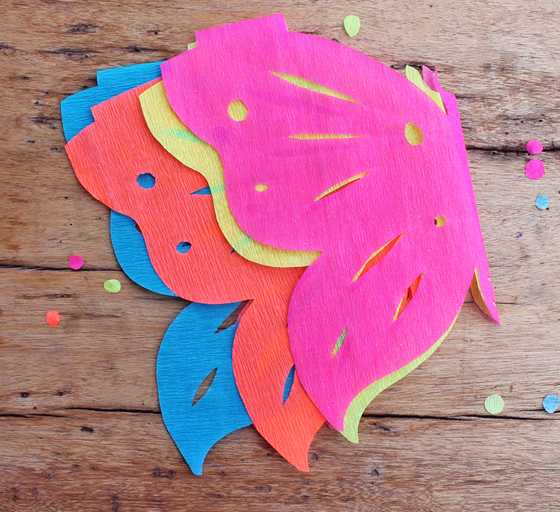 Last year we put together a template and video tutorial you how to make calavera papel picado. This year we thought these butterfly garlands would make a great addition to our Day of the dead decoration ideas page.
These butterflies flutter beautifully in the wind and would look great at el dia de los muertos fiesta, wedding or as a decoration in your home! Watch our simple step-by-step craft video tutorial below.
Butterfly Papel Picado video tutorial + template – watch here!
Making your own Butterfly papel picado is easy and quick! Follow these simple step-by-step photo instructions or watch our video tutorial on our youtube channel.
To make papel picado butterflies you will need:
• Crepe paper in at least 3 colors
• Scissors
• Masking tape (colored if available)
• Happythought Butterfly Papel Picado templates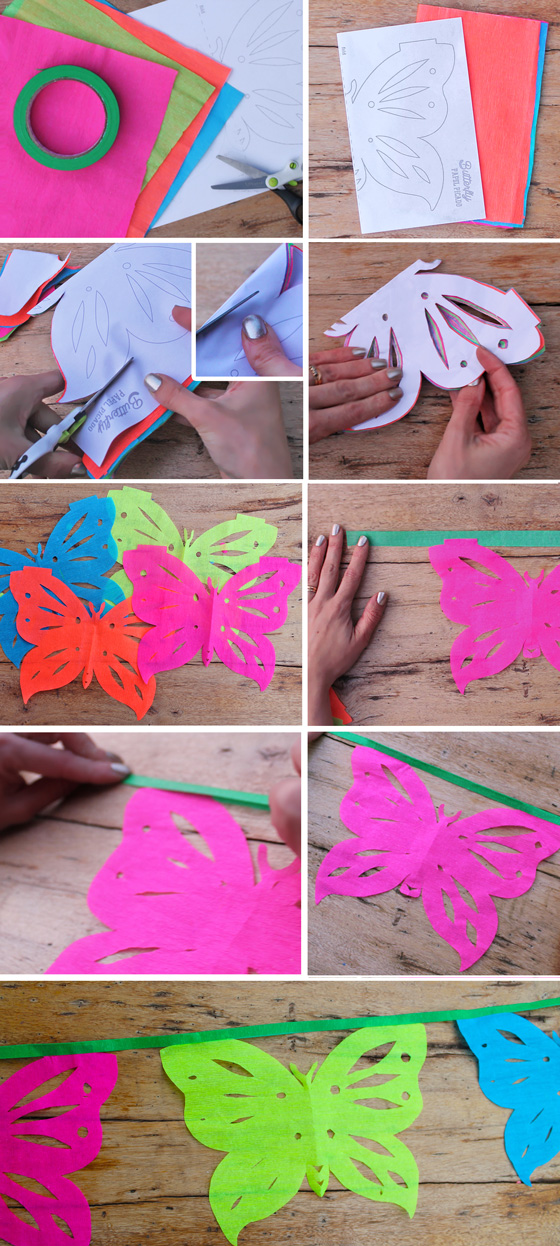 INSTRUCTIONS | How to make Butterfly Papel Picado:
First, cut your crepe paper down into sheets of approx. 20 x 28cm size sheets.
Next, fold your printed template down the middle (along the dotted line) with the instructions on the outside. Using four sheets at a time, fold the crepe paper in half and assemble a 'book' with the template sheet as the cover.
Secure the top of your book with a little masking tape so that the crepe paper doesn't slip when you are cutting out the shapes.
You're now ready to start cutting out your butterfly papel picado! We prefer using scissors to do this as they're easier to handle, especially if you have any little helpers.
Like making paper snowflakes, carefully cut out all the shapes on the interior of the template, folding again when necessary (as shown) to access the 'interior' shapes, and then follow the template guide to cut around the edges.
When you've finished cutting, remove the masking tape from the top, flatten out your book and remove the template cover. Be careful when separating the sheets of crepe paper as they can be quite fragile.
Repeat this process with another 4 sheets of crepe paper. Once you have made 3 or four sets of papeles, you are ready to create your garland!
Unroll a length of masking tape and lay it out on a flat surface with the sticky side facing up. Carefully place the butterflies on the tape in alternate colours. The top tabs of the butterflies should only cover half of the width of the masking tape.
Next, fold the tape over to create your garland as shown. To keep things simple, we recommend sticking no more than 3 or 4 at a time. To make a really long garland you can easily stick two lengths together with a little more masking tape.
Read more about the tradition of making papel picados
We have also dived into make a more traditional 'looking' papel picado. The papel picados were originally made by stacking sheets of colored tissue into a bundle. Then using a cutting template to punch or perforate the papers, you can mass produce these beautiful banderines. Our technique has the same results but is designed to made at home. If you get together with a group of friends or some colleges from work, you can whip us some fancy decorations in no time. The whole process is affordable, fun and a great way to socialise.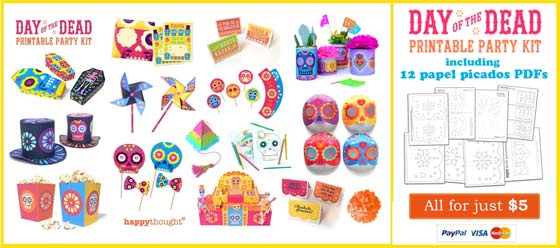 Other ideas with papel picado
Just released is our easy calavera papel picado tutorial plus a quick guide to papel picado crafts with our popular How to make papel picado video tutorial
Make your fiesta the best!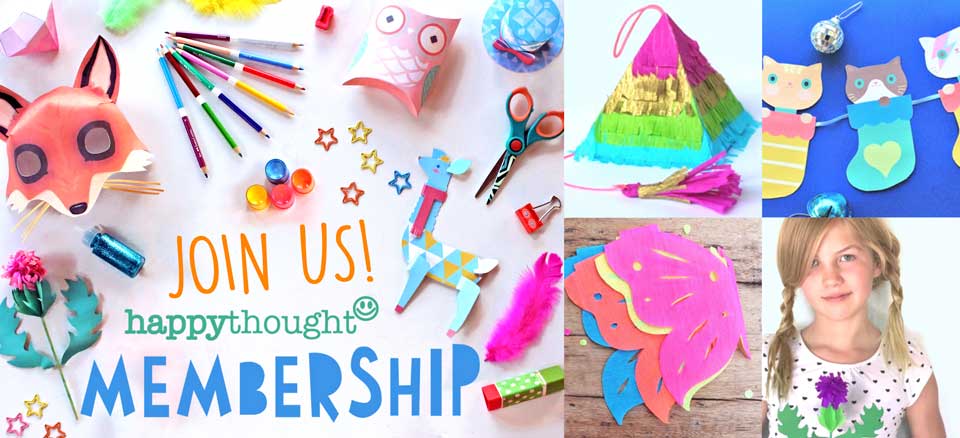 Did you know?
Being a Happythought member will get you discounts on Day of the Dead products plus gaining exclusive access to the ever growing CraftClub library. Packed with over 100s of templates to download, print and make.
Benefits include…
• Unlimited access – Happythought CraftClub templates
• Happythought Newsletter
• Special Happythought members only discounts
Check out more craft ideas on our blog. We hope you enjoyed our easy make papel picado tutorial! If so, please give us a little love; by liking us on facebook, pinning us on pinterest or following us on twitter. Thank you!