Description
Make your own Alebrije mask: Rabbit, jaguar, owl and fox mask templates, or mix them up and make your own fantastical Alebrije creatures!
Printable Alebrije masks inspired by vibrant Alebrije sculptures, Mexican folk art carvings depicting animals, people, objects, and imaginary creatures painted with intense colors and intricate patterns.

Watch the video tutorial and see how easy it is to make an Alebrije fox mask
What are Alebrijes?
The first Alebrijes originated with the artist Pedro Linares.
In 1936, when he was 30 years old, Linares fell ill with a high fever, which caused him to hallucinate. In his fever dreams, he was walking in a forest with rocks and clouds, many of which turned into wild, unnaturally colored creatures, frequently featuring wings, horns, tails, fierce teeth and bulging eyes. He heard a crowd of voices repeating the nonsense word "alebrije."
Once he recovered, he began to re-create the creatures he'd seen, using papier-mâché and cardboard. A gallery owner discovered his work, and this brought him to the attention of Diego Rivera and Frida Kahlo, who began commissioning more alebrijes.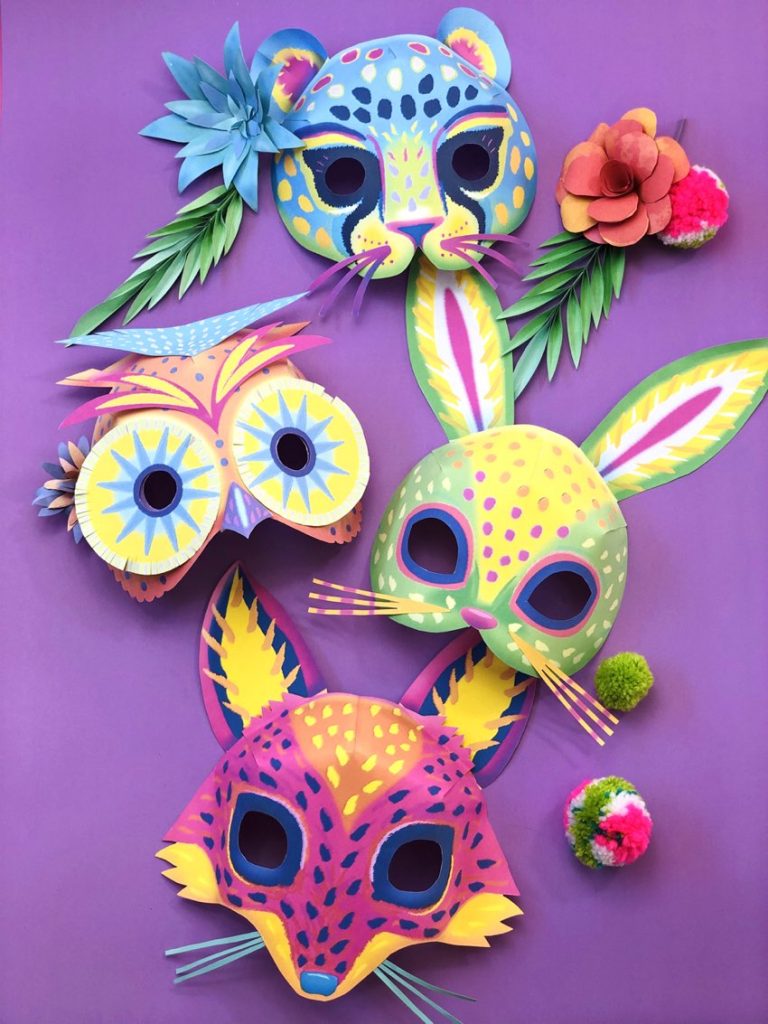 The craft has become part of Mexico's folk art repertoire. Although no two are exactly alike, most alebrijes have startlingly vibrant and colorful markings. They feature detailed patterns of stripes, dots, geometric shapes, flowers, and flames.
Today, alebrijes are made by artisans and sold as art in galleries and markets. Hand carved and painted wooden alebrijes are created by families in small towns outside the city of Oaxaca. In this region Copal wood is most commonly used, rather than papier mâché. The local artisans incorporated Linares' visions into the pre-Hispanic woodcarving tradition that already existed among the indigenous Zapotec culture. The towns Arrazola, San Martin Tilcajete, and La Union Tejalapan each have their own carving and painting style that differs from the others.
Alebrijes in Disney's Coco
You may have come across Pepita and Dante, alebrije spirit animals, featured in the Disney movie, Coco. Writer and Co-Director Adrian Molina collected Alebrijes as a child and now they have become a key part of the movie. In Mexican culture, Alebrijes are not specifically associated with El Día de los Muertos.
The creators decided to use them as spirit guides to Miguel and his relatives because of their vibrant colors, otherworldly appearances and Mexican origins.
Easy to make printable Alebrije masks
These Happythought Alebrije printable mask templates come in full color, and also as black and white versions to color in your own way. Why not also invent your own fantastical creatures by swapping the ears, beaks and other elements around?
You can use these templates in the classroom, for homeschool or as a fun play time activity. All you need is the Happythought printable templates, scissors, a glue stick and some ribbon to secure your mask.

These brand new printable pdf templates are free to download to Happythought Members, a part of the Happythought CraftClub.
Easy paper rabbit mask to make, with this easy to follow video tutorial
You can join up for Happythought Membership here. You can find, fox masks, unicorn masks, sloth masks, llama masks, lots of fun projects, exclusive to Happythought members. Includes masks, craft projects, templates and more!
You might also like some of our other great printable templates. Mini DIY papel picado flag decorations, Cinco de Mayo craft activity pack, Day of the Dead Calavera mask templates and our popular Lucha Libre mask set.
Woof woof!
Puppy masks and Dog mask templates, DIY deer mask patterns to make, cute cat mask templates and our free to members fox mask pattern and tutorial. The mask templates come with costume idea for each mask. Paper flower, feathers and leaves templates or a paper skeleton hand dress up idea.
We hope you enjoy these Happythought printable Alebrije masks. Be sure to join the Happythought CraftClub here to get creating today! If so, please give us a little love; by liking us on facebook, pinning us on pinterest or following us on twitter. Thank you!