Description
Easy mask template: Download and make a paper fox mask instantly
Have some foxy fun with Happythought's easy fox mask template. Only available to Happythought members to download and try yourself!

Your download PDF also includes a fox mask template to color in. A fun fox fact sheet and coloring page too. Follow our video tutorial below. Make your own red fox mask in no time!
How to make this mask with our easy printable template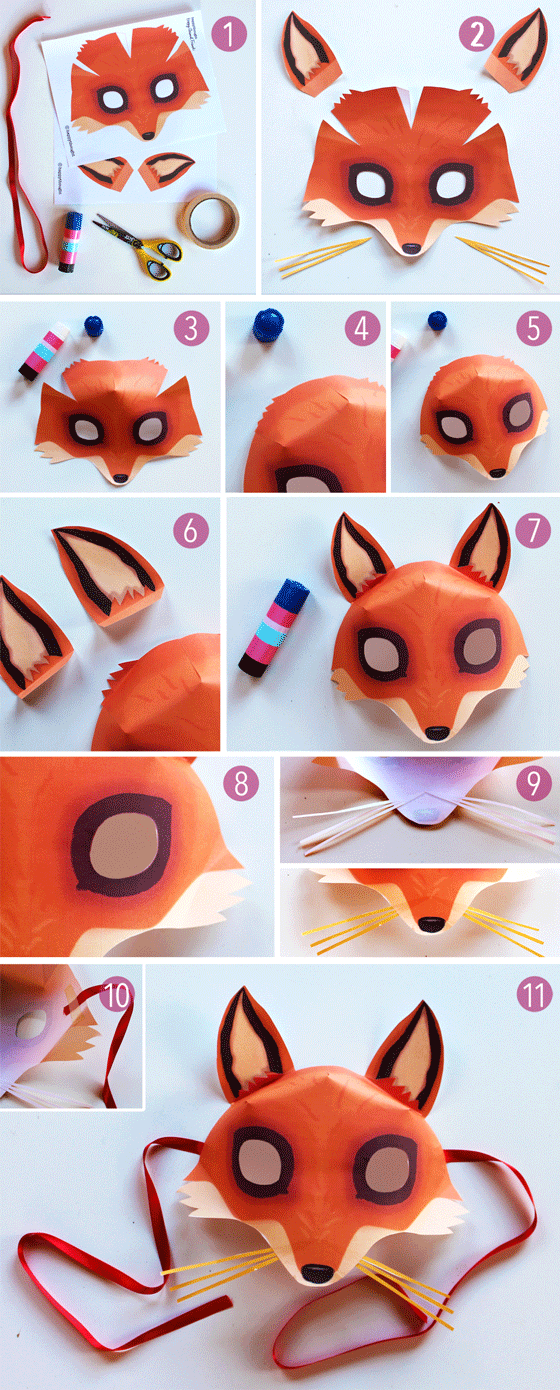 Step 1
You will need scissors, a glue stick, masking tape and some ribbon. For a longer lasting mask, print your template on to a slightly heavier stock paper.
Step 2
Carefully cut out the mask, ears, whiskers and eye holes.
Step 3
Glue the middle panels together with your glue stick and secure on the back with a little masking tape.
Steps 4 & 5
Next stick the two side panels together as shown.
Step 6
Now to add the ears. Fold the tab on each ear, and then bend the bristles on the mask forward.
Step 7
Glue ears in place on the reverse of the mask.
Step 8
Fold out the fox's fur on each side of the mask.
Step 9
Glue the whiskers in place on the reverse of the mask.
Step 10
Attach a length of ribbon to either side of your mask. You can glue it in place, then stick with masking tape for a really firm hold.
Step 11
Hooray! Your fox mask is ready to wear!
See more here for more animal mask templates to download
Animal dress up ideas, DIY template masks and tutorial photos to make these adorable printable animal masks here: tiger, deer, panda, dog, cat, bear, owl, fox, koala and rabbit.
Go wild with our wild animal mask set. 10 Wild Animal printable masks: Lion, Hippo, Elephant, Snake, Giraffe, Tiger, Monkey, Leopard, Crocodile and Zebra masks to print out and make.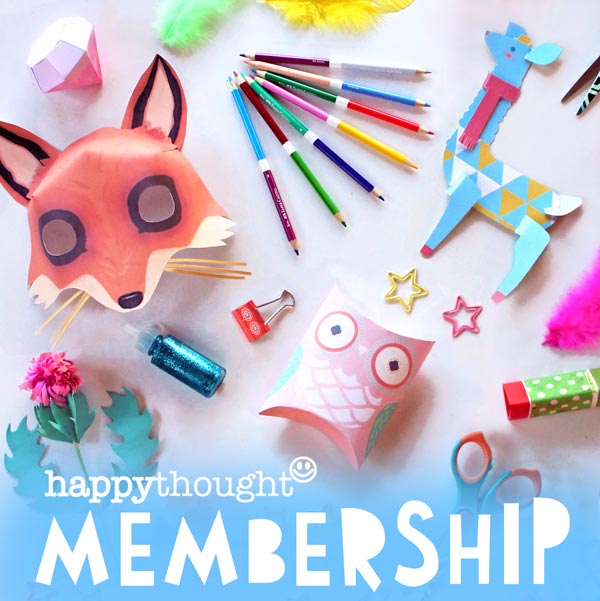 YOU WILL RECEIVE:
PDF HIGH RESOLUTION (300 dpi) file contains the following templates/patterns:
1) Fox mask template and instructions
2) Fox mask black and white color in template
3) Fox facts black and white color in worksheet
Easy ideas for dressing up as a fox
Want more?
You can buy our complete Happythought Printable Animal Masks set here! Includes B&W masks to color in, plus animal activity fact sheets.
See the mask in action in our Happy Animal Friends video! 10 mask templates, patterns and cutouts: Bear, bunny, cat, dog, fox, koala, owl, panda, deer and tiger masks to print out and make.
We hope you enjoy our fox mask template and dress up costume ideas. If so, please give us a little love; by liking us on facebook, pinning us on pinterest or following us on twitter. Thank you!