Description
Make your own super cute Unicorn Masks with Happythought's 6 printable mask templates: Daisy, Galaxy, Flutterby, Twinkle, Oceana and Rainbow Unicorn masks!
Download these printable unicorn masks after watching our video, making a Rainbow Unicorn mask here on youtube.
How to make a unicorn mask, simple templates, plus easy to follow instructions to make unicorn masks
Hooray! Make your own fun Unicorn masks with these great new printable mask templates from Happythought. Six 3D Unicorn masks to download, print and make. Including black and white colour in versions that are ideal for fun playtime, birthday parties, creative activities and family crafting.

YOU WILL RECEIVE:
PDF HIGH RESOLUTION (300 dpi) files containing the following mask templates:
• 6 DIY Unicorn full color mask templates
• 1 Black & white Unicorn mask template to color-in your own way
• Easy to follow photo instructions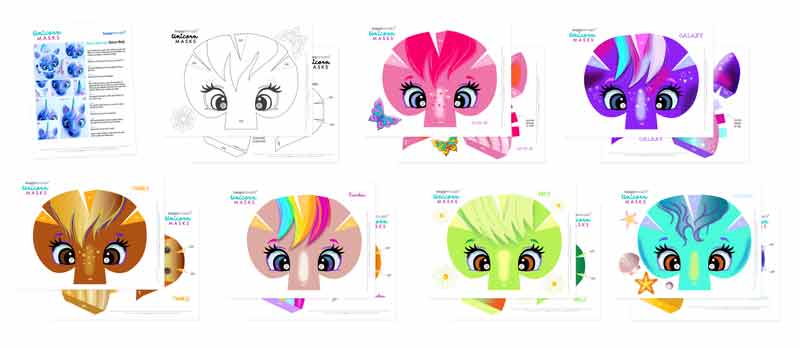 Perfect for the class room
Why not add your own touch with the additional black and white unicorn mask templates, ready to color in your way. Add glitter, gems and ribbons too. Exclusive to the Happythought CraftClub, these cute 3D paper masks are free to download for Happythought members. Hooray
Join up for Happythought Membership here. You can find lots of fun projects, exclusive to Happythought members, including masks, craft projects, templates and more. You might also like some of our other great printable templates. Sloth crafts, Printable wild animal masks, Farm Animal masks templates and our popular Create a unicorn mobile.
Easy to make printable unicorn masks
The Happythought printable unicorn masks come in full color, and also as black and white versions to color in your own way. All you need are the Happythought printable unicorm templates, scissors, a glue stick and some ribbon to secure your mask.
Use these templates in the classroom, for homeschool, a unicorn party or as a fun play time activity.
Be a puppy with these Dog mask templates, DIY Super hero patterns to make, Alebrije mask templates templates, Llama balloon craft and our free to members fox mask pattern and tutorial. The mask templates come with costume ideas for each mask.
Check out all the benefits for Happythought Members + Happythought CraftClub.
We hope you enjoy these Happythought printable unicorn masks. If so, please give us a little love; by liking us on facebook, pinning us on pinterest or following us on twitter. Thank you!