Description
Make your own mini top hats
This wonderful set includes templates for a Classic Black top hat, The Mad Hatter, St Valentine's Day, St Patrick's Day, Halloween, Circus Ringmaster, Steampunk and Burlesque hats for your collection!

8 no-sew mini top hat templates, ready to download and make instantly for dress up, mini top hat costume ideas, parties and as fun activities. Perfect as a party activity or as a favor or place setting gift for party guests!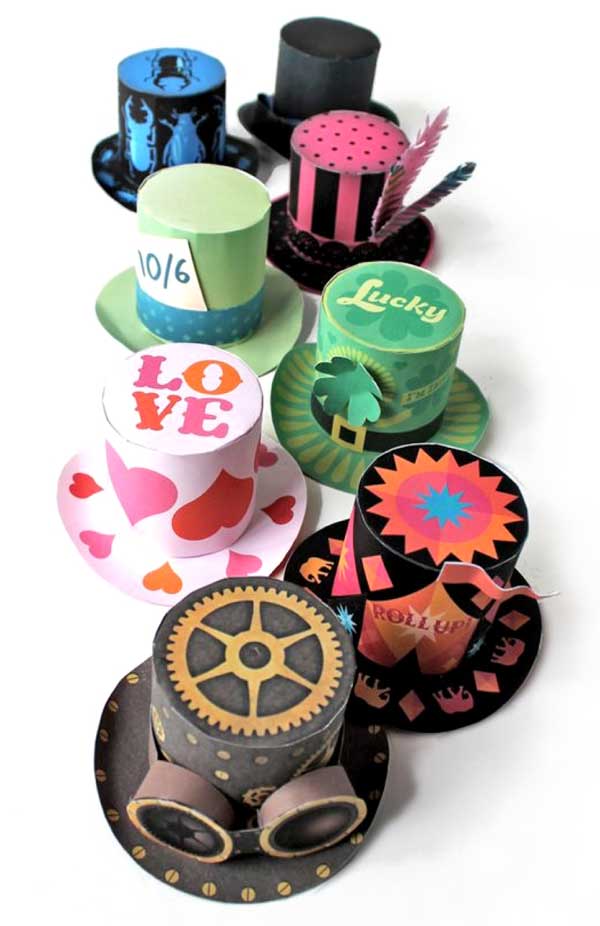 Have fun with a classic black top hat, add some Steampunk style, shake it with a bit of Burlesque, or make the perfect hat for any tea party, the Mad Hatter. The kit also includes a Ring Master's circus top hat, a St Patrick's Day lucky hat, an adorable Valentines top hat and a spooky Halloween bug hat. To wear your hat, attach it to your head with a bobby pin and you're ready to go!
Download the eight fantastic mini top hat templates now – with step by step instructions showing you how to make a mini top hat!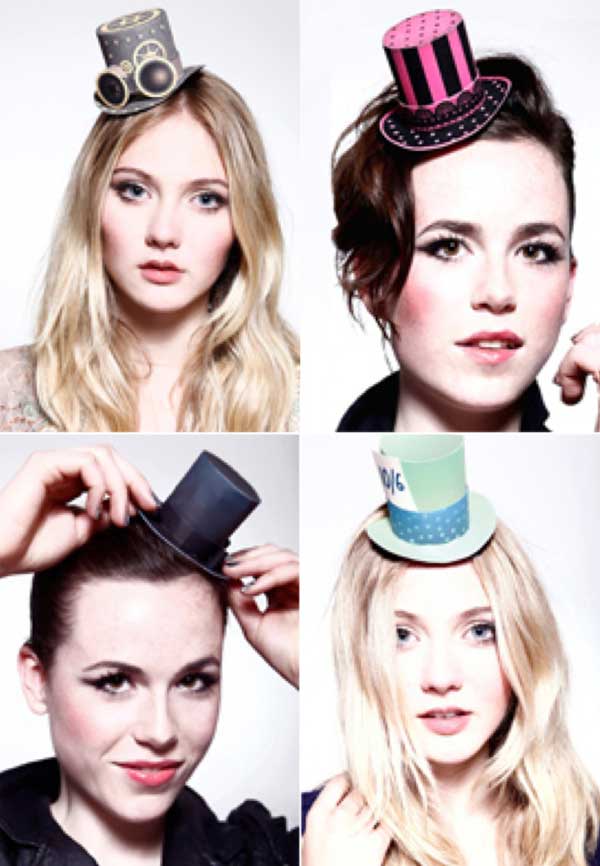 Try them now!
Your printable Mini Top Hat set CONTAINS:
9 PDF HIGH RESOLUTION (300 dpi) files:
1) Step-by-step instructions and tips on making your top hats and accessories
2) Steampunk mini top hat patterns/templates
3) Mad Hatter mini top hat patterns/templates
4) Classic black mini top hat patterns/templates
5) Burlesque mini top hat patterns/templates
6) St Patrick's Day top hat patterns/templates
7) Halloween bugs top hat patterns/templates
8) Circus top hat top hat patterns/templates
9) Valentine's Day top hat patterns/templates
Classic black top hat
This classic black top hat is easy to assemble and great at any party.
Steampunk top hat
A dash of Steampunk? Victorian times revisited. Of course we had to add some goggles. Dust not included!
Burlesque Cabaret top hat
Adorned feathers and a lace hat band, this burlesque top hat is a versatile little number, ready to wear in 20 minutes. Print and make as many times as you like.
Mad Hatter's top hat
What top hat collection would be complete without a nod to the Mad Hatter, Alice's friend and companion in Wonderland?
Valentine's Day top hat
Wear your heart on your head with this darling little top hat and fill the world with love.
Halloween Bugs top hat
Adorned with a few friendly insects, this Halloween bug top hat is the perfect mix of cute and creepy!
Circus Ringmaster's top hat
Roll up, roll up! The Circus is in town! – make like a ring master with this colorful little harlequin hat. Our mini Circus top hat is adorned with elephants and diamonds, and topped off with a big top flag
St Patrick's Day top hat
Kiss me. I'm Irish! Make like a leprechaun with our fun St Patricks Day printable top hat template! With the luck of the Irish on your side (or on your head…) you should get a kiss or two!
How to make a mini top hat – Includes easy to follow photo tutorial:

Reviews:
"This set has really good instructions and the patterns are well laid out. It's easy to download the templates and make. Used these to decorate for a Alice in Wonderland theme. Kids loved them." by Liz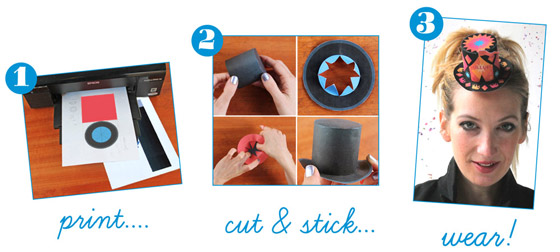 As well as being beautifully designed Happythought printables can be made using common-or-garden scissors, a glue stick and little crafting experience. Our templates are easy to make with step-by-step instructions.
More Happythought template to explore:
How to make a mini top hat – DIMENSIONS:
The dimensions of each printable mini top hat are: 10.5 cm diameter for the brim by 6 cm tall and 6 cm diameter on the top.
More mini top hat ideas: mini polka dot hats, Diamond party hats, 3 festive paper hats and mini tartan top hats.
Great craft activities available in our CraftClub (be a Happythought member) or check out more craft ideas on our blog. Hope you like our templates for How to make a mini top hat. Give a little love, leave a review, a rating or tick one of the social buttons below. Thanks.