Steampunk top hat step-by-step video tutorial: No-sew mini top hat templates, cutouts and patterns!
What mini top hat collection would be complete without a dash of Steampunk?
And of course we had to add some goggles to complete this Steampunk mini top hat idea.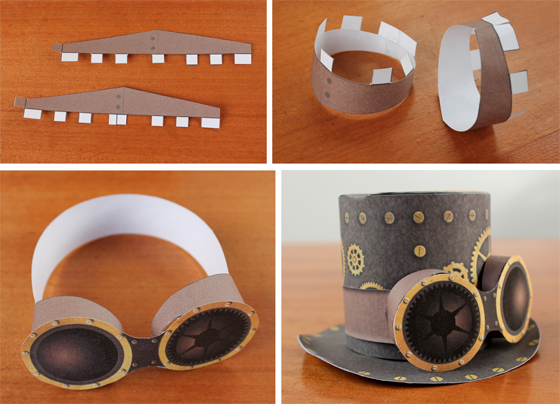 Steampunk facts and history: Did you know?
The term steampunk was first coined in the 1980's by K. W. Jeter in an effort to explain the genre of stories written by him and several other authors of the time.
Steampunk is an inspired movement of creativity and imagination. With a backdrop of either Victorian England or America's Wild West at hand, modern technologies are re-imagined and realized as elaborate works of art, fashion, and mechanics.

Make your own Steampunk top hat with our printable PDF sheets: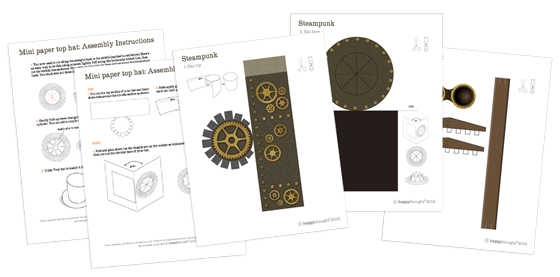 Be sure to check out Happythought's mini paper top hat set!
Try something new for your next fiesta or mini top hat costume party: A classic black mini top hat, shake it with a bit of Burlesque and the must hat for any tea party, the Madhatter. Be the boss with a circus top hat, go with a St Patrick's Day lucky hat, Valentines top hats and Halloween bug hats and get noticed!
Fancy some more mini top hats on you head?
Video tutorial: Make your own Mini Top Hats: 8 Fantastic Mini Top Hat designs!
Read about more craft ideas on our blog. We hope you enjoyed learning about making a party top hat with our steampunk mini top hat template and step-by-step instructions! If so, please give us a little love; by liking us on facebook, pinning us on pinterest or following us on twitter. Thank you!