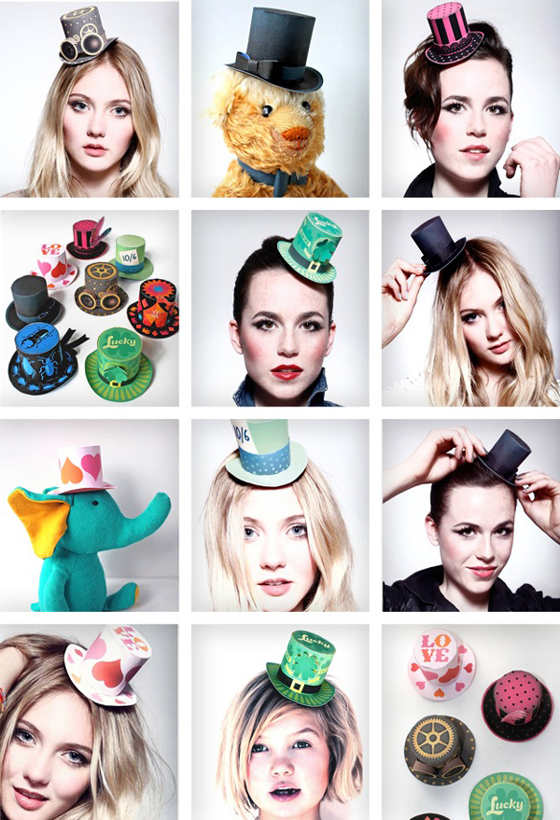 Paper couture fashion shoot: Mini top hats to show off at any occasion!
We have had so many compliments for all our mini top hat ideas or as we like to call them, little paper couture party hats. So we decided that they deserved to be shown off in their own fashion forward photo shoot!
We had lots of fun on the day – champagne flowed freely and many treats were snacked upon.
We hope these photos inspire you to print, snip and stick your way to some seriously stylish head gear of your own. From Steampunk to Burlesque to a classic black top hat, there are 8 templates in our Mini Top Hat set to choose from and you can print and make as many as you like of each style. So strike a pose!
Instantly download any of these gorgeous party hat templates!
Mini top hat paper couture: Printable mini party hat templates
Many thanks to our gorgeous models, Amy and Maddy, and of course to renowned fashion photographer (a la Next top Model) Mathias Wehrnan. You can see more of his wonderful work here.
More mini top hat templates and designs
Make your own mini top hat today: Buy the whole mini top hats pack today. See more click here!
Try something new for your next fiesta or mini top hat costume party: A classic black mini top hat, shake it with a bit of Burlesque and the must hat for any tea party, the Madhatter. Be the boss with a circus top hat, go with a St Patrick's Day lucky hat, Valentines top hats and Halloween bug hats and get noticed!
Read about more craft ideas on our blog. We hope you enjoyed our paper couture mini top hats! If so, please give us a little love; by liking us on facebook, pinning us on pinterest or following us on twitter. Thank you!