Halloween pumpkin bat: How to make this easy and simple Halloween decoration
When Granny came home with pumpkins from the market I was planning on carving a regular Jack o Lantern. But my daughter Missy had other ideas to make this cool Halloween pumpkin bat!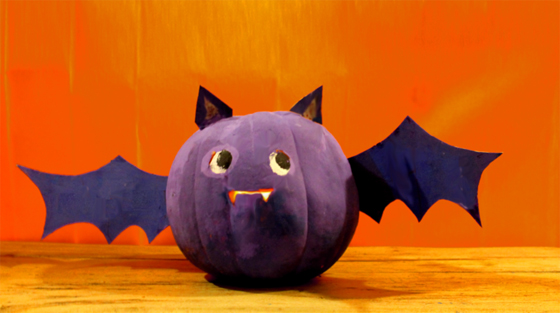 Her favourite animal is a bat and she is dressing up as a bat for Halloween, so naturally she had her heart set on a bat pumpkin. So under her creative guidance we set about making a bat and I decided to document the process and see what we'd end up with!
How to make a Halloween Pumpkin Bat

First we set about hollowing out our pumpkin. I was allowed to do the cutting and then Missy scooped out the 'guts'.
Our pumpkin came without a stalk, which made it trickier to get the top off, but made it a better shape for our bat idea.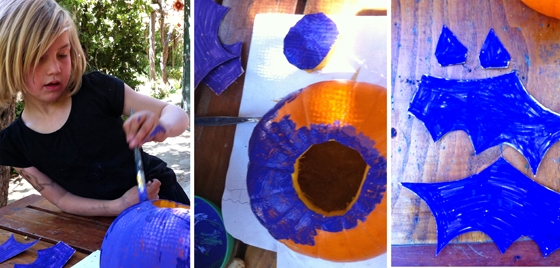 Next she painted the pumpkin. Purple obviously. We cut out some wings and ears from a cereal box and painted those too.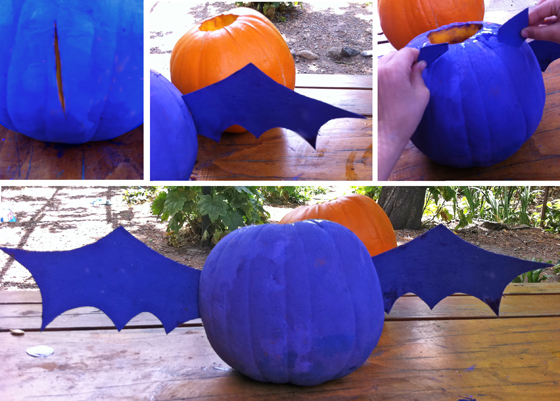 Once the paint had dried I took a sharp knife and made slits in the pumpkin to insert the wings and ears. They slotted in surprisingly easily, no need for glue.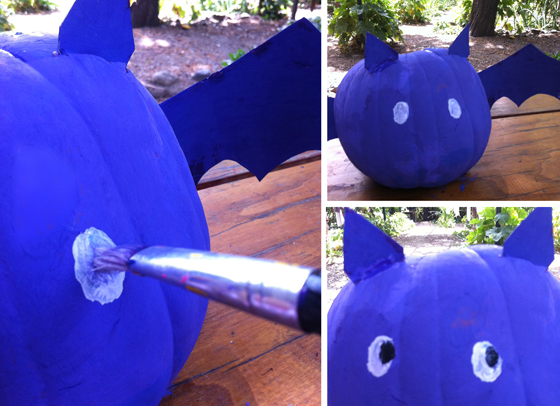 Next we painted on the eyes and again I cut out the mouth and teeth with a sharp knife.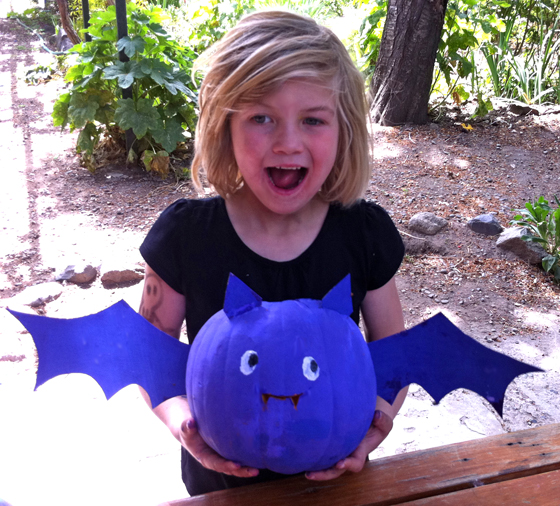 Hooray! Our Halloween pumpkin bat turned out great!
Lighting your Halloween pumpkin bat
When it got dark we popped a tea light inside and it let out a subtle but satisfying glow through its little mouth. I also carved some little slits around the eyes to let out more light.
Check out these other popular Happythought papercraft templates pdf to make at home or in the classroom. Try a scary paper skeleton hand pdf, cute Halloween animal cutouts, a wise owl paper mask pdf template and a vampire costume idea with printable 3D papercraft vampire mask template.

We hope you enjoyed our tutorial on making Halloween pumpkin bat decoration for a Halloween party! If so, please give us a little love; by liking us on facebook, pinning us on pinterest or following us on twitter. Thank you!