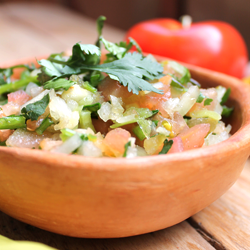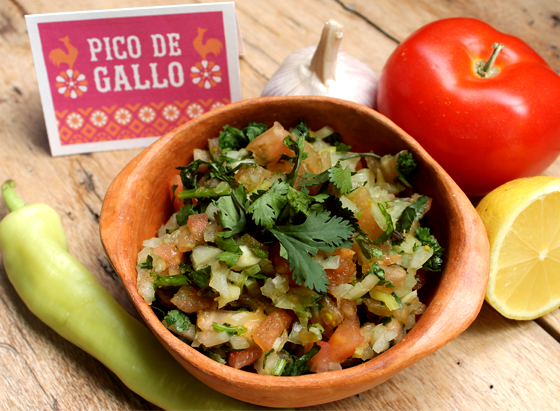 How to make Pico de Gallo for a fiesta or party!
Pico de Gallo is a delicious fresh Mexican salsa. The five key ingredients that make up a Pico De Gallo are onions, tomato, cilantro (coriander), chiles and garlic. Like guacamole this a very versatile and personal dish, but a fun tip is that a Pico De Gallo recipe should follow the same proportions as the Mexican Flag – red, white and green in equal amounts, the red being tomato, the white, being onion, and the green cilantro.
Pico de gallo in Spanish means cock's beak or peck.
This dish is best made on the day of your party, preferably a couple hours before.
How to make Pico de Gallo
8-10 fresh, firm tomatoes
1/2-1 onion (to taste)
1 jalapeno pepper (or more to taste)
2 medium cloves garlic
juice of one lime
1 tablespoon olive oil
4 tablespoons chopped fresh cilantro
1 teaspoon coarse salt
1/2 teaspoon fresh ground black pepper
Preparation
Cut and dice the five main ingredients to roughly the same size cubes (fine or coarse). Mix gently together and season your salsa to taste with lemon or vinegar, salt, ground pepper and olive oil or vegetable oil. A little bit of sesame oil can add a nice nutty flavour, but just add a drop as it can be overpowering.
Cover and refrigerate for at least two hours before serving. Serve with tortilla chips.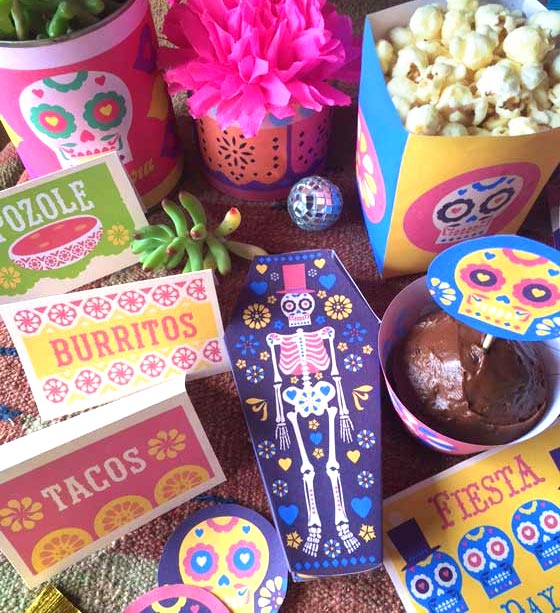 We also have a few bits of party advice, some Day of the Dead games and calavera coloring in pages to make your activity the best!
---
Why not decorate your celebration table with these handy Mexican printable food signs?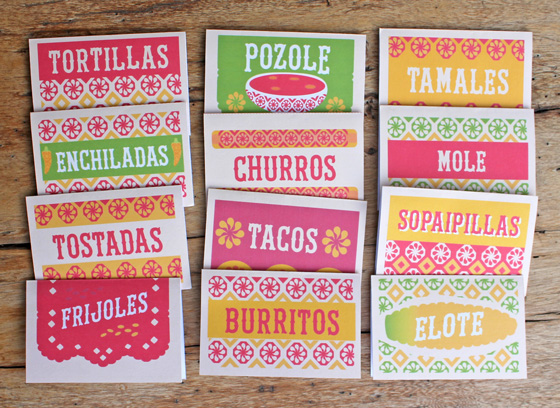 There are 99 printable foodsigns in the pack, featuring popular Mexican recipes, plus some blank cards to fill with your own favorites!
---
We hope you enjoyed our Day of the Dead drinks ideas!
If so, please give us a little love; by liking us on facebook, pinning us on pinterest or following us on twitter. Thank you!
SaveSaveSaveSave
SaveSave