4 fun and easy to make mexican paper craft decorations! Video tutorials, tips and templates!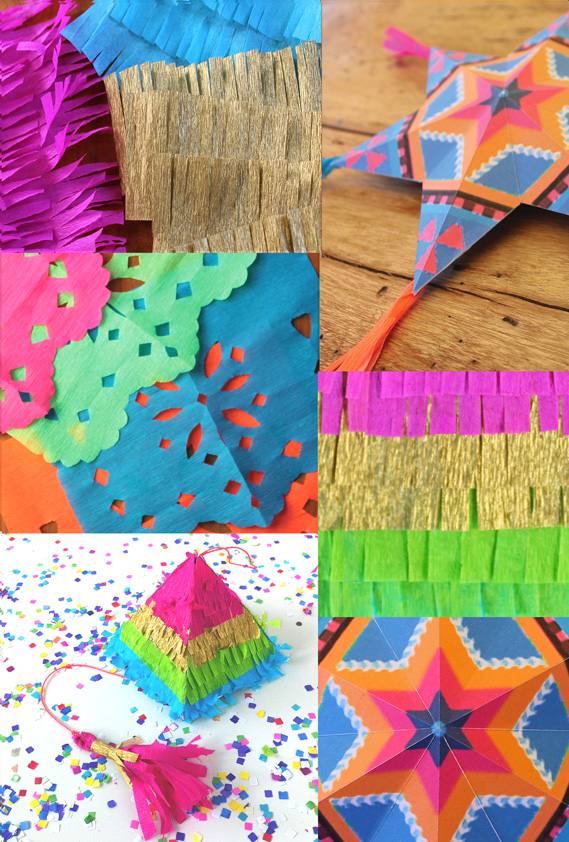 Mexican paper star templates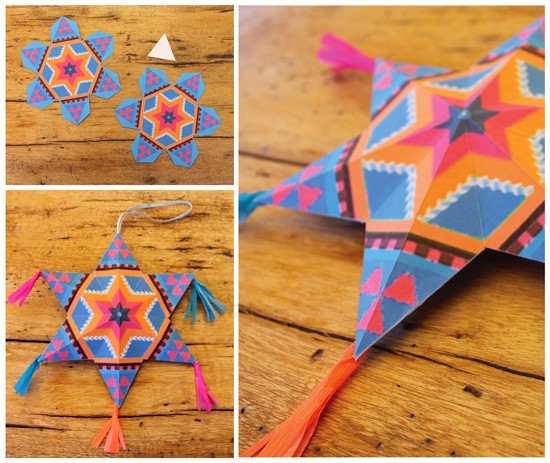 Our new favourite Mexican paper craft 'Paper Stars.
These make a great new addition to the paper craft set and are a versatile party decoration. Also included are 3 blank paper star templates to design you own.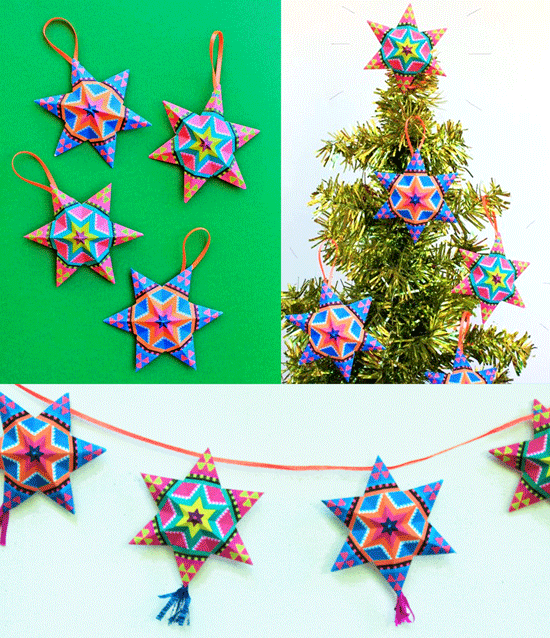 This year we used the paper star templates to decorate our Christmas tree! To make the smaller ornaments, we printed out the templates at 50% of their original size.
Plus visit our shop for other templates and decoration ideas for every season or event.
Simple and fun craft tutorials inspired by Mexican Artisan paper decorations: Pinatas, paper stars, papel picado and paper flowers
The Mexican tradition of paper crafting dates back to pre-Hispanic times when the Aztecs made paper from tree bark, called Amate. With the Spanish conquest brightly colored tissue paper or Papel de China arrived on trading boats from the Phillipines and was used in paper crafts.
Pinatas, papel picado and paper flowers are important in the festivities of Cinco de Mayo and Dia de los Muertos and are also used to decorate birthday parties, weddings and baby showers amongst other celebrations. Learn more about 5 de mayo here.
From the beginning of Happythought we have been inspired by the beauty and simplicity of these Mexican paper crafts. We have really enjoyed trying our hand at creating our own, with satisfying results! Now we have put together four of our favorite paper craft tutorials for you try in one book.
The techniques we have used are not always traditional – the projects are designed to be easy to make and use materials that you hopefully already have at home or in your craft box. The crafts are also designed with little fingers in mind – most of the activities are easy enough for a child to complete, with a little adult supervision!
Cinco de Mayo printables, Day of the Dead and Cinco de Mayo craft activity worksheets.
Be sure to check out these great craft activity packs
Mexican paper craft decorations and templates for birthdays and parties!
Just in! We have created these very cool n' hot alebrije masks inspired some of the imagery surrounding these mythical beasts. Mix and match your own with our for four designs of alebrije mask templates.
All the featured craft ideas and templates are also available from our Happythought online store.
We have collected together 4 of our most popular paper crafts to create a digital and paperback book called "Simple and fun craft tutorials inspired by Mexican Artisan paper decorations: Pinatas, paper stars, papel picado and paper flowers."

Available on Amazon Kindle in English from the countries listed below::
US United States
UK United Kingdom
IN India
DE Germany
FR France
ES Spain
IT Italy
JP Japan
BR Brazil
MX Mexico
CA Canada
AU Australia)
The templates are both available from Amazon.
Mexican paper craft decorations are in English and Español
Kindle – http://www.amazon.com/dp/B00MJHL380
Paperback – http://www.amazon.com/Mexican-paper-crafts-decorations-Happythought/dp/1499685629