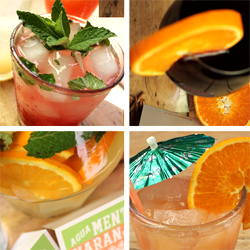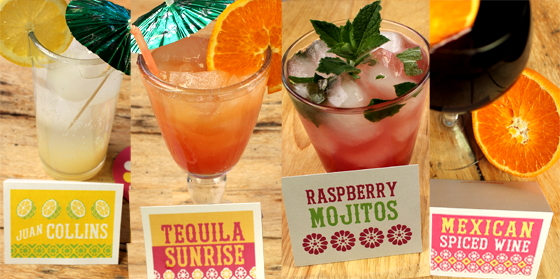 Day of the Dead drink: Alcoholic & non alcoholic drinks!
Inspired by Day of the Dead we've put together some party drink recipes. These include Raspberry Mojitos, Juan Collins, Tequila Sunrise & a yummy Spicy Mulled Wine, perfect to offer party guests on their arrival.
These day of the dead drinks are our non-alcoholic offerings. They include the refreshing Agua Menta Naranja and delicious Mexican Lemonade with cilantro and chile peppers for those who are brave enough!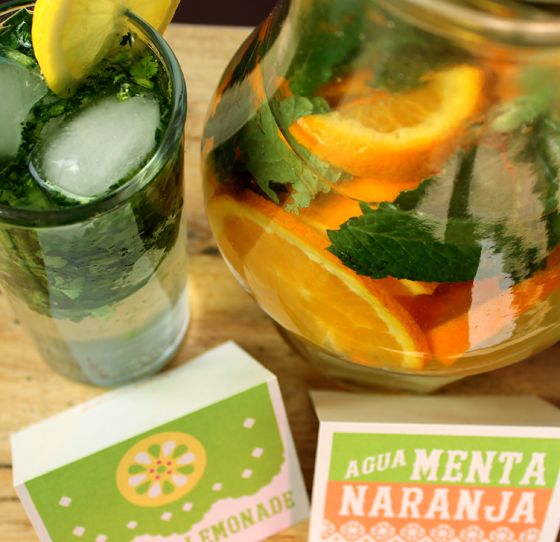 It's a fun idea to set up a colorful bar area and let guests make their own cocktails, or you may have a friend or family member who would enjoy a stint as bar tender! You can print off these cocktail recipes as a guide for your guests.
Setting up a party bar – El Dia de los Muertos, Day of the Dead drinks!
Decorate with a skull garland or papel picado (Simple video tutorials here)
Stock your bar with:
• plenty of glasses
• coloured straws
• a bucket of ice
• Cocktail recipes (laminated if you're feeling uber efficient!)
• Spirits and mixers (if it is a b.y.o.b. party you could let guests know which cocktails you have in mind).
A few cocktail terms and techniques:
To Muddle:
In cocktail terms, muddling is the crushing of fruit or herbs, to allow the flavours to be released. You can use a a pestle or even the end of a rolling pin. Push down with a twisting action.
To rim:
To salt a glass, cut a piece of lime and rub it along the rim. Next pour a 1/4 inch of kosher salt (or a 50:50 mix of salt and fine sugar) on to a saucer or plate large enough to accommodate the entire rim of your glass. Dip the rim of the glass in the salt, twirling it around so that the salt sticks on the entire rim.
Crushed Ice:
Some of these recipes call for crushed ice. Here's how to make it:
Either crush the cubed ice in a blender or fill a bag with cubed ice and bash with a rolling pin. Display on your bar in an ice bucket with lid.
Remind folks at a party to drink responsibly!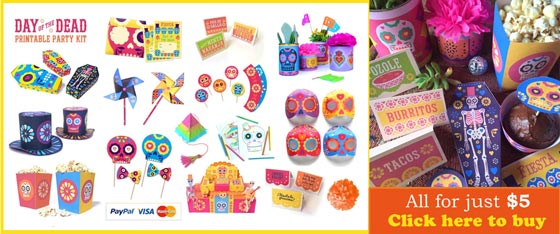 We also have a few bits of party advice, some Day of the Dead games and calavera coloring in pages to make your activity the best!
Check out more food and drink ideas:
We also have our very popular Free to members printable Mexican food signs to download from here: https://happythought.co.uk/day-of-the-dead/mexican-food-signs
If you are looking for more information on Day of the Dead customs and traditions be sure to check out these great tips about celebrations for El Día de los Muertos. Maria Jose Meneses has put together lots of advice for celebrating a fun and Festive Día de los Muertos at home. Check out the great info graphic below.
We hope you enjoyed our Day of the Dead drinks ideas. If so, please give us a little love; by liking us on facebook, pinning us on pinterest or following us on twitter. Thank you!