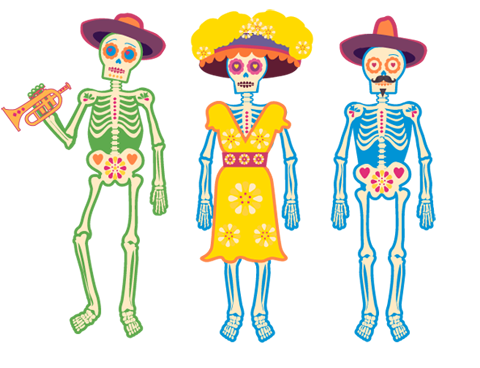 What is The Day of the Dead? ¿Qué es el Día de Muertos?
The Day of the Dead, or El Dia de los Muertos, is a traditional Mexican holiday, celebrating and honouring those who have departed. It is believed that the spirit of the dead visit their families on October 31st and leave on November 2nd.
Homes are decorated with beautiful altars known as ofrendas. These are laden with offerings of food and gifts for the weary spirit travelers.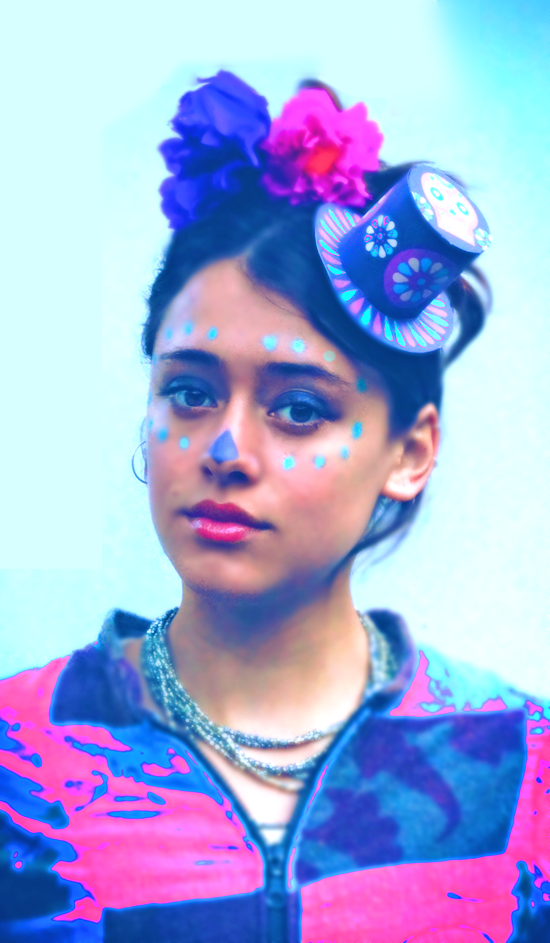 Dia de los Muertos is a positive, upbeat occasion
The Day of the Dead is truly a celebration of those who have passed. It is not a sad or morbid gathering – more a festive, family-centred celebration of friends and relatives no longer with us. Reflecting and acceptancing death is an integral part of life in Mexican culture.
Like us you probably love the rich and colourful imagery of Dia de los Muertos. Skulls, or calavera are a very important symbol of Day of the Dead. Besides representing death, they are also shown smiling or doing day-to-day activities such as riding a bike or playing a guitar, showing that death is not something to be feared but is simply part of life.
Dia de los muertos: Ofrenda
An ofrenda is an altar to remember and honour loved ones who have passed. You can buy this Ofrenda template as part of our Day of the Dead printable kit.
Traditionally ofrendas are colourful and decorative, laden with gifts. These offerings please returning spirit guests. They are adorned with orange marigolds, sugar skulls or calaveras, candles and papel picado banners and mementos of loved ones.
Offerings of food are also placed on the altar. Some traditional offerings include fruit, hot chocolate, pan de muerto and a glass of water for the weary traveler. Special items belonging to the deceased such as a hat or a guitar can also be displayed. Often a bottle of liquor is laid out for loved ones who enjoyed a tipple.
Your ofrenda can be a general celebration of ancestors past. If you prefer you can place photos of loved ones on it and invite guests to do the same.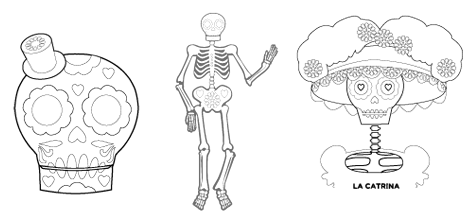 Celebrate Day of the Dead
We have had a great time coming up with these colorful, bright and playful printable papercrafts. We hope you'll enjoy them too!
Designed to be fun and simple to put together!
Our printable party kit includes: Party invites & envelopes, skull masks & bow ties. Cupcake toppers & wrappers, mini top hats, mini popcorn boxes, coffin favor boxes. Coloring-in sheets, pinwheels and a mini ofrenda.
You can make as many items as you need for your party or fiesta!
Our Day of the Dead project is all about bringing together some of the imagery and principal influences of Day of the Dead and trying to create a very small taste of a very big festival. Crafts have a strong tradition in Dia de los Muertos festivities and we have also put together some tutorials – making papel picados and beautiful decorative paper flowers – which will compliment your party printables.

Pick and choose what is right for you and easy to make. Decide a clear time scale that suits you. Don't be scared to ask for some help too. Some aspects of a party can always be shared. You can always find a few of your friends or family with a special talent.

Mix it up with delicious food, vivid imagery, tasty drinks and wonderful music. All in all, Day of the Dead is a very festive and upbeat time, so let's turn up the Mariachi and party!

Be sure also to check out these great video we have posted on the Happythought Youtube Channel. Plus our popular Day of the Dead Pinterest boards full of great ideas and templates.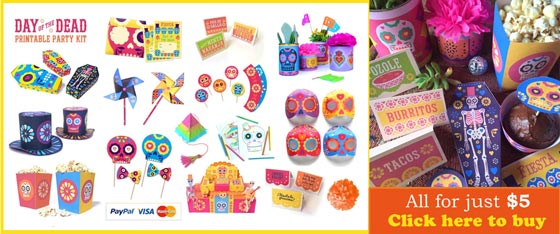 We also have a few bits of party advice, some Day of the Dead games , simple decoration ideas and calavera coloring in pages to make your activity the best! Check out our Day of the Dead garland and letreros para imprimir
More ideas and crafts for el Dia de los Muertos
Try our very popular printable Mexican food signs to download from here: https://happythought.co.uk/day-of-the-dead/mexican-food-signs
We hope you enjoyed our What is Day of the Dead or ¿Qué es el Día de Muertos? article!
If so, please give us a little love; by liking us on facebook, pinning us on pinterest or following us on twitter. Thank you!