Summer Camp activities, templates and art ideas – 6 fun and simple crafts for all ages!
Ojo de dios, drinking straw necklaces, Mexican paper flowers, mini rainbow pinatas, dreamcatchers and butterfly papel picado. Each Happythought summer camp activities features an easy to follow video tutorial to guide you step-by-step through each craft on your Summer Craft activity day. We hope you have lots of fun!
We have put together a free template and video tutorial you how to assemble butterfly garlands. We thought these butterfly garlands would be ideal for a rainy day or a craft activity at camp. These butterflies flutter beautifully in the breeze and look great at a party or as a simple decoration in your home or school!
Mexican paper flowers that are easy to make – arranged in vases, strung together in a garland or necklace, or they can be attached with a bobby pin for a decorative hair piece!
Cempasuchil or marigolds flowers are a symbol of Mexican Day of the Dead.
Download our free template and make a fully functioning colorful mini pinata with a pull string. Tested by our kids, these homemade pinatas works brilliantly! Fill your mini pinata with home made confetti and mini treats or messages.
This DIY drinking straw necklace craft is an oldie but a goodie – easy to make drinking straw necklaces with a new geometric twist! Fun and simple to make craft activity with cheap affordable materials. Also a great activity for family time, from kindergarden to teens, or as a classroom or home school art project.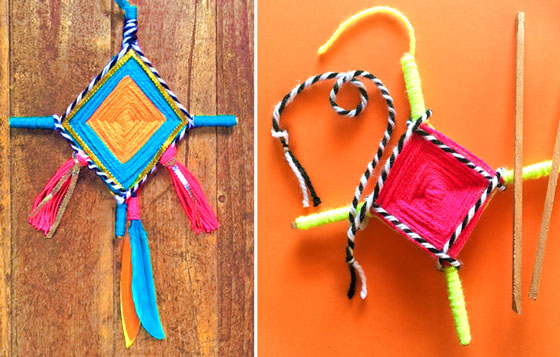 Follow our step-by-step tutorial to make this classic Summer camp craft – Ojo de Dios. Many countries in South America have colourful and beautiful home made Ojo de Dios (or God's Eyes) hanging in trees or on porches and patios in homes and schools.
This lovely craft comes from the native tribes of the Americas, traditionally made for a celebration or blessing. They can be given as a gift to bless a home.
One of our favourite craft projects at Happythought, this dreamcatcher, is great fun to make, and seeing as everything is mini and cute at Happythought we made a mini dreamcatcher! We used masking or sticky tape rolls as a base – economical and re-cycle friendly. Old bangles and bracelets or paper plates with the centre cut out would also work well.
Collect ribbon, wool, feathers, coloured thread and get to work on your mini dreamcatcher. Follow the easy step-by-step video tutorial which shows how fun and simple they are to make.
We hope you enjoyed our 6 fun Summer Camp activites! If so, please give us a little love; by liking us on facebook, pinning us on pinterest or following us on twitter. Thank you!