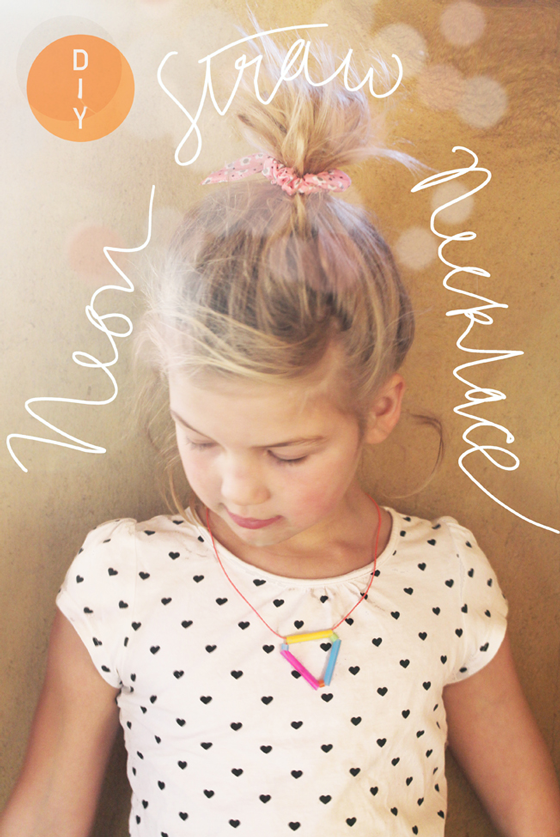 Ideas With Straws: DIY craft drinking straw necklace!
This drinking straw necklace craft is an oldie but a goodie – homemade necklaces with a modern geometric twist! Don't they look great? Easy to make and very easy on the wallet, this is a fun activity for family time, from toddlers to teens, or as a classroom or home school activity.
See our craft video below or our step-by-step photo tutorial below.
Neon bright geometric drinking straw necklaces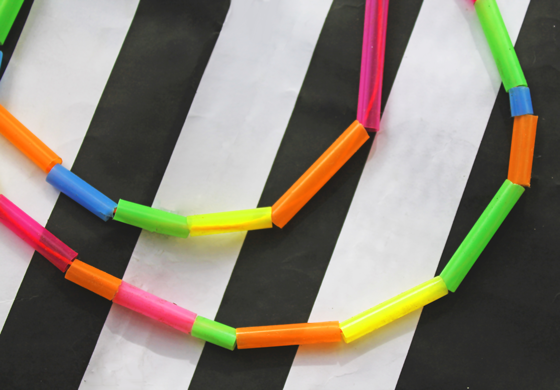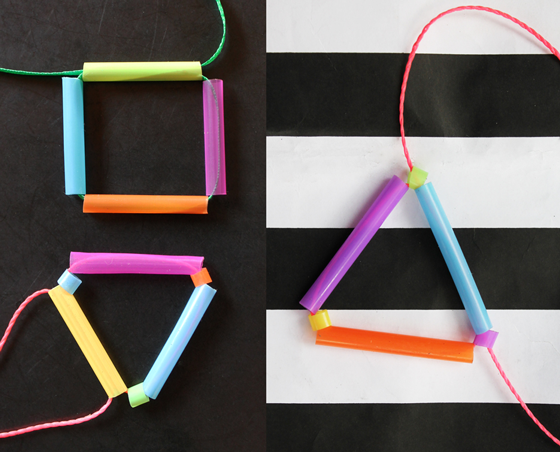 First we made a basic triangle and a square necklace. Next we had fun combining shapes and adding feathers. Even the family dog Puchi got involved in this fun craft activity– see below!
Here's what you will need:
• Drinking straws ( brightly colored or 'neon')
• Thread, ribbon or yarn
• Feathers (optional)
How to make a geometric drinking straw necklace
Step-by-step triangle drinking straw necklace
Step 1
Trim down your drinking straws to various sizes, approx. 3cm, 2cm and some smaller 'connectors'.
Step 2 (triangle necklace) Select three 3 cm beads and three connector beads in bright contrasting colors. Cut a length of yarn or thread to the length you want your necklace to be.
Step 3
Thread the 3cm straw beads onto the length of yarn, with three connector beads intersecting as shown.
Step 4
Take one end of your yarn and thread it through the 3cm bead at the other end of the yarn.
Step 5
Pull both ends to make a triangle in the centre of your yarn…
Step 6
Knot the ends together to make a necklace.
Create your own creations with these other fun activities and templates:
How to make a square drinking straw geometric necklace
For a square drinking straw necklace repeat the above process but with four of each size of bead.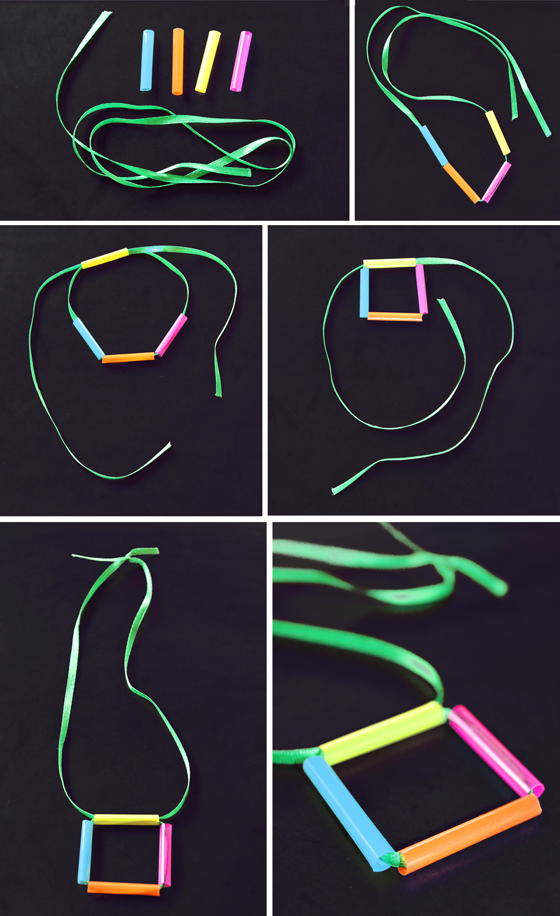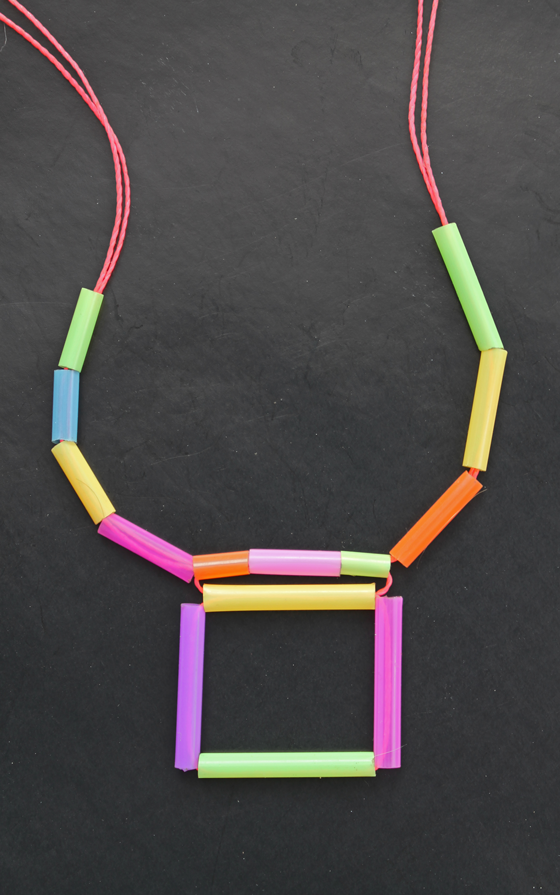 We had lots of fun making these colorful necklaces. To attach feathers to the beads we used a little glue. Now you know the basics, have fun experimenting. We'd love to see what you come up with!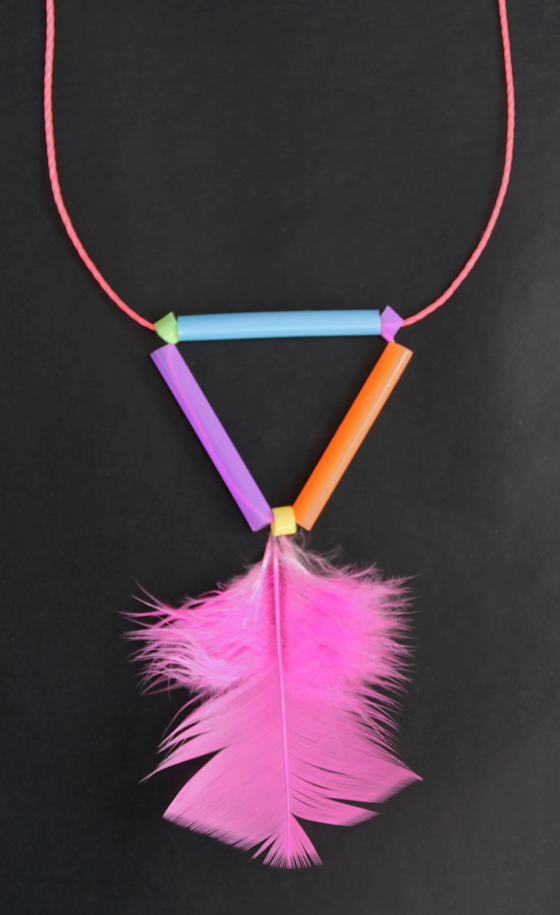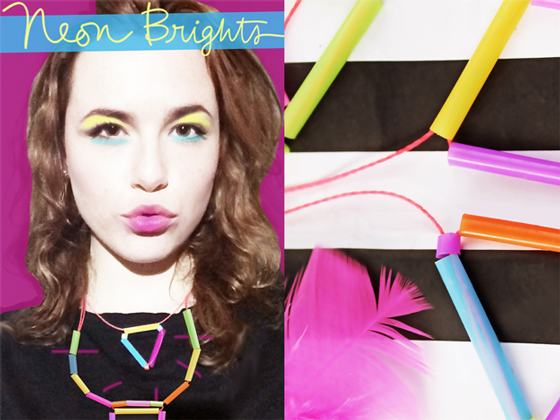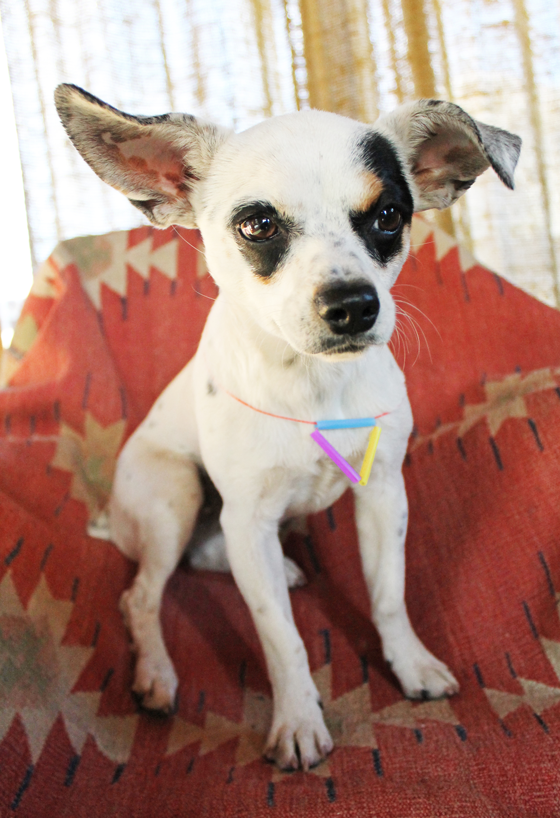 We hope you enjoyed our drinking straw necklaces! If so, please give us a little love; by liking us on facebook, pinning us on pinterest or following us on twitter. Thank you!