Description
Easy Maneki Neko mask template: Download and make a paper mask instantly
4 Lucky cat mask templates to make a home in a jiffy. Bring a bit of luck into your house with these wonderful Maneki Neko cats, not just any cat, a lucky cat. Perfect as an easy DIY costume idea, cosplay or creative play.

Your download also includes a mask to color in, and a Maneki Neko fact sheet. Available to Happythought members to download.
YOU WILL RECEIVE 4 Lucky cat mask templates:
PDF HIGH RESOLUTION (300 dpi) file contains the following templates/patterns:
1) x4 Lucky Cat templates and video instructions
2) Lucky Cat black and white color in template
3) Lucky Cat factsheet
Our digital templates are designed to be easy to make. We like things simple too.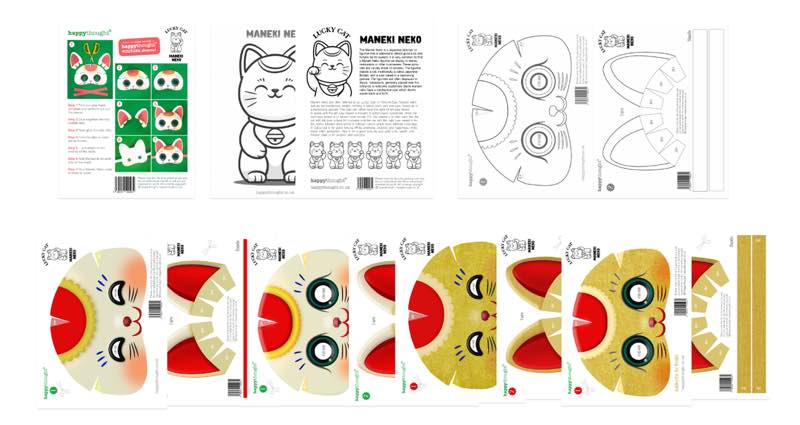 A little info about Maneki Neko Lucky Cats
The Maneki Neko is a Japanese talisman or figurine that is believed to attract good luck and fortune for its owners. It is very common to find a Maneki Neko figurine on display in stores, restaurants or other businesses. These lucky cats are usually made of ceramic.
The figurine depicts a cat, traditionally a calico Japanese Bobtail, with a paw raised in a beckoning gesture. The figurines are often displayed in shops, restaurants, generally placed near the entrance to welcome customers. Some maneki neko have a mechanical paw which slowly waves back and forth.
Want more mask templates and costume ideas?
Fans of Japanese Anime often choose a Kitsune fox mask in red and white to make a DIY cosplay costume. Or check out our popular Happythought Printable Animal Masks set. Includes B&W masks to color in, plus animal activity fact sheets. Printable Halloween mask/costume ideas, super hero masks and a set of calavera masks for Day of the Dead celebrations.
Did you know?
Maneki neko are often referred to as Lucky Cats or Fortune Cats. Maneki neko statues are traditionally seated, holding a koban coin, with one paw raised up in a beckoning gesture. The cats can either have the right or left paw raised. A statue with the left paw raised is thought to attract more customers, while the right paw raised is to attract more money. For this reason it is often said that the cat with left paw is best for business and the cat with the right paw raised is for the home.
4 Lucky cat mask templates: Other craft ideas
We hope you enjoyed our 4 Lucky cat mask templates. If so, please give us a little love; by liking us on facebook, pinning us on pinterest or following us on twitter. Thank you!