Description
Plague Doctor mask template: Crafts for adults and children
Make an easy Plague Doctor mask, with Happythought's DIY mask template. The PDF includes three authentic color ways, a 3D paper Plague Doctor mask to color in plus a Plague Doctor fact sheet.

Available to Happythought members to download. Perfect for Cosplay, DIY Halloween costumes, creative and educational play.
YOU WILL RECEIVE:
PDF HIGH RESOLUTION (300 dpi) file contains the following templates/patterns:
1) Plague Doctor mask template and instructions in 3 color ways
2) Plague Doctor mask black and white color in template
3) Plague Doctor factsheet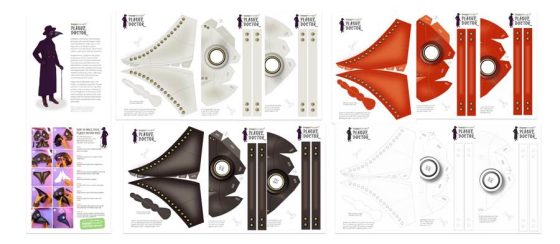 Includes instruction sheets with step-by-step photo instructions showing how to assemble your mask. Our digital templates are designed to be easy to make. We like things simple too!
Learn a little bit more about Plague Doctors:
During the 17th-century bubonic plague physicians who tended to plague victims wore beaked masks, leather gloves, and long coats in an attempt to protect themselves from the disease. These doctors carried a rod to poke and fend off patients.
European towns, gripped by the plague, hired plague doctors to practice their medicine on rich and poor residents alike. These physicians prescribed what were believed to be protective concoctions and antidotes all whilst wearing the distinctive beak shaped masks. The uniform is usually credited to Charles de Lorme, a physician who tended to the needs of European royals during the 17th century.
Plague doctors filled their masks with theriac, a compound of more than 55 herbs and other components such as viper flesh powder, myrrh, cinnamon and honey. De Lorme thought that the beak shape of the mask would give air sufficient time to be infused with the medicinal and protective herbs before it reached the doctors' lungs and nostrils.
Check out more printable crafts from Happythought:
Want more mask costume ideas?
Popular Happythought Printable Animal Masks set plus B&W masks to color in, plus animal activity fact sheets. Easy Printable Halloween mask/costume ideas, super hero masks and a set of calavera masks for Day of the Dead celebrations.
We hope you enjoy our Plague Doctor mask template and factsheet. If so, please give us a little love; by liking us on facebook, pinning us on pinterest or following us on twitter. Thank you!SaveSaveSaveSaveSaveSave