Description
Easy Kitsune fox mask template: Download and make a paper mask instantly
Make this Kitsune 3D paper fox mask template at home in a jiffy. 5 color ways to choose from: white and red, white and blue, red, golden yellow, and black masks.
Perfect as an easy DIY costume idea, cosplay or creative play. Your download also includes a mask to color in, a Kitsune fox fact sheet and coloring pages.

Available to Happythought members to download.
YOU WILL RECEIVE:
PDF HIGH RESOLUTION (300 dpi) file contains the following templates/patterns:
1) Kitsune fox mask template and instructions (x5 designs)
2) Kitsune fox mask black and white color in template
3) Kitsune fox facts black and white color in worksheet
Our digital templates are designed to be easy to make. We like things simple too.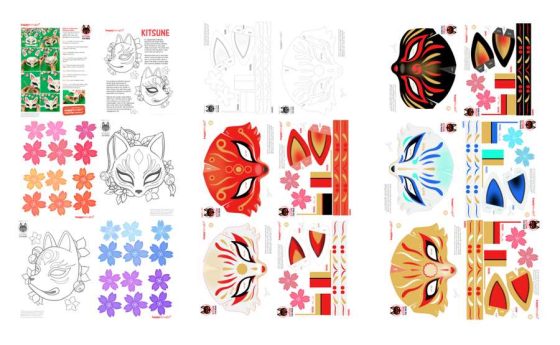 The templates include instruction sheets with step-by-step photo instructions showing how to assemble your mask.
Did you know?
In Japanese folklore, kitsune are foxes that possess special magical abilities that grow as they get older and wiser. The more tails a kitsune has the older, wiser, and more powerful it is.
Kitsune have up to nine tails. When a kitsune gains its ninth tail, its fur becomes white or gold. The older a kitsune gets, the more its abilities increase.
According to folklore, kitsune foxes have the power to shapeshift into human form. Kitsune sometimes use this ability to trick others, but often they are portrayed in folklore as faithful guardians and friends.
Kitsune are closely associated with Inari, a Shinto kami or spirit, and a kitsune can serve as its messengers. One of the Japanese fox's most well-known abilities is kitsune-bi or fox-fire. This red flame is produced by by breathing or wagging its tail.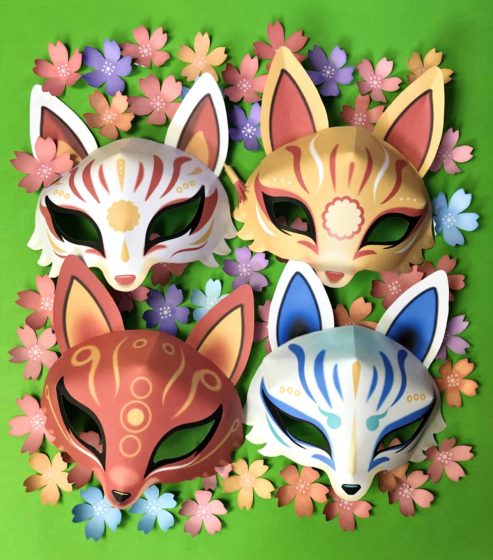 Want more mask templates and costume ideas?
Fans of Japanese Anime often choose a Kitsune fox mask in red and white to make a DIY cosplay costume. Or check out our popular Happythought Printable Animal Masks set. Includes B&W masks to color in, plus animal activity fact sheets. Printable Halloween mask/costume ideas, super hero masks and a set of calavera masks for Day of the Dead celebrations.
See these other craft ideas
We hope you enjoyed our Kitsune fox mask worksheets. If so, please give us a little love; by liking us on facebook, pinning us on pinterest or following us on twitter. Thank you!