Mini party hat pattern: Diamonds are a hat's best friend!
This mini top hat pattern is fun to make and coming in five fresh pastel colors.
These diamond mini top hats are super cute – perfect for dressing up any party outfit.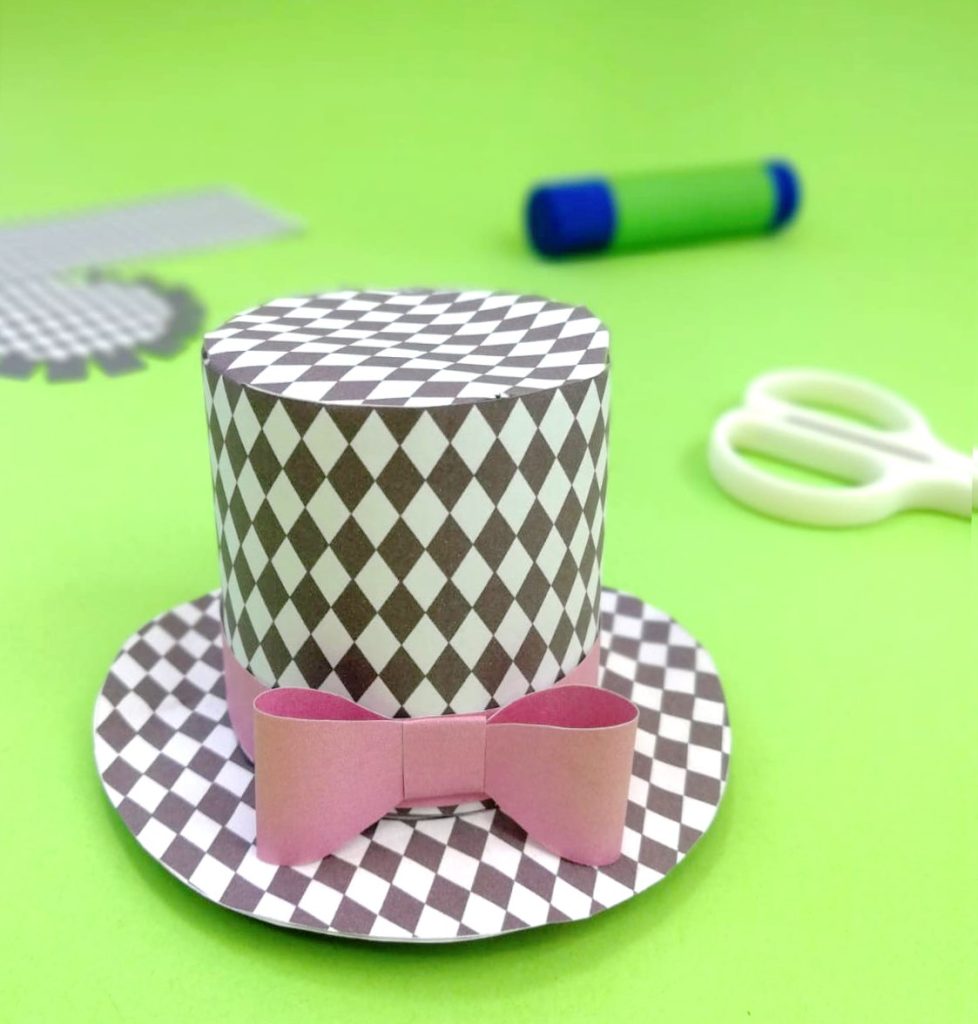 The hats come in five colors of sky blue, buttercup, charcoal, pink and lilac. Follow the easy instructions included in your download and print, snip and stick your way to style!
All you'll need is a printer, a glue stick and some scissors. For a long lasting hat we recommend printing on to a slightly heavier matt card, but the hats also work well with regular printer paper. Once you've made your mini top hat you can attach it to the top of your head with a bobby pin (or kirby grip).
Why not try switching bands on the hats and mixing up the color combinations? You could also use your hats as place settings or party favors, filled with easter eggs or other goodies. Making hats can also be a fun party activity for your guests!
Free to Happythought members, you can download your Diamond Mini Top Hats here!
A step-by-step guide to assembling your diamond party hats
First make the top of your hat.
1. You will need scissors, a glue stick and some sticky or masking tape.
2. Cut out the 'top' and 'base' templates.
3. Bend down tabs around the circular section as shown.
4. Apply glue to the top of your band and to the right hand edge.
5. Glue down tabs and side until you have a complete cylinder. Now for the base of your hat.
Now for the base of your hat
1. Fold and glue the base sheet back-to-back, so the images are on the outside.
2. Cut out the circular base of your hat.
3. Lightly fold along the horizontal dotted line in the centre of the base.
4. Cut the vertical lines.
5. Apply glue to the triangular tabs as shown.
6. Open up each tab, gently folding along the base.
7. Place the base over the open end of the top of your hat.
8. Press each triangular tab into the inside of your cylinder, holding for a few seconds until the glue is dry.
9. You can add a couple of pieces of sticky tape over the tips to hold tabs firmly in place.
10. Gently bend the sides of your hat base to give it a jaunty feel. A bobby pin at the back will hold it securely in place.
5 party hat pattern templates – Instant PDF download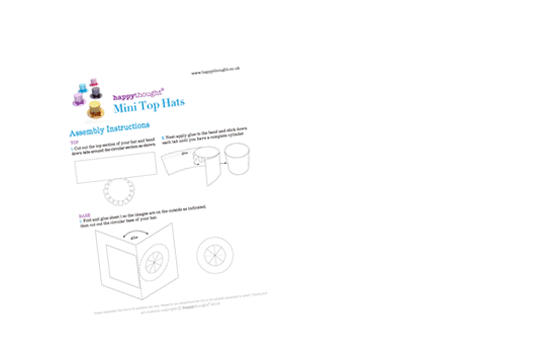 Try these other mini top hat template ideas:
Be sure to check out our other mini top hat tutorial ideas and mini top hat templates to purchase for great party or craft activity tutorial.
Read about more craft ideas on our blog. We hope you enjoyed our diamond mini top hats! If so, please give us a little love; by liking us on facebook, pinning us on pinterest or following us on twitter. Thank you!