Roll up, Roll up!
The Circus is in town!
Make like a ring master with this colorful little harlequin hat. Our mini circus top hat is adorned with elephants and diamonds, and for a finale topped off with a big top flag.
Mini circus top hat PDF templates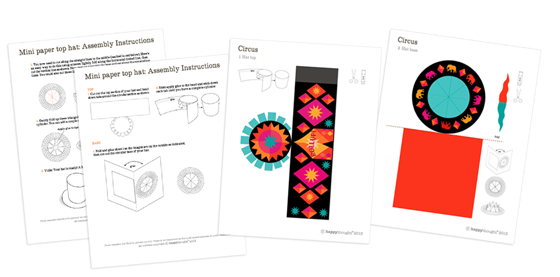 Clowning around
The word circus comes from the Latin meaning circle.
Clowning is very competitive! It is harder to get into the Ringling Brothers Clown school than into Harvard law school. For good luck, some circus performers keep an elephant hair in their pocket.
Be sure to check out Happythought's mini paper top hat set!
Try something different for your next party or dress up fun: A stylish black top hat, victorian Steampunk style, shake it with a bit of Burlesque and the must hat for any tea party, the Madhatter. Be lucky with a St Patrick's Day lucky hat, fall in love with these Valentines top hats and some Halloween bug hats will get you noticed at any occasion!
We have other no-sew mini top hat templates in our shop here – https://happythought.co.uk/shop
Mini paper top hats for parties and classroom activities: Download the templates now!
Quickly get you hat assembled with our easy step by step photo instructions & simple design. Instant download this cool and quick circus mini top hat idea.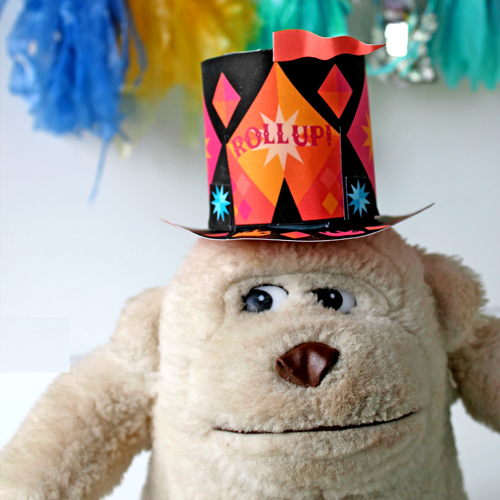 See these other mini top hat ideas

Read about more craft ideas on our blog. We hope you enjoyed learning how to make a mini circus top hat!
If so, please give us a little love; by liking us on facebook, pinning us on pinterest or following us on twitter. Thank you!