Welcome to Corgi Crafts! We're so excited to share Happythought's new craft book, Corgi Crafts packed with twenty-three fun and original Corgi projects. Corgis are the cute dogs that everyone is crazy for. From their adorable faces to their fluffy butts to their Royal connections, Corgis are top dog when it comes to cuteness and personality.
Get crafty with these adorable Corgi-themed projects, perfect for novice or expert crafters. Each project comes with step-by-step photo instructions. Everything that you will need to craft each project is listed in the book along with templates and guides. So let's get crafting!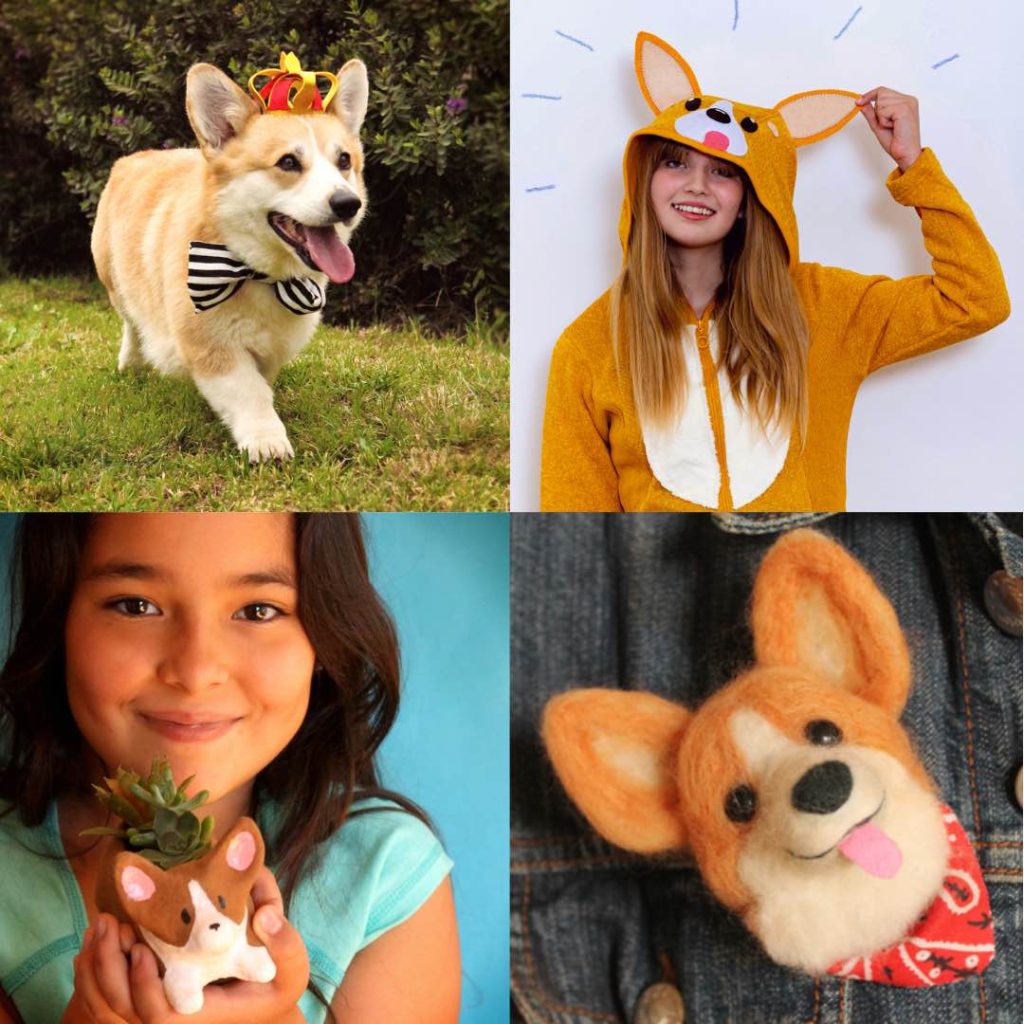 CORGI CROWN

Holly the corgi always carries herself with style and now with her new crown she has an extra bounce in her step! A fun accessory for any "top dog" Holly is going places. Some snipping and a few quick stitches will result in a gorgeous little crown fit for any dog. You can also make your crown with glue for a no-sew option. What do you say, Holly?
CORGI HOODY It's a dog's life!

How about a cosy corgi hoodie? All you'll need is a fleecy hoody to up-cycle into this adorable diy corgi outfit. Perfect for snuggling up on the sofa or taking a walk around the block. Make your own Corgi Kigurumi in no time by following these simple steps. Try out Happythought's sloth hoody tutorial.
PLANTER MINI GARDEN DECORATION

Make an adorable corgi planter using air or oven dry clay. Mold a ball of clay into a sitting corgi, then pack with earth and mini succulents for a unique planter. Paint on a happy face and little pink paws. See more here with a hanging sloth planter to make for your home garden.
CORGI CRAFTS FELT BROOCH

Make a needle felt brooch, full of corgi character. Sculpt unspun wool, using special needles to lock the fibers of wool together. Once you get to grips with the technique it is very satisfying and you can create wonderful characters in no time. Model your brooch on your own pet or favorite corgi. This project is not for younger crafters to tackle alone as the needles are very sharp, so please take care!
BEAUTIFUL ROCK PAINTING ACTIVITY

Rock painting is an unique and easy craft with fun results. All you'll need is a couple of smooth stones or rocks from your garden, local park, or beach. Pick smooth, flat rocks, as it's harder to decorate ones with ridges. If you can't find them in nature (be careful where), check out your local craft store. Next, choose an image for your rock. You could be inspired by your own pet, a favorite photo, or your imagination. Sketch out your idea and off you go! You can give painted rocks as gifts, decorate your garden, or use as paperweights.
MUG DESIGN

Make your own special mug for tea time. This is an easy project and makes a great gift. Pick up some ceramic markers at your local craft store and get creative. Add a message to your mug or the name of your favorite corgi! Add a corgi smile on the bottom of your mug and you'll have everyone else smiling, too!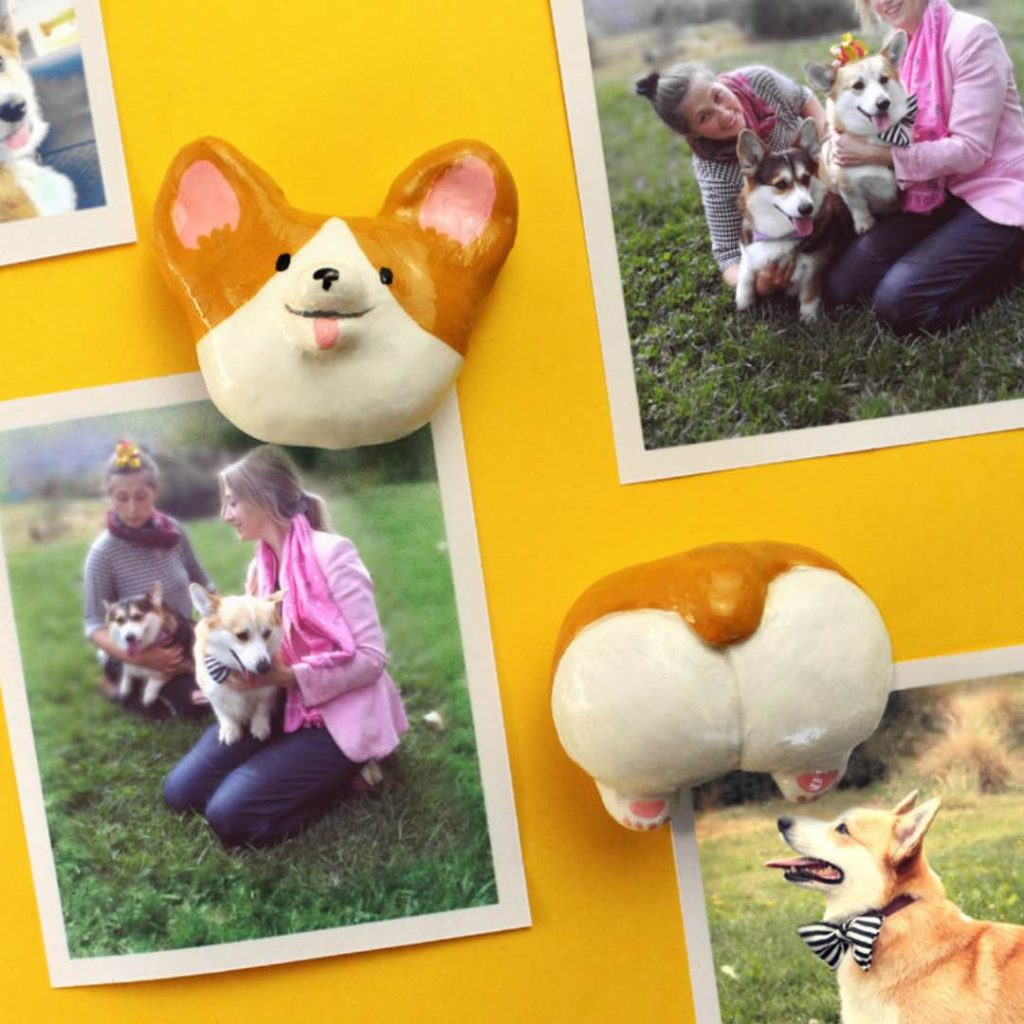 CORGI MAGNETS

Magnets are so fun and easy to make, and useful, too! We couldn't resist making a caute corgi face and classic corgi fluffy butt combo. This craft doesn't take long and you can make as many different magnets as you like. Why not try out some different corgi poses? Once they're ready use them on your fridge or notice board to keep on top of things!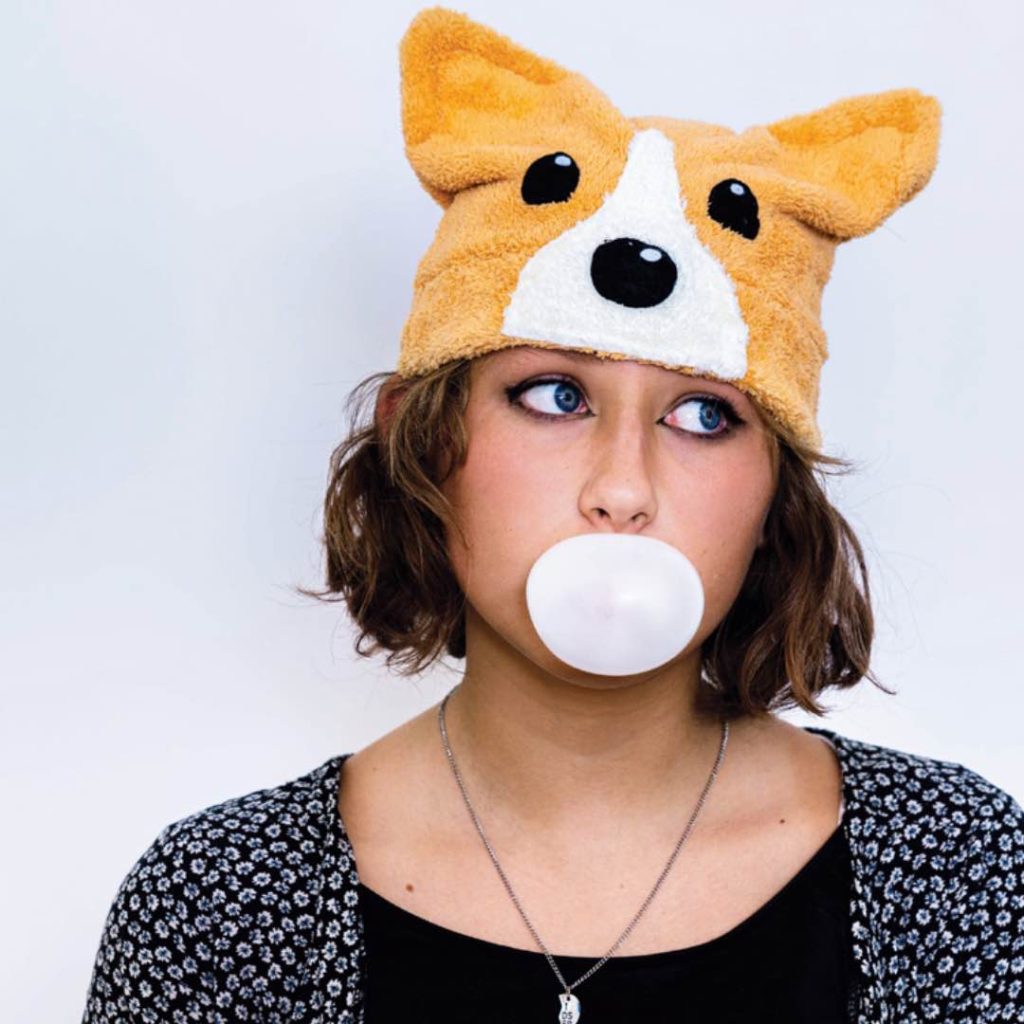 COSY CORGI HAT PROJECT

Brave the cold with this cute and cosy fleecy hat. Choose your favorite corgi tones, or match to your own dog. The steps are so simple, so grab some fleece (or recycle an old top) and you'll be rocking the corgi style in no time!
DIY PAPERCRAFT BOOKMARKS

Use the template in this book to make your very own corgi bookmark. What could be cuter than a friendly corgi peeping over the top of your book, keeping your place? All you need for this easy craft is card stock, colors, and glue. Color in your corgi any way you choose. So let's get started!
CORGI STRING ART

String-art is a creative way to make a colorful picture, by wrapping thread around nails. Mix up the colors and have fun creating unique piece of artwork. Give little ones a hand by putting nails in place, then they can have fun wrapping around the colorful thread. If you would like to see more in detail check out this Sloth string art tutorial.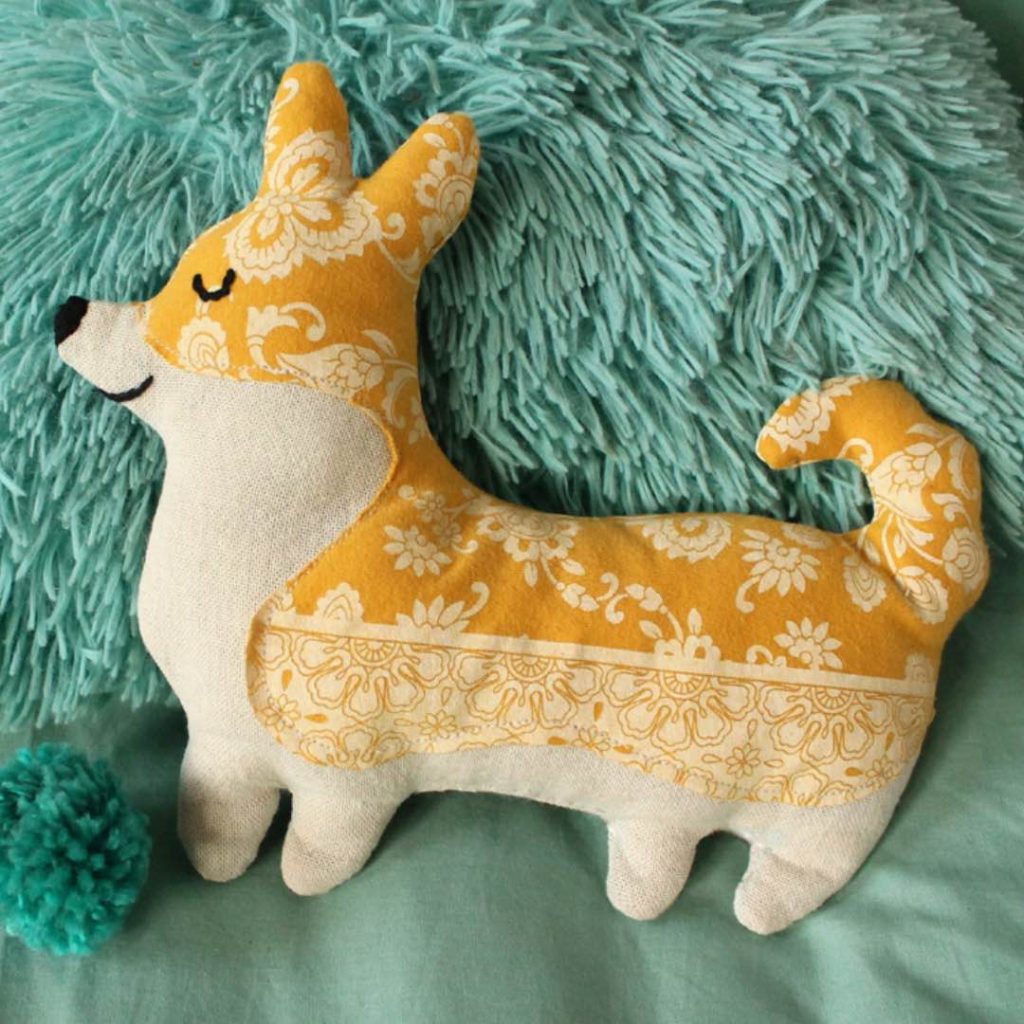 CORGI CRAFTS CUSHION

This corgi cushion will look lovely nestled on your sofa or bed. Choose a colorful patterned fabric for the top section, or recycle a pretty t-shirt or pillow case. You can fill your corgi cushion with stuffing or with recycled scrap fabric. Why not make a whole family of corgis, in different colors and patterns?
CORGI EYE MASK

Sleep easy with an adorable DIY corgi eye mask. Blocking out light helps to promote healthy sleep patterns. It's much easier to fall asleep on a bright train, bus, or plane when you can pull a soft, cozy mask over your eyes to block out the world and drift off. This cute mask even has flappy corgi ears and is surprisingly easy to make. Perfect as a gift for the corgi lover in your life, especially if that happens to be you!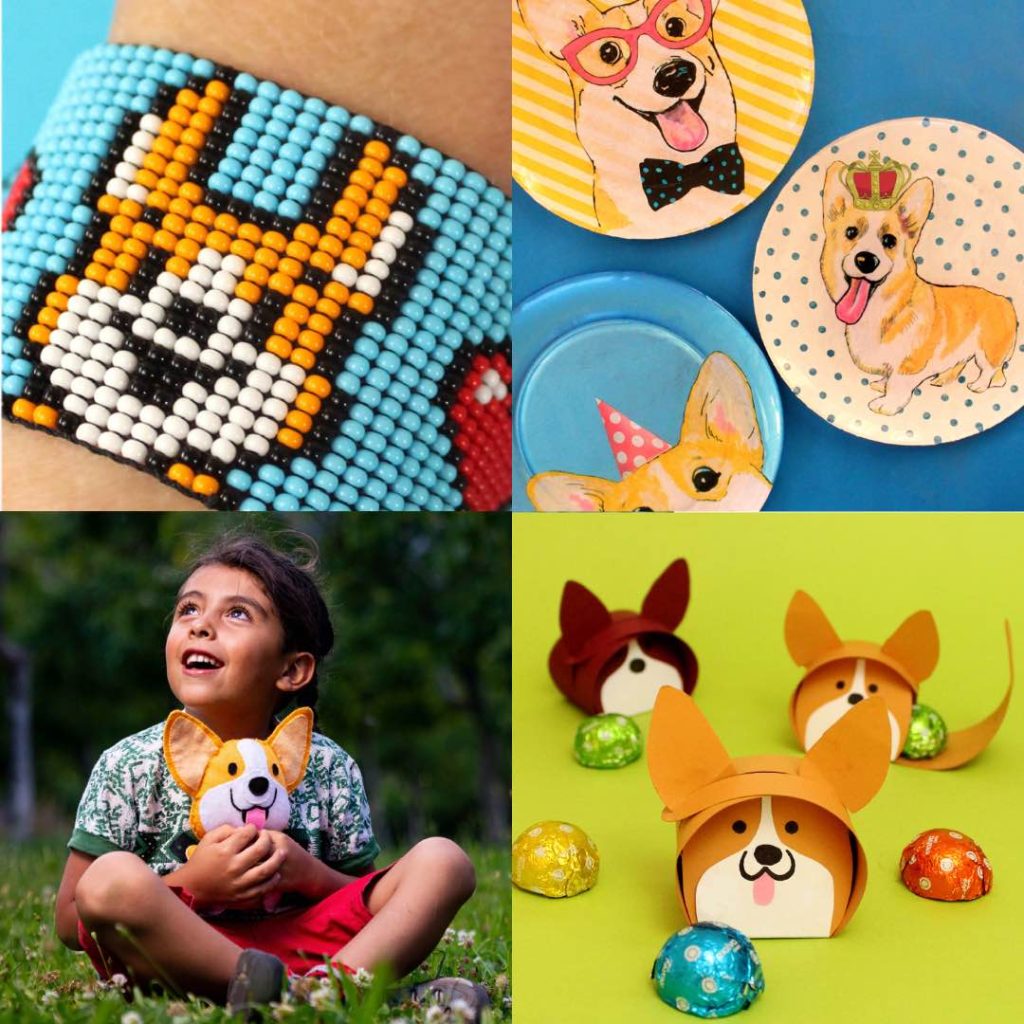 CORGI BEED BRACELET

Wear a corgi on your wrist with loom woven beadwork bracelet. Weave the pattern by inserting the weft threads (side to side threads) over and under the stationary warp threads (up and down threads). The warp threads are held in place by tension, and the weft threads, which hold your beads, are woven between them. Besides a bead loom, you'll also need seed beads, thread, and needles.
CORGI PLATES CRAFT

This decoupage technique is surprisingly easy and gives great results. Use a patterned paper napkin to add a vibrant background or paint a bright color behind your image. Pick up some glass plates at your local hardware store and get creative. Display your plates on a dresser or fill a wall with plates for maximum impact!
CUTE PLUSH CRAFT

Make your own cuddly corgi plush! This happy corgi plush is full of character. Follow the pattern in this book to make your corgi friend. Add a colorful bandana as a finishing touch. Great as a gift for any corgi lover!
PAPER GIFT BOXES

These cute little paper gift boxes are perfect for filling with special treats for fellow corgi lovers. Make the boxes any size you need by adjusting the size of the template. These neat boxes are perfect as favors for your next party too. Fill them with candy or small treats.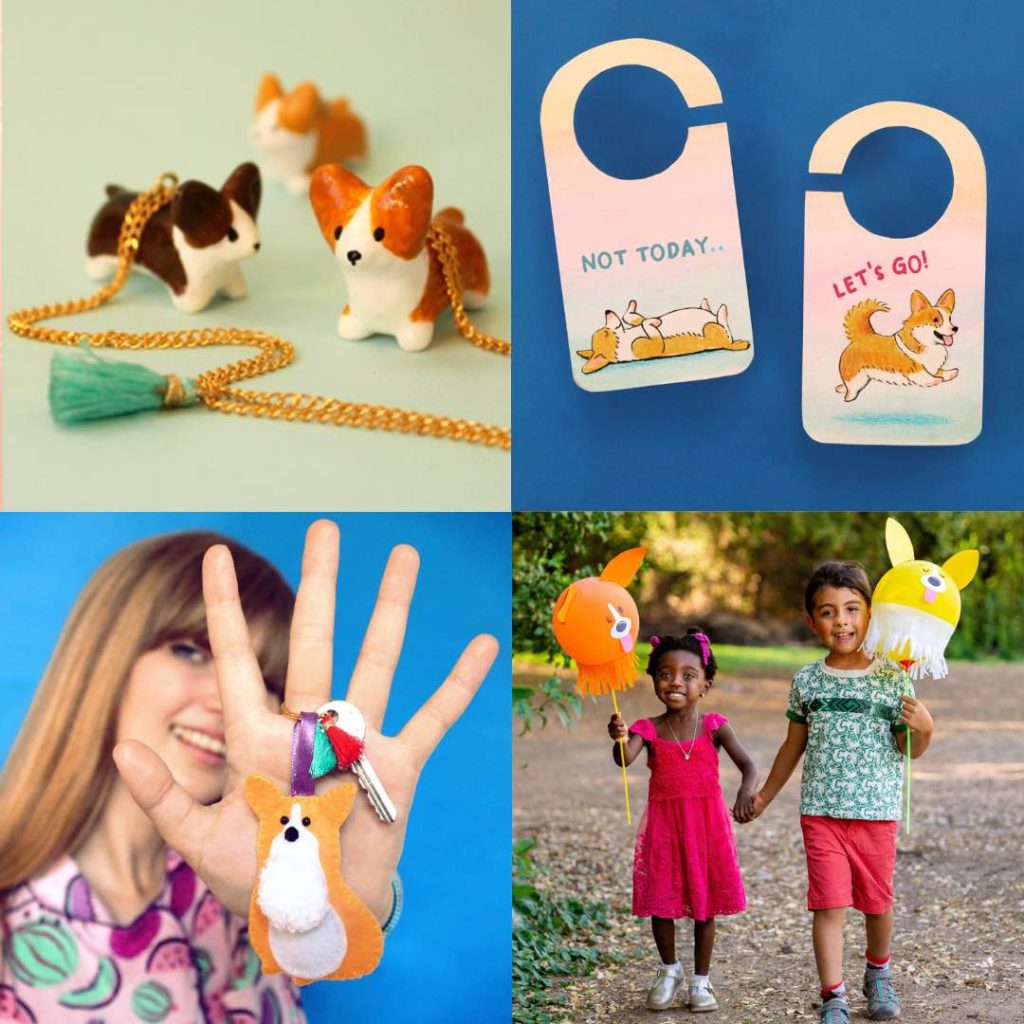 CORGI NECKLACE

Follow these simple steps, make and bake your corgi charm, then paint it your way. Attach to a jewelry chain and you are ready to go. Add a tassel too for a splash of color. These adorable charm necklaces make great gifts for any corgi lover in your life!
DOOR HANGER TEMPLATE

Follow these simple steps, make and bake your corgi charm, then paint it your way. Attach to a jewelry chain and you are ready to go. Add a tassel too for a splash of color. These adorable charm necklaces make great gifts for any corgi lover in your life!
EASY KIDS BALLOON ACTIVITY

Fun corgi balloons are perfect for a party or as a young family craft. So easy to make, each corgi balloon has its own personality. Use different colored balloons for a fun selection and add a crepe paper ruff of hair. Check out this llama balloon activity.
CORGI KEY RING

Make a DIY corgi key ring with a pom pom chest. Choose any colored felt, from yellow to brown, for your corgi. Add a couple of tassels to your key ring and you are ready to go.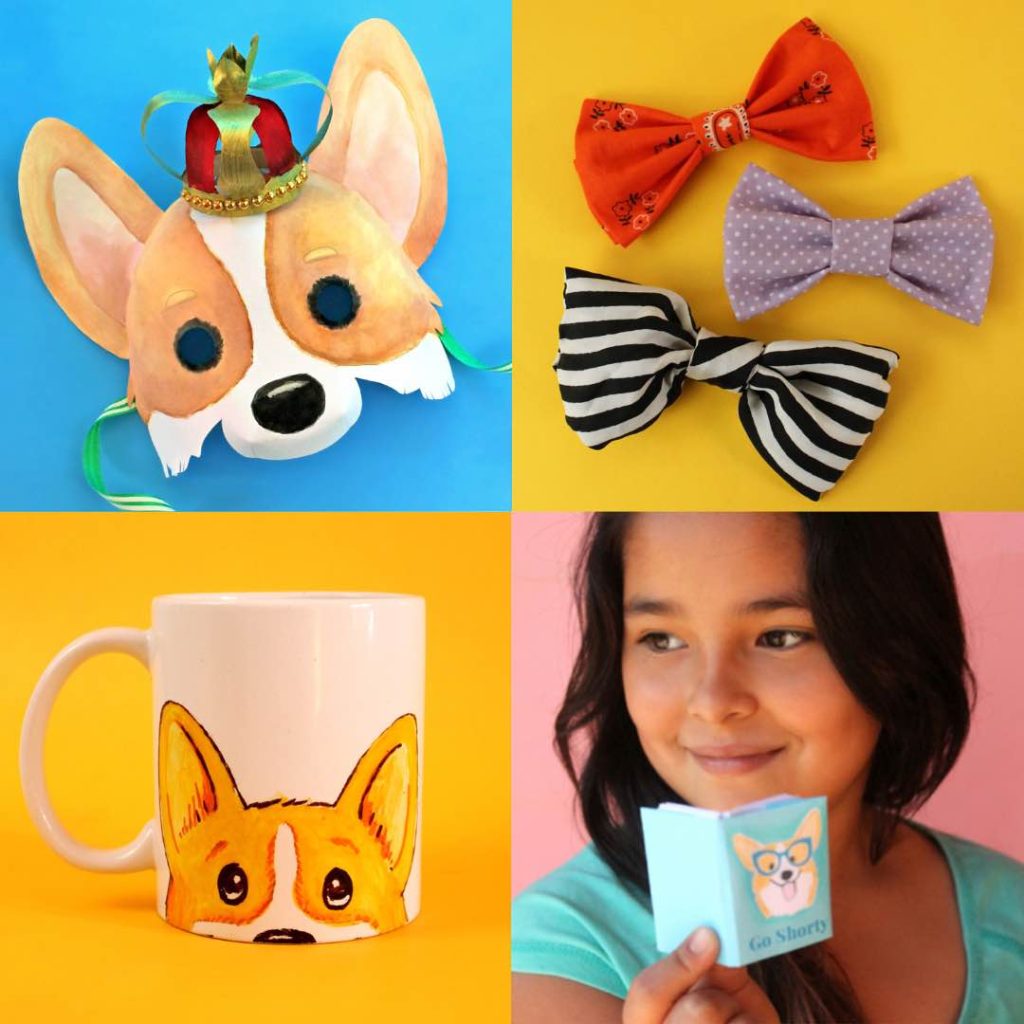 CORGI CRAFTS MASK

Snip and stick these easy 3D Corgi paper masks. Add a paper crown for a touch of class. Make as many masks as you like in different colors. Perfect for a costume party or imaginative play time! Be sure to see our llama mask template and sloth mask template. Both are free to Happythought members and come with color in worksheets.
CORGI BOW TIE: What a dapper doggy!

Spruce up your doggy's collar with a fun fabric bow tie. Use colorful scrap fabric and follow these simple steps to create an easy-to-wear bow tie for your poochie pal. Luna the corgi loved her bow tie and had lots of admirers.
CORGI MINI BOOKS
Make your own miniature book with just a few sheets of copy paper. This technique is very simple. Build up a library of mini books and have fun coming up with creative covers. Perfect as tiny note books, you can also attach them to a back pack or key chain by glueing a little ribbon in the book spine.
At the back of the book you will also find corgi templates to cut out color in or copy.
Be surprised when you fall for these loveable dogs in a big way!
Putting together this DIY craft book with the help of our new corgi friends was great fun. We hope you enjoy using this book as much as we enjoyed creating it.
This is the 3rd book in a series featuring llama crafts and sloth crafts.
More animal craft ideas: